How to run with a backpack: 8 tips for success
Knowing how to run with a backpack ensures you can carry all the safety gear and fuel you need for a long trail run without sacrificing efficiency or technique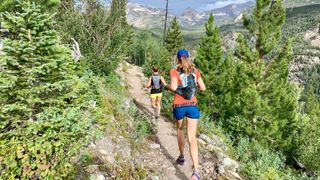 (Image credit: Getty)
Generally speaking, when you run you want your limbs to be as loose and free as possible so you can keep your gait natural and optimize your efficiency. But when it comes to long distance trail running out in the wild, there are definitely items you'll want to bring, such as water, fuel, rainwear and safety gear. All of this means you'll want to know how to run with a backpack.
Running with a backpack might not sound like a great idea. It's extra weight, after all, which slows you down and might throw your posture off, and what could be more annoying than a pack bouncing up and down behind you for ten miles? In this article, we break down how to run with a backpack so you can do it safely and efficiently and carry everything you need for a successful trail run.
Is it safe to run with a heavy backpack?
Running with a heavy backpack can definitely alter your running mechanics and lead to injury if you're not careful, even with the world's best trail running shoes. Though it is used as a form of training, in this article we're focusing on trail running carrying only what you absolutely need. For a run that's no more than a couple of hours, that won't be much and this question doesn't really apply, but let's say you're going for a whole day or even fastpacking – then you'll obviously want more gear such as a water filter, food, a bivy sack and your best sleeping bag. Suddenly your pack is starting to get awfully heavy.
However, there are things you can do to make sure it is safe to run with a backpack, from choosing the right backpack to adjusting your approach to running. Read on to discover how you can make running with a backpack safe, and even reap some benefits such as burning more calories and improving your running performance.
How do you carry a backpack when running?
1. Choose the right backpack
First things first, your old school bag won't do. You need to choose a specialized running backpack that is as small as possible but still fits all your gear (read our article on pack sizes) and it needs to sit flush against your back and come with adjustable straps, waist belt and chest strap. If you don't need to carry a lot of gear, consider a hydration vest instead.
2. Fit your backpack properly
Every time you head out on a trail run with a backpack, make sure to fit it properly. Use our guide to how to adjust a backpack and fit it snugly to your body. The more you can transfer the weight into your hips and legs, the more you'll use your core and glute muscles, and the easier it will be to move your arms and shoulders properly.
3. Pack it properly
When it comes to packing your backpack, the key is not to have loose, heavy items like water bottles bouncing around that can annoy you or even hurt your back. Once you've decided to run with a backpack, you want to pack it quite tightly and make sure that soft items like your rain jacket are against your back, while heavy gear and items with hard edges are towards the bottom and middle of the pack. It's helpful to use elasticated pockets to secure these items, but make sure that the weight is centered in your pack and not heavy on one side which will affect your technique and spine.
4. Practise first
It's not a good idea to set off on a long run wearing a heavy pack with no training. Start with a lighter pack and a shorter distance so you can get used to it. You also want to give yourself time to stop and repack if you discover something is digging in, bouncing around or imbalance once you get moving.
5. Pay attention to posture
Any time you're wearing a backpack, it's easy to hunch your shoulders and round your spine to offset the weight behind you, but we already do too much of that in running. Slow down a little so you can be sure your feet are landing underneath you and focus on keeping your gaze up, shoulders relaxed, spine long and shoulders back. Even though you still want to lean into the uphills, do it with your entire body, not just by rounding your back.
6. Wear a running top with sleeves
Chances are that even a really good backpack might rub if you're running in it for a long time. Rather than running in a tank top, wear a t-shirt or long sleeved base layer when you're running with a backpack to protect your shoulders from rub.
7. Strengthen your back muscles
Runners aren't necessarily known for having strong backs or upper bodies, and it's a good idea to strengthen these areas anyway, but it becomes more important when you're carrying a pack. You can do this in the gym or in pilates and by wearing a backpack around town and on hikes.
8. Recover properly
You might already be well acquainted with yoga and foam rolling to stretch out your quads and hamstrings after running, but if you're wearing a backpack you'll also want to stretch out your shoulders after a run. Our yoga for hikers sequence works for runners too and includes some great shoulder stretches designed for pack recovery and you can do it in just a few minutes after each run.
All the latest inspiration, tips and guides to help you plan your next Advnture!
Julia Clarke is a staff writer for Advnture.com and the author of the book Restorative Yoga for Beginners. She loves to explore mountains on foot, bike, skis and belay and then recover on the the yoga mat. Julia graduated with a degree in journalism in 2004 and spent eight years working as a radio presenter in Kansas City, Vermont, Boston and New York City before discovering the joys of the Rocky Mountains. She then detoured west to Colorado and enjoyed 11 years teaching yoga in Vail before returning to her hometown of Glasgow, Scotland in 2020 to focus on family and writing.