How to clean a flask and make sure the only thing you taste is what you're drinking
Nobody wants their tea tasting like coffee on the trail – or vice versa. Here's how to clean a flask to make sure your hot beverage stays fresh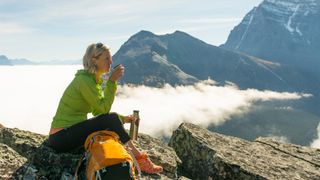 (Image credit: Getty)
A hot drink or big cup of steaming soup is the perfect pick-me-up when you're halfway through a hill walking adventure in chilly conditions, just as a hiking flask full of freezing and refreshing juice can hit the spot when you're sweating along the trail on a mid-summer escapade.
But in order to have such life-affirming elixirs at hand, you need to keep a decent flask in good working order, and key to that is knowing how to clean a flask out after each outing. Here we explain how to do just that:
How to clean a flask: quick guide
Empty, wash and thoroughly rinse your flask after every use. Don't leave it in your hiking backpack or by the sink for a few days – the sooner you act the better. And let it dry completely before putting it away.
Use a dishwashing brush and washing up liquid to clean your flask. Avoid an abrasive scourer, and never use strong chemicals, such as bleach or chlorine, to clean it – they could damage seals.
Some flasks can go in a dishwasher. However, a dishwasher may not be able to get enough water into the farther reaches of a flask with a narrow opening. Plus, dishwashing may discolor any coating on your flask.
For more stubborn stains and smells, add some baking powder or bicarbonate of soda to a dry flask, pour in boiling water, cover the top and leave it for at least 30 minutes or even overnight, before rinsing and drying.
Think about what you put in the flask in the first place – certain things (say, carrot, ginger and beetroot soup for example, or last night's curry reheated and liquidized) are much more likely to leave residual odors and colors on your flask. See below for some great suggestions for trail drinks.
For an emergency solution, try the Stanley flask formula: pour 50g (¼ cup) of dry uncooked rice into the flask, add 90ml (3oz) white vinegar and seal the flask. Shake for 60 seconds, leave to stand for 10 minutes, and shake again vigorously for two minutes. Empty the flask and rinse with warm water before leaving to dry.
Best hot drinks on the hill
Banish stewed tea and lame coffee from your hiking inventory and turn drink stops into a treat.
Tea
The UK's favorite hot drink needs a little TLC to taste good on the hill. It's best to brew it in a pre-warmed teapot, and as soon as it's ready pour it into a pre-warmed flask. Don't add milk to the tea at this stage – it will cool the drink and risks curdling in the flask. Instead, pack a small, well-sealed bottle of milk to use fresh when you decide to stop and admire the views.
Coffee
Coffee may be more forgiving than tea for being served from a flask, but once again it's better to pre-make the coffee in a thermal beaker at home before transferring to the flask to ensure the correct strength of drink to meet your taste. Adding milk on the hill, rather than directly to the flask, means a hotter, fresher-tasting drink. For real coffee fans, fill a flask with boiling water ready to pour into an insulated coffee press mug, with the coffee grains already in the mug, when you stop for a break. Try Bodum's Insulated Stainless-Steel Travel French Press Coffee Mug (£21 from Amazon UK or Amazon US).
Herbal tea
There's an infinite variety of herbal teas to offer refreshment and hydration on the hill. A throat-warming flavor, such as lemon and ginger, really hits the spot when the mercury tumbles, while liquorice and peppermint offers a more comforting brew whose delicious smell matches its flavor (unlike some fruit teas that smell fab but taste of nothing). Be aware that once a flask has been filled with a strong-tasting herbal tea the flavor tends to linger, which is fine if that's all you'll ever drink, but a nightmare if your next flask of breakfast tea of coffee has strong undertones of mint or ginger. Making herbal teas fresh on the hill with boiling water is difficult, because by the time the teabag has brewed, the drink will only be tepid.
Fresh brew
A flask may be convenient, but it can never match the freshness of an on-the-spot boiled cuppa. Try Jetboil's lightning fast stove for a cup of cowboy coffee – boil the water, leave it to cool a moment, then add ground coffee and use a French press plunger to turn the stove into a cafetière. Tea always tastes best, too, when it's made with boiling water.
DIY brew
Flask specialist Thermos has developed a range of recipe ideas for hot drinks in the hills. Try ginger apple tea, with a list of ingredients that includes a cinnamon stick, cloves, lemon peel, green tea and honey as well as apple juice and ginger. Or relax with lavender chamomile tea, which mixes dried lavender buds, mint leaves and chamomile leaves. See more at thermos.com.sg/recipes.
Bovril
A staple of wind-whipped football fans for generations, Bovril travels well to the hills and colder climes. Both Captain Scott and Ernest Shackleton warmed their cockles with a mug of beefy Bovril after a chilling four-hour march near the South Pole.
Hot chocolate
However tempting the convenience of instant hot chocolate and boiling water, when you really want the comfort blanket of a sweet, chocolatey, 'everything-will-be-all-right' drink, it has to be made with milk. For milk chocolate sweetness in the UK, it's hard to see beyond Cadbury's Drinking Chocolate, or for a richer, darker drink try Hotel Chocolat Classic 70% Hot Chocolate.
All the latest inspiration, tips and guides to help you plan your next Advnture!
After spending a decade as editor of Country Walking, the UK's biggest-selling walking magazine, Jonathan moved to edit Outdoor Fitness magazine, adding adrenaline to his adventures and expeditions. He has hiked stages or completed all of the UK's national trails, but was once overtaken by three Smurfs, a cross-dressing Little Bo Peep, and a pair of Teletubbies on an ascent of Snowdon. (Turns out they were soldiers on a fundraising mission.)