How to clean a hammock
A step-by-step guide on how to clean a hammock safely both by hand and in a machine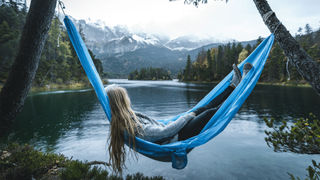 (Image credit: Hummingbird)
As with every piece of outdoor gear, treating your hammock to a little TLC every so often is the best way to keep it looking (and smelling!) good and performing to its best for the longer term. Luckily, learning how to clean a hammock is easily done, and the hammock-laundering process is far less fiddly and time-consuming than with a tent, sleeping bag, and various other delicate components of camping or hiking kit.
In our buying guide to the best hammocks, we introduced you to our top 10 picks for 2021. Here, we provide tips on how to restore your hammock's sparkle and shine after a few months of use, whether you're washing your hammock by hand or in the machine.
For more advice on hammocking, check out our guides How to use a hammock and Why sleep in a hammock?
How to wash a hammock in a washing machine: step-by-step instructions
Before we get down to our step-by-step instructions, it's important to note that you can only wash your hammock in a machine if the machine doesn't have an agitator as agitators are almost sure to rip the fabric.
Step 1: Prep your hammock
Before throwing you hammock in the machine, make sure you remove the carabiners (which might damage the machine) and any rope attached to the ends – this can catch in the machine or wrap around and rip the fabric.
Step 2: Prep your machine
Washing your hammock at too high a temperature can damage the fabric and/or reduce its strength, and even cause shrinkage. This being so, make sure you set your machine to a delicate, low-heat cycle. If your hammock is particularly dirty, give it a rinse down to remove the worst of the stains or dirt, throw it inside a pillowcase, and then set the wash to a more aggressive low-heat cycle.
Step 3: Add detergent
Because the chemicals used in harsher detergents and softeners can degrade hammock fabric over time, choose a mild detergent and pass on the softener.
Step 4: Dry
Hang your hammock to dry in the shade outside or indoors. The most important thing is to avoid exposing it to UV rays, which can damage the fabric.
How to wash a hammock by hand: step-by-step instructions
Washing a hammock by hand is a little more labor-intensive and time-consuming, but is often a better option for removing stubborn stains and preferable for anyone concerned that their machine might harm their hammock.
All the latest inspiration, tips and guides to help you plan your next Advnture!
Former Advnture editor Kieran is a climber, mountaineer, and author who divides his time between the Italian Alps, the US, and his native Scotland.
He has climbed a handful of 6000ers in the Himalayas, 4000ers in the Alps, 14ers in the US, and loves nothing more than a good long-distance wander in the wilderness. He climbs when he should be writing, writes when he should be sleeping, has fun always.
Kieran is the author of 'Climbing the Walls', an exploration of the mental health benefits of climbing, mountaineering, and the great outdoors.