How to enjoy elk rutting season safely
Our elk safety tips help you enjoy all the perks of elk rutting season with none of the danger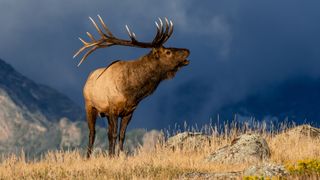 (Image credit: Getty)
Fall is one of the best times to visit spectacular National Parks like Rocky Mountain, Great Smoky Mountain and Yellowstone, and it's not just because of the spectacular fall colors you'll see on the hiking trails. Elk rutting season offers you and your family an unforgettable wildlife viewing experience, so it's no wonder that you're keen to get your hiking boots on and head out to watch these magnificent beasts sparring and bugling during their mating season in some of the country's most scenic landscapes. However, there are a few things you'll want to know to avoid becoming a headline. Read on for everything you need to know about how to enjoy elk rutting season, and some elk safety tips to protect your wellbeing while you're doing it.
What are elk?
Elk, less commonly known by their Shawnee name Wapiti, are one of the largest members of the red deer family found in North America and Central Asia. In Europe, the term 'elk' is used to describe moose, but elk are distinct from their mighty cousins. Elk are characterized by their large size – though not as big as moose, a bull elk in Canada can easily tip the scales at over 800lbs – short tails and light-colored coat. In the winter, elk grow a dark-colored neck mane for warmth and bull elk sport large antlers which they shed every spring.
Elk are social animals, moving in herds called gangs which can reach up to 400 in the summer. For the majority of the year, male and female elk segregate into separate gangs. In the summer, elk tend to move to higher ground where the temperatures are cooler, and come down into the valleys and plains when winter arrives so that they can graze.
In North America, these herbivorous grazers are incredibly well adapted to a variety of terrains, including the western Rockies, the rainforests of the north west, the prairies of the heartland and even as far east as Pennsylvania. This means that they can vary quite dramatically in size, however they are always larger than deer.
What is elk rutting season?
Elk rutting season is the official term for elk mating season, which occurs between mid-August through mid-October, depending on your location. Cow elks are only in heat for 24 hours, after which they won't be receptive to mating again for another 20 days, so the bulls pull out all the stops during this brief period of opportunity.
During this time, bull elk engage in an intricate display of pageantry to attract a mate including gathering cow elk together in small groups called harems, dousing themselves in the heady scent of mud and urine, bugling, and locking antlers with other bulls in fight. Though bull elks do get hurt in these sparring matches, the purpose is a show of strength to gain control over the harems, and it is quite a spectacular show of nature to witness first hand. Elk are most active during evening hours during rutting season, so it's a good time of year to plan an afternoon hike that ends with some wildlife viewing.
Elk safety tips
If you haven't seen bull elk in mating season, you'd be forgiven for thinking these herbivorous ungulates are docile creatures that simply hang out on the pasture, munching on grass. However, elk can be unpredictably aggressive at any time of year, and more so during rutting season in the late summer and early fall, as well as during calving season in the late spring when the cow elk will fiercely protect their young.
Elk are known to attack people who get too close. Despite their massive bulk, a bull elk can run up to 40mph, so don't be fooled into thinking that you can easily sprint out of the way.
Whether you're heading out to a wildlife area during rutting season to watch some dazzling dalliances or you simply happen upon a herd of elk on a hike, you'll want to keep the following elk safety tips in mind.
1. Keep your dog on a leash
Like moose, elk don't like dogs and are known to attack them. It is best to hike with your dog on a leash in areas where you might encounter elk, or get them on a leash quickly if you come across a gang.
2. Keep your distance
If you see elk, it's important to give them a wide berth. Most wildlife experts advise that you maintain at least 150ft, or three bus lengths, between yourself and any elk. In case this still needs to be said, that means you should not try to pet or feed elk (nor should you feed any wildlife, for that matter). You should also respect any trail closures in place due to rutting season.
If there are elk on a trail that you want to traverse, detour around the gang and do so on the uphill side if possible.
3. Know the warning signs
If you're near an elk and it's feeling threatened, it will let you know by grinding its teeth and pointing its ears in a display of nervousness. In fairness, you shouldn't be close enough to see these signs, but if you are, now's your chance to move away.
4. Back away
If an elk is displaying warning signs, keep facing it and back away slowly until you are a safe distance from it.
5. Run or fight
If an elk does decide to charge, you might not be much of a match with your bare fists, but you definitely shouldn't play dead or you might get trampled. Make yourself big and wave your trekking poles around (or use them as a protection). It's also not a bad idea to carry bear spray, which may be effective in repelling elk. If you have to run, try to find something to hide behind like a boulder or car, or climb a tree or rock to safety.
6. Use binoculars
Finally, the best way to safely get up close and personal with elk during rutting season is to get yourself a pair of the best binoculars so you can zoom in from a distance (or even your car) and enjoy all the perks with none of the danger.
All the latest inspiration, tips and guides to help you plan your next Advnture!
Julia Clarke is a staff writer for Advnture.com and the author of the book Restorative Yoga for Beginners. She loves to explore mountains on foot, bike, skis and belay and then recover on the the yoga mat. Julia graduated with a degree in journalism in 2004 and spent eight years working as a radio presenter in Kansas City, Vermont, Boston and New York City before discovering the joys of the Rocky Mountains. She then detoured west to Colorado and enjoyed 11 years teaching yoga in Vail before returning to her hometown of Glasgow, Scotland in 2020 to focus on family and writing.