Smartphones vs cameras: which is best for taking stunning outdoor photos?
Smartphones vs cameras? When considering your next outdoor adventure, which one should you be packing to capture those epic moments?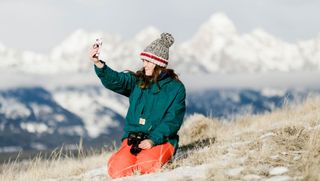 (Image credit: Getty)
In the old days, smartphones vs cameras wasn't a contest in the slightest. Once upon a time, a digital camera was the only way to take nice photographs on days out, unless you wanted to haul a large SLR around on your adventures. Back then, a phone was simply a phone, possibly with an inbuilt camera rendering images that were just a blur of pixels.
The process of using a compact camera feels wonderfully archaic now – the act of grabbing your camera from your hiking backpack, removing it from the pouch, pushing a button to take the photograph and then remembering to remove the memory card from the camera when you got home and saving the images onto a computer to look back through at some point.
Since the advent of smartphones, typically equipped with high-quality inbuilt camera technology, it's never been easier to take a photograph or short video and immediately upload it to social media, or send it to a friend. You can also use apps to edit photos and videos, creating print–perfect images and broadcast-worthy clips in mere minutes.
But does that mean compact cameras are completely redundant? Has the battle of smartphones vs cameras been won? Is there any real need for a separate camera, when smartphones are so slick and heavily featured with instantly upgradable software? Here we assess the attributes of both across various outdoor scenarios, and find it's not quite as clear-cut as you might think.
And don't forget to check out our guide to taking great outdoor photos with a smartphone.
Smartphones vs cameras: weight and portability
There's not a massive amount in it by these measures: most smartphones weigh roughly the same as popular modern compact cameras, and both are small enough to be easily stowed in a pocket of a daypack or jacket. However, the key difference is that if you opt to take a compact camera, you will almost certainly be taking your phone as well – for all the other functions it offers. Which leads us to…
Smartphones vs cameras: functionality
The smartphone nails a quick and easy win here – or at least it seems. A compact camera is a camera. Period. But your smartphone is a camera, plus a multitude of other things, from a compass to a calculator. It's a bona fide hiking essential that gives you access to camping apps, the best navigation apps for route plotting and recording, wildlife and star identification, weather reports and the ability to call for assistance in an emergency.
But here's the catch – if you're relying on your phone for all these things, or even just some of them, then the battery ain't going to last very long. If you're out on the trails for several days, having a separate camera to record the action is a good back-up plan, which will allow you to save some juice on your phone for navigating or calling for help should you require it. You can always take a solar charger, but this means more weight and more space taken up in your pack. Bringing a separate camera also means you can also keep your phone stashed safely away, minimising the chances of losing it, while you happily snap away with the camera.
Smartphones vs cameras: robustness
This very much comes down to the model of phone/camera you're using. Some smartphones are pretty tough – for example the new Land Rover Explore or the Blackview BV9800 pro – while others will need a protective cover to keep trail grit and cloud juice out. It's a similar story with compact cameras – if you intend to take images while canyoning, kayaking, canoeing, packrafting, wild swimming or just regular hiking in wet conditions, go with something like the very affordable Panasonic DMC-FT30, which you can submerge to 26ft/8 meters. Always check the IP rating of the phone/camera you're using, which tells you how dust and waterproof something is (the higher the number, the better).
Smartphones vs cameras: capability and versatility
Side by side, both a smartphone and a compact camera will take some pretty good photographs in a setting with good natural light. But it's the powerful technology below the surface that really comes into its own during low-light scenarios, and this is much more noticeable during the winter months. So how much power can you pack in?
Compact cameras can feature a lot of sophisticated technology, which gets better with each model upgrade. Some compact cameras boast impressive features such as 25X zoom and high-tech systems that use a CMOS sensor and a DIGIC 4 Image processor to achieve high-quality photography in low-light settings. They can capture details even in the lowest light, and sustain a level of cropping in on scenes that a smartphone would struggle to handle. With improvements on NFC/Wifi sharing capabilities, it's never been easier for the compact camera to send images to your phone or computer for editing, which can then be shared online.
Different compact camera manufacturers will also include image stabilisation to ensure sharp stills and steady movies, and avoid that motion-sickness inducing look. And, for those who prefer to use buttons, that's what you'll get with most cameras, rather than a touch-screen function. Most digital cameras now offer the option to shoot in full HD (1080) with some of the latest models offering options in 4K.
My smartphone also features a surprising amount of tech, however, including a 12-megapixel dual camera system. A big wide-angle sensor allows for sharper pictures in low light, while Smart HDR provides photos with more detail, resulting in images that look less flat and capture a wider range of depth in the highlights, mid-tones and shadows. While the smartphone might not be able to compete with the camera on the zoom front, the telephoto lens on the phone has 2X optical zoom and continues to allow for 'Portrait Mode' photos, which feature better bokeh (background blurring), and there's a 'Depth Control' option that allows for adjustable depth of field. I've certainly noticed the improvement in photographs, which have more aesthetic quality to them, while a bit of fiddling is required on the manual control or using pre-automated settings to recreate the same effect.
My smartphone also gives a compact camera a run for its money with larger pixels, extended dynamic range, and a larger sensor, which also improve stabilization and low-light performance when capturing videos. The True Tone flash has been improved so people don't quite look so dazzled when the flashlight setting is used. The shutter-release button on a smartphone is virtual and usually on a screen, meaning you will probably have to take your gloves off to take a snap. However, some of the best hiking gloves are designed to be smartphone friendly, meaning you can tap away as if you were using your actual finger.
So, on the technology comparison front – it feels too close to call.
Smartphones vs cameras: range and burn time
Technology doesn't like the cold – and both compact cameras and smartphones struggle in cold weather. During the colder months, the performance of phone batteries can drop and it's inadvisable to solely rely on a smartphone as your main navigation aid and camera when out walking. Many compact cameras offer the option of using spare standard batteries to replace the rechargeable power pack once the latter is exhausted, which allows for greater flexibility. With a smartphone, for any considerable trip, it's advisable to carry a spare battery pack and cable, or a solar charger.
Smartphones vs cameras: simplicity, sustainability and art
Modern technology keeps advancing, but something newer, lighter and shinier might not actually be quite as sustainable or flexible. Smartphones contain a huge amount of components, including rare metals, the sourcing of which brings up serious ethical and environmental concerns. The humble compact camera is ostensibly simpler, but it encourages our sense of play – we can easily alter the manual functions to capture an image, experimenting with a variety of exposure controls, aperture settings, ISO levels and shutter speeds. For ultimate creative control, it is advisable to shoot in a neutral colour profile and in RAW unprocessed image file format – which allows keen photographers to edit photographs in postproduction in programs such as Adobe Lightroom.
Smartphones vs cameras: situational demands and personal preference
As with all hiking technology, what you choose to use will often come down to personal preference. For those who question whether compact cameras and smartphones have better functionality for different sports, I've been out hiking and climbing with friends who will only carry a smartphone because they can zip it away in their jackets and use it as a reference tool for routes as well as capturing subjects in relatively restrictive locations.
Equally, I've got some friends who guide as outdoor instructors who prefer to carry a little compact camera to document their days, and who take great photographs of their clients hill walking and climbing on exposed sea cliffs. Carrying both should perhaps be considered for some users where image capture is an important part of the outdoor experience.
Smartphones vs cameras: price
You can spend very little, or an awful lot, on both compact cameras and top of the range smartphone technology – and in both cases you will get what you pay for. If you just want something cheap but dependable to keep for day trips, or for occasional use during high summer backyard camping experiences, then a compact camera under $200/£200 might be your best option, to have along with a smartphone (which we virtually can't do without these days). However, if you do a lot of after dark or all-season adventuring, and/or any autumn-winter-spring camping, then it's worth considering investing in a better camera for those awe-inspiring, jaw-dropping images you'll want to share online and print for your walls. It's advisable to bring along dry bags for when the conditions turn nasty or if you indulge in a bit of kayaking or pack rafting.
Swipe to scroll horizontally
Smartphones vs cameras

| Header Cell - Column 0 | Smartphone | Camera |
| --- | --- | --- |
| Functionality | Multiple functions | Camera only |
| Weight & portability | Lightweight & portable | Lightweight & portable |
| Robustness | Depends on model | Depends on model |
| Capability | Advancing | Advanced |
| Range & Burn time | Struggle in cold weather, requires solar charger | Struggle in cold weather, can usually use regular spare batteries |
| Sustainability | Ethical concerns with materials used | More sustainable |
Smartphones vs cameras: the verdict
Whether you're a hiker looking to record spectacular views, a canoeist or kayaker aiming for action shots, or a trad climber capturing the exposed rocky situations you find yourself in, a smartphone will generally take a photograph as good as most compact cameras, by virtue of the high-functionality most models now boast.
A compact camera can be more robust, however, especially if you go for a fully waterproof model, and it will work better in low light, when you can alter the settings more extensively. A separate camera will also allow you to conserve power on you phone, and means you don't have to ration how many images you take. It's a personal choice, and a lot depends on the kind of adventures you enjoy and the conditions you enjoy them in, but if you can afford both, you'll never miss a shot.
All the latest inspiration, tips and guides to help you plan your next Advnture!
A former brand ambassador for Merrell and current Ordnance Survey #GetOutside Champion, Jessie Leong's lifelong outdoor odyssey began with Duke of Edinburgh's Award walks in the Peak District. This segued into long hill hikes in the Yorkshire Dales, multi-day treks in the Lake District, scrambles in North Wales and adventures scaling alpine pinnacles. When not walking, she can be found rock climbing, wild swimming, cycling, photographing, filmmaking, writing and modelling. Jessie's most recent claim to fame is playing a Miss World contestant in the 2020 feature film Misbehaviour.