How to stop condensation in a tent
Our guide on how to stop condensation in a tent will help keep your tent in good condition and make your sleeps a whole lot less soggy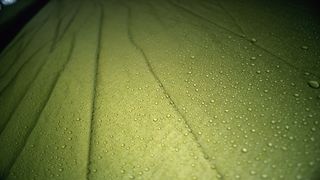 (Image credit: Sydney (Getty))
Knowing how to stop condensation in a tent is a real boon for campers. Condensation is one of the biggest banes of almost every camping enthusiast's life. We rock up at our campsite, pitch our pro tempore palace for the night, snuggle up inside come bedtime, then suffer a rude awakening at some ungodly hour when things start feeling a little more aquatic than is conducive to comfortable camping and a good night's sleep.
While condensation can happen even in the finest shelters and may seem only slightly less inevitable than death and taxes, there are ways to mitigate the problem and, perhaps, eliminate it entirely.
In this guide, we'll show you how to stop condensation in your best camping tent...
How to stop condensation in a tent: 5 tips
1. Ventilate!
The main cause of condensation inside a tent is heat and humidity produced by the tent's occupants.
A single sleeper can produce up to one pint of condensation per night, so a tent with 4 sleepers in it could become wetter than an otter's pocket unless that condensation is allowed to escape. But how does that happen? Well, the easiest way to ventilate a tent in dry conditions is to forego the rainfly and use the tent body alone. Doing so will remove the tent's most impenetrable layer and provide plenty of airflow through the mesh panels in the tent walls or canopy. If weather conditions don't allow fly-free pitching, your best bet is to make full use of all of the tent's ventilation features. This means downing the zippers on any mesh-lined windows, opening vents, leaving the doors (at least partially) open, and ensuring none of the vents or doors are obstructed by either the sleepers or their gear. If you're yet to buy a tent, a model with doors on either side of the sleeping area is the best bet for condensation-free sleeping, as covered in more detail in How to choose a tent.
2. Use your vestibules for storage
One of the main causes of condensation inside a tent is the presence of moisture contained in elements other than the sleepers themselves. The most common sources are wet shoes or hiking boots, damp clothes, backpacks, and even cooking utensils. To keep the sleeping area of your tent as dry as can be, you should store all of these items in the vestibule at night or, alternatively, bring a small tarp to stash them under when you hit the hay.
3. Aim your doorway to the wind
Condensation has never seen a tent it didn't like, but – as mentioned above – those most likely to become riddled with the stuff are those in which airflow is poor.
Beyond opening the vents and doors, the best way to optimize airflow is to make sure your tent is positioned so as to make the most of the breeze. This means choosing a pitching place that's exposed, not sheltered, and aiming the doorway towards the wind, which should help to get the air inside circulating.
4. Don't pitch too close to water features
Water features like lakes, rivers, ponds, creeks, and marshland can all increase humidity. This being so, pitching your tent a few hundred yards from these can help to keep condensation to a minimum.
5. Pack a towel
Sometimes, no matter how hard you try, there's just no stopping condensation from forming. This is usually when there's a large discrepancy between ambient temperatures (temps outside your tent) and the temperature inside your tent – when the warm, humid air inside your tent makes contact with the cool fabric of your tent, the moisture contained in the air condenses and transforms into liquid, and the cooler the fabric of your tent is, the more liquid will form. If you're camping in cool conditions, then, damage limitation is often more realistic than avoidance. For this, the best piece of kit to add to your camping checklist is a towel with which you can wipe down the tent walls any time you notice they're a touch damp.
All the latest inspiration, tips and guides to help you plan your next Advnture!
Former Advnture editor Kieran is a climber, mountaineer, and author who divides his time between the Italian Alps, the US, and his native Scotland.
He has climbed a handful of 6000ers in the Himalayas, 4000ers in the Alps, 14ers in the US, and loves nothing more than a good long-distance wander in the wilderness. He climbs when he should be writing, writes when he should be sleeping, has fun always.
Kieran is the author of 'Climbing the Walls', an exploration of the mental health benefits of climbing, mountaineering, and the great outdoors.