How to choose a tent: find the ideal shelter for your adventures
Knowing how to choose a tent, with so many varieties on the market, can be a bit befuddling. We cut through the jargon in our comprehensive guide on choosing the optimum shelter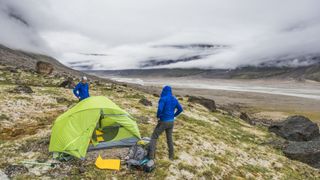 (Image credit: Getty)
Knowing how to choose a tent is not easy. There's an almost overwhelming variety out there these days. From family air tents that use inflatable beams instead of poles and tipi-style glamping tents for luxurious getaways, to pop-up tents designed with convenience in mind and featherlight, freestanding backpacking tents – there's a tent out there for every style of camper.
Tents range from the unbelievably cheap models found in supermarket bargain bins to eye-wateringly expensive shelters that wouldn't look out of place on a mission to Mars. When navigating this wide spectrum, it can be difficult to know whether or not you are getting a good deal or something that will come apart in a strong gust.
In order to get the best camping tent for your needs, first you should consider the kind of camping trips you have in mind. If you're heading for music festivals this summer, you probably won't need something designed to within an inch of its life for pitching at the summit of a 14,000-foot mountain. At the same time, you'll still want a quality product that will last you several years or more.
Where tents are concerned, the old adage is true: if you buy cheap, you buy twice. This is neither good for your wallet or the environment. However, armed with the correct knowledge, you'll soon be able to spot a good tent when you see one and make an investment in a shelter with confidence that you've spent prudently. Our guide to the factors to consider when choosing a tent will help you achieve this.
How to choose a tent: performance
The primary function of any tent is to keep you protected from the elements – mainly wind and rain, but sometimes snow too. On quality tents, the flysheet and groundsheet fabric will have a quoted Hydrostatic Head (HH) weighting in terms of 1000s of mm – eg 3,000mm – which reflects how much pressure the fabric can withstand before it lets water in. So, a flysheet with a HH of 3,000mm could have a solid column of water 3 metres tall bearing down on it before it fails. If you are looking to choose a backpacking tent, you will want a high HH rating.
Groundsheets should be even more robust, but the thicker the material, obviously the heavier the tent will be. Also, HH isn't everything – a good tent will also need decent stitching, well-sealed seams and quality zips. Ventilation is another important factor – a tent may be fully waterproof, but without adequate moisture management you'll still get wet from condensation build-up.
How to choose a tent: design and construction
There are many different types of tent design: ridge tents, dome tents, tunnel tents, geodesic tents, semi-geodesic tents, tipi tents, pop-up tents and even inflatable air tents. Traditionally, small technical backpacking tents were mainly ridge, tunnel or semi-geodesic (a tent with fewer than five pole crossing points).
But more advanced alloys in tent poles and stronger, lighter fabrics have made a host of different designs possible. Increasingly, many small backpacking tents have utilized innovative geometry and hubbed poles to maximize internal space and headroom, without unduly affecting stability, weight or strength. Quality tents will use aluminium alloy poles by a manufacturer such as DAC or Easton. Superlight tents might use carbon fibre poles. Avoid cheaper tents with fibreglass poles, which are prone to shearing.
Most tents have a double-skin design, meaning they are comprised of a fabric-and-mesh inner structure (your abode) with a waterproof flysheet over the top. Some double-skinned tents can be used with just the flysheet, which adds versatility and cuts weight while still providing waterproof protection. Similarly, others can be pitched without the fly, a system that is ideal for dry, warm weather camping.
How to choose a tent: on the fly
The flysheet protects you and your kit from the elements and it will usually be made from silicone-coated nylon or PU-coated polyester, providing reliable waterproofing. Nylon is a stronger fibre for its weight and is therefore typically used in lightweight designs. The flysheet balances protection with ventilation.
A large flysheet that offers good coverage – often right down to the ground – is generally better in wilder weather, as it will keep more wind-driven rain out. On the other hand, a bigger gap between the ground and the edges of the flysheet permits improved airflow, aiding moisture management and therefore reducing condensation inside the tent. It also keeps the tent cooler in hot, humid conditions. Think about where and when you're going to be camping most often.
How to choose a tent: on the inside
The inner tent provides a sleeping space. It protects you from dripping condensation that will inevitably form on the underside of the flysheet, as well as from bugs and insects. The upper part is usually made from lightweight fabric or mesh to reduce weight and improve ventilation. Be aware, however, that an inner tent with lots of mesh can be colder in winter conditions.
The lower portion consists of a sewn-in or bathtub groundsheet, which is waterproof to prevent damp seeping in from the ground beneath you and your sleeping pad. Many inner tents have useful pockets for storing camping tech or stashing away tent doors, as well as overhead hanging tabs or hooks for a tent lantern or gear loft. Some tent inners also have a DWR (durable water repellent) treatment to double down on water-resistance. For more on this, check our What is DWR? guide.
How to choose a tent: porches
Most tents have at least a small space outside the inner tent that is still protected by the flysheet, usually located at the entrance(s) of the tent. This is called a porch or vestibule. Some family tents even have a large communal vestibule in the centre, with bedroom-like inner tents off to the sides. The porch is a great place to store wet kit and muddy boots, camping chairs when it rains and can also act as a sheltered space to cook on a camping stove in poor weather.
With smaller hiking tents, make sure that the porch is big enough to accommodate your gear – otherwise you might be forced to keep your pack outside your tent, which is a compromise that many users will be reluctant to make.
How to choose a tent: pitching
Knowing how to pitch a tent properly is half the battle in terms of ensuring an enjoyable trip. Tents pitch in one of three ways: inner first, outer first or all-in-one.
With an inner-first design, the poles usually attach to the inner tent with clips and the flysheet is then thrown over the top. This is a simple and stable system that makes it easy to tweak and adjust fly sheet tension if necessary.
With an outer-first design, the poles are usually threaded through sleeves in the flysheet, or sometimes the fly is clipped to a skeletal pole structure. The inner then attaches to the inside of the flysheet. This system is are ideal if pitching in the rain, as the inner can more easily be kept dry.
With an all-in-one system, the fly and inner are pre-attached to each other, and poles are then threaded through sleeves or clipped to the whole tent. This offers quick and easy setup, but sometimes makes it harder to fine-tune tent tension.
Some tent designs are free-standing, meaning that the overall structure is created by the poles alone and does not rely on fabric or guy line tension to keep the tent upright. A freestanding tent is ideal for pitching on hard ground when it may be difficult or impossible to drive tent pegs or stakes into the ground. It also makes it easier to move the tent around once it is erect if you decide to alter your pitch to find flatter ground, for example.
Provided tent pegs are securely staked, however, non-free-standing designs can be just as stable. Typically, they also have lower profiles too, enabling them to shed wind well. As well as pegging points at tent corners, most tents have a series of guy lines to help stabilize the tent in high winds. Of course, tents with inherently stronger and more stable designs require fewer guy lines. More guy lines add security and resilience, but also means carrying more pegs, which comes with an increase in weight.
How to choose a tent: weight and pack size
If you're car camping, these figures are less important – but if you're backpacking or bikepacking, they are crucial. Make sure the packed dimensions (i.e. total volume of the tent and poles all bundled up together in their stuff sack) are not too bulky to fit inside your rucksack, or failing that, can at least be strapped to the outside of your pack. To maximise space efficiency, some lightweight campers prefer to pack the tent and poles separately. If you're backpacking with a partner or a group, split the tent up (poles, pegs, inner, flysheet) and carry it between you.
Weight is a similarly significant consideration. A heavy tent will make a real difference to the overall weight of your pack – especially if you have to pack it away when wet, when it will be considerably heavier. Manufacturers generally supply an overall weight, which should include the all the tent elements, including the stuff sack. Some brands also give a 'trail weight' figure, which usually refers to the minimum weight of the tent that will still allow it to be pitched. However, this might mean leaving behind some guylines and pegs, and may not include the weight of the stuff sack either.
Due to weight considerations, backpacking models are generally one-person or 2-person tents. Be aware that a 2-person shelter takes a maximum of two people, so could be quite snug and may not fit two full sized backpacks as well.
How to choose a tent: value
Ultralight tents made from premium fabrics like Dyneema Composite Fibre (DCF) can come with big price tags, as can four-season or expedition tents designed to withstand extremely high winds and massive snow-loading. But unless you're a committed adventurer, you don't need to spend an eye-watering sum. Try to think of your tent as an investment. After all, with care and a bit of regular TLC, it ought to last a lifetime of adventures. And it is always worth shopping around, because you can invariably pick up tents for far less than the RRP.
How to choose a tent: space
Consider the total floor space of the inner, to ensure you'll have enough room for you and your crew, if you have one. Make sure it is long enough for you to stretch out and wide enough to accommodate your camping mats. If you'll also have a lot of camping or backpacking gear, think about whether the tent offers enough space to store it, either inside the inner tent with you, or in the porch or vestibule(s).
Also look at the headroom – ideally, you want to be able to at least sit up inside the tent. Depending on the tent's design, the ceiling may taper towards the foot end, so you may not be able to sit up throughout its length. In family tents, if the tallest member of the clan can stand upright without pushing the inner against the fly and producing drips – that will avoid grumpiness.
How to choose a tent: jargon buster
Let's cut through the jargon so that you will know how to choose a tent like a pro. That way, when we say things like "the flysheet and groundsheet fabric will have a quoted Hydrostatic Head weighting", you'll know exactly what we mean.
Groundsheet: A groundsheet is a fully waterproof piece of tarpaulin sewn to the rest of the tent that forms the floor of your shelter, separating you from the ground underneath. Many tents today have a bathtub style groundsheet, where the edges of the sheet come up at the sides, providing extra protection.
Single skin tent: A single skin tent only has one layer of protection between you and the elements, being made from a single layer of waterproof fabric.
Double skin tent: A double skin tent has two layers, a mesh inner tent that isn't usually waterproof and a waterproof outer tent, known as a flysheet. The space formed between the two layers helps to insulate the shelter and reduce condensation.
Flysheet: Also known as a rain fly, a flysheet is a waterproof fabric cover that is pitched outside and over the inner tent to form the outer tent, giving your shelter enhanced protection from the elements.
Hydrostatic Head: Hydrostatic Head (HH) is a measure of how waterproof your tent material is. The higher the HH rating is, the more water pressure your tent can withstand. So, a higher HH rating can cope with more rain and hopefully keep you dry.
But where does this rating come from? Well, imagine holding a vertical tube on top of your flysheet and slowly filling it with water. The pressure on the tent fabric would steadily build until eventually water would seep through. The HH rating is how much water is in that tube before this happens. Ratings start from 1,000 mm (the minimum legal requirement) and go up beyond 5,000 mm. A tent with a rating of 3,000 mm will keep you dry in most conditions.
Guy ropes: Also known as guy lines, guy ropes are cords that are attached to the outer tent and are used to stabilize your shelter by pulling them taut, in line with the seams of the tent, and pegging them into the ground.
Ridge tent: Ridge tents are not as common as they once were. They are the classic triangular shaped shelters we associate with the traditional image of a tent. Usually, a canvas is stretched over a horizontal pole, which is supported by vertical poles at either end. Stability is ensured with guy ropes and peg loops attached to the fabric.
Dome tent: Much more common today are dome tents, comprising two flexible poles that are slid through the tent fabric, cross over at the top of the dome and are then anchored by the four tent corners. Many dome tents have an additional pole to allow for a large porch area in the entrance.
Tunnel tent: Tunnel tents are a common design used for larger family tents. A series of flexible poles loop from one side of the tent to the other, forming a tunnel shape that the flysheet goes over.
Geodesic tent: In essence the evolution of the dome tent design, geodesic tents comprise multiple flexible poles that overlap each other, creating great stability. They are usually more complex than their counterparts, so are often pricier. However, they are the go-to design for those camping in winter or setting off on wilderness expeditions.
All the latest inspiration, tips and guides to help you plan your next Advnture!
An outdoors writer and editor, Matt Jones has been testing kit in the field for nearly a decade. Having worked for both the Ramblers and the Scouts, he knows one or two things about walking and camping, and loves all things adventure, particularly long-distance backpacking, wild camping and climbing mountains – especially in Wales. He's based in Snowdonia and last year thru-hiked the Cambrian Way, which runs for 298 miles from Cardiff to Conwy, with a total ascent of 73,700 feet – that's nearly 2½ times the height of Everest. Follow Matt on Instagram and Twitter.