How to choose a tent: finding the perfect shelter for you
By Matthew Jones, Pat Kinsella
There are so many makes and styles available now that it can be hard to know how to choose a tent. Well, that's where we come in...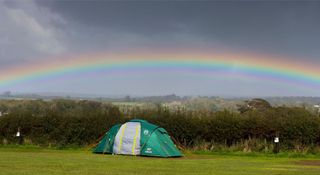 (Image credit: Getty)
When you want to know how to choose the best tent for your outdoor adventures, it can be a little difficult to get past the jargon. Hydrostatic head? Geodesic design? Freestanding versus tensioned pitching techniques? When you're simply trying to find a decent bit of canvas to take on the trail or house your family in for a few days of fresh air fun, all that technical talk can be something of a minefield.
In fairness to the manufacturers, tents have come a very long way in a relatively short time, and you can understand them getting excited about the vast improvements in materials and advancement of designs. But what are the really important things to look out for, and what on earth do those expressions mean in real terms?
Walk this way… And while you do, carefully consider where, when and how you're most likely to use your tent, because that is the single biggest factor that should influence your decision on which one to buy.
Performance
The primary function of any tent is to keep you protected from the elements – mainly wind and rain, but sometimes snow too. On quality tents, the flysheet and groundsheet fabric will have a quoted Hydrostatic Head (HH) weighting in terms of 1000s of mm – e.g. 3,000mm – which reflects how much pressure the fabric can withstand before it lets water in. So, a flysheet with a HH of 3,000mm could have a solid column of water 3 metres tall bearing down on it before it fails.
Groundsheets should be even more robust, but the thicker the material, obviously the heavier the tent will be. Also, HH isn't everything – a good tent will also need decent stitching, well-sealed seams and quality zips. Ventilation is another important factor – a tent may be fully waterproof, but without adequate moisture management you'll still get wet from condensation build-up.
Design and construction
There are many different types of tent design: ridge tents, dome tents, tunnel tents, geodesic tents, semi-geodesic tents, tipi tents, pop-up tents and even inflatable tents. Traditionally, small technical backpacking tents were mainly ridge, tunnel or semi-geodesic (a tent with fewer than five pole crossing points). But more advanced alloys in tent poles and stronger, lighter fabrics have made a host of different designs possible, and increasingly many small backpacking tents have utilised innovative geometry and hubbed poles to maximise internal space and headroom, without unduly affecting stability, weight or strength. Quality tents will use aluminium alloy poles by a manufacturer such as DAC or Easton. Superlight tents might use carbon fibre poles. Avoid cheaper tents with fibreglass poles, which are prone to shearing.
Most tents have a double-skin design, meaning they are comprised of a fabric-and-mesh inner structure (your abode) with a waterproof flysheet over the top. Some double-skinned tents can be used with just the flysheet, which adds versatility and cuts weight while still providing waterproof protection. Similarly, others can be pitched without the fly, a system that is ideal for dry, warm weather camping.
On the fly
The flysheet protects you and your kit from the elements and it will usually be made from silicone-coated nylon or PU-coated polyester, providing reliable waterproofing. Nylon is a stronger fibre for its weight and is therefore typically used in lightweight designs. The flysheet balances protection with ventilation. A large flysheet that offers good coverage – often right down to the ground – is generally better in wilder weather, as it will keep more wind-driven rain out. On the other hand, a bigger gap between the ground and the edges of the flysheet permits improved airflow, aiding moisture management and therefore reducing condensation inside the tent. It also keeps the tent cooler in hot, humid conditions. Think about where and when you're going to be camping most often.
On the inside
The inner tent provides a sleeping space. It protects you from dripping condensation that will inevitably form on the underside of the flysheet, as well as from bugs and insects. The upper part is usually made from lightweight fabric or mesh to reduce weight and improve ventilation. Be aware, however, that an inner tent with lots of mesh can be colder in winter conditions. The lower portion consists of a sewn-in or bathtub groundsheet, which is waterproof to prevent damp seeping in from the ground beneath you. Many inner tents have useful pockets for storing small items or stashing away tent doors, as well as overhead hanging tabs or hooks for a tent lantern or gear loft. Some tent inners also have a DWR (durable water repellent) treatment to double down on water-resistance. For more on this, check our guide What is DWR?
Space
Consider the total floor space of the inner, to ensure you'll have enough room for you and your crew, if you have one. Make sure it is long enough for you to stretch out and wide enough to accommodate your camping mats. If you'll also have a lot of camping or backpacking gear, think about whether the tent offers enough space to store it, either inside the inner tent with you, or in the porch or vestibule(s). Also look at the headroom – ideally, you want to be able to at least sit up inside the tent. Depending on the tent's design, the ceiling may taper towards the foot end, so you may not be able to sit up throughout its length. In family tents, if the tallest member of the clan can stand upright without pushing the inner against the fly and producing drips – that will avoid grumpiness.
Porches
Most tents have at least a small space outside the inner tent that is still protected by the flysheet, usually located at the entrance(s) of the tent. This is called a porch or vestibule. It's a great place to store wet kit and muddy boots, and can also act as a sheltered space to cook on a camping or backpacking stove in poor weather. With hiking tents, make sure that the porch is big enough to accommodate your gear – otherwise you might be forced to keep your pack outside your tent, which is a compromise that many users will be reluctant to make.
Pitching
Tents pitch in one of three ways: inner first, outer first or all-in-one. With an inner-first design, the poles usually attach to the inner tent with clips and the flysheet is then thrown over the top. This is a simple and stable system that makes it easy to tweak and adjust fly sheet tension if necessary. With an outer-first design, the poles are usually threaded through sleeves in the flysheet, or sometimes the fly is clipped to a skeletal pole structure. The inner then attaches to the inside of the flysheet. This system is ideal if pitching in the rain, as the inner can more easily be kept dry. With an all-in-one system, the fly and inner are pre-attached to each other, and poles are then threaded through sleeves or clipped to the whole tent. This offers quick and easy setup, but sometimes makes it harder to fine-tune tent tension.
Some tent designs are free-standing, meaning that the overall structure is created by the poles alone and does not rely on fabric or guy line tension to keep the tent upright. A freestanding tent is ideal for pitching on hard ground when it may be difficult or impossible to drive tent pegs or stakes into the ground. It also makes it easier to move the tent around once it is erect if you decide to alter your pitch to find flatter ground, for example.
Provided tent pegs are securely staked, however, non-free-standing designs can be just as stable. Typically, they also have lower profiles too, enabling them to shed wind well. As well as pegging points at tent corners, most tents have a series of guy lines to help stabilise the tent in high winds. Of course, tents with inherently stronger and more stable designs require fewer guy lines. More guy lines add security and resilience, but also means carrying more pegs, which comes with an increase in weight.
In you need help getting your tent from packed to pitched, check out our guide on how to pitch a tent.
Weight and pack size
If you're car camping, these figures are less important – but if you're backpacking or bikepacking, they are crucial. Make sure the packed dimensions (i.e. total volume of the tent and poles all bundled up together in their stuff sack) are not too bulky to fit inside your rucksack, or failing that, can at least be strapped to the outside of your pack. To maximise space efficiency, some lightweight campers prefer to pack the tent and poles separately. If you're backpacking with a partner or a group, split the tent up (poles, pegs, inner, flysheet) and carry it between you.
Weight is a similarly significant consideration. A heavy tent will make a real difference to the overall weight of your pack – especially if you have to pack it away when wet, when it will be considerably heavier. Manufacturers generally supply an overall weight, which should include the all the tent elements, including the stuff sack. Some brands also give a 'trail weight' figure, which usually refers to the minimum weight of the tent that will still allow it to be pitched. However, this might mean leaving behind some guylines and pegs, and may not include the weight of the stuff sack either.
Value
Ultralight tents made from premium fabrics like Dyneema Composite Fibre (DCF) can come with big price tags, as can four-season or expedition tents designed to withstand extremely high winds and massive snow-loading. But unless you're a committed adventurer, you don't need to spend an eye-watering sum. Try to think of your tent as an investment. After all, with care and a bit of regular TLC, it ought to last a lifetime of adventures. And it is always worth shopping around, because you can invariably pick up tents for far less than the RRP.
All the latest inspiration, tips and guides to help you plan your next Advnture!
Thank you for signing up to Advnture. You will receive a verification email shortly.
There was a problem. Please refresh the page and try again.