How to walk the uphills on trail runs
We share 7 tips for efficiently hiking the uphills on your tough trail runs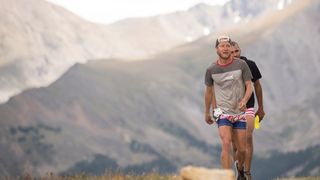 (Image credit: Daniel Petty / Contributor)
If you didn't get the memo, trail running can involve rather a lot of walking. Last year, I happened to be hiking the West Highland Way during the trail's historic ultramarathon. As I hiked south from Tyndrum to Crianlarich, every so often I'd encounter an exhausted looking race participant (they were about halfway through their 97-mile journey), clearly identifiable by their bib, running shorts and trail running shoes in lieu of hiking boots. Every time I passed someone coming uphill towards me on this meandering trail, however, they were hiking, not running.
Now if you're on longer, flat trails like the ones in and around Kansas City, you might well run the entire thing, but if your trails involve a lot of elevation gain, such as those found in Colorado's high country, then you'll be no stranger to hiking sections of trail. As a runner, you may not like to admit that you actually walk the uphills, but in fact, doing so is not a show of defeat. When the grade gets steep enough, you're probably more efficient if you slow down. This means that when you get to the top of the slope, you've used up less energy and you can then use the flats and the downhills to pick up the pace.
But if you're basically just slowing down, slouching over in embarrassment and trying to haul yourself uphill using giant steps, you're probably not making the most of your uphills. Instead, when your body (or your GPS watch) signals to you that you need to back off, switch to hiking and use these tips for success:
1. Take smaller steps
Though you'll definitely slow down once you start walking, don't try to compensate for your pace by taking big giant steps as they might actually use more energy than smaller ones. Take little, fast steps, kind of like shifting into a lower gear when you're cycling uphill.
2. Catch your breath
If you're going to slow down, you might as well catch your breath while you're at it. Hiking uphill is still hard work, but without sustaining the momentum of running, you can focus more on breathing. Lengthen your exhales, which will slow your breath threshold and help bring your heart rate down so you'll feel more refreshed when you get to the top.
3. Lean in
Definitely don't hunch over, but do lean into the hill a little to bring your center of gravity forward and help you use the right muscles.
4. Recruit your glutes
What are the right muscles? Those glutes you usually bypass on the flats. It can be hard to engage your glutes when you're running, but hiking offers a superb opportunity to harness these muscles to power you up the hill, rather than trying to pull yourself up with your hamstrings. Focus on engaging your glutes with each step up and squeezing them all the way through until your hip is fully extended. This will give your quads and calves a break from all the work they do when you're running, too.
5. Lift your gaze
It can be easy to hunch over, keep your eyes on the trail and try not think about how much more incline you have left, but this approach isn't great for your posture, your breath or your attitude. Life your head and keep your shoulders a little back and approach the slope with a sense of optimism and ownership.
6. Arm yourself
You'll be used to swinging your arms when you run, but you might want to just drop them by your sides when you start walking which can actually slow you down. Instead, use them like you do when you're running, pumping alongside your body to help motor you uphill.
7. Pole up
Even better than using your arms alone is to consider using running poles for trails that have a lot of uphill sections. Running with poles will definitely help speed you up and there are loads of great lightweight running poles meant for fast adventures these days.
All the latest inspiration, tips and guides to help you plan your next Advnture!
Julia Clarke is a staff writer for Advnture.com and the author of the book Restorative Yoga for Beginners. She loves to explore mountains on foot, bike, skis and belay and then recover on the the yoga mat. Julia graduated with a degree in journalism in 2004 and spent eight years working as a radio presenter in Kansas City, Vermont, Boston and New York City before discovering the joys of the Rocky Mountains. She then detoured west to Colorado and enjoyed 11 years teaching yoga in Vail before returning to her hometown of Glasgow, Scotland in 2020 to focus on family and writing.