Brand spends two years creating new trail running specific socks
Bridgedale calls on the insight of trail runners to fine-tune a collection of specialist sports socks for men and women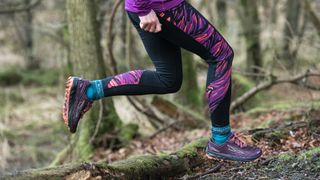 (Image credit: Bridgedale / Ed Smith)
The development of the humble sock has become a far more sophisticated process in recent years and one brand that has taken this very seriously is Bridgedale.
Already a brand that is well known for its range and variety of socks for walkers, Bridgedale spent two years developing its latest collection.
The company drew on the experience and feedback of a group of trail runners over a period of two years to create what it believes is the best trail running sock.
While this might seem like a long time – and a lot of effort – to design a seemingly everyday product such as socks, Bridgedale decided it was worth doing for the Trail Run socks.
Bridgedale managing director Mark Brennan said: "We found a group of 10 normal trail runners, who helped us over a period of two years.
"Our ethos is all about how 'little things matter' and so taking two years to develop this range was no compromise.
"The time ensured we got every little detail absolutely perfect for our testers."
Once the range was developed, Bridgedale asked additional runners to do further testing and feed back their results.
This circle was then repeated for 18 months with further testing, redeveloping, tweaking and retesting until the brand – and runners – was happy with the end result.
Bridgedale Trail Run sock details

Bridgedale already offers a lot of features in their socks, such as women's width-adapted toe box and heel cup areas.
Their socks also have overfoot ventilation with open mesh structure to reduce insulation and to promote easy moisture transportation.
Furthermore there are what Bridgedale call "anti-shock zones" with padding for an additional level of impact protection.
The Trail Run socks have features specific to trail running, such as a detail that allows for natural toe spread to cope with downhill running.
A "sport fit" provides supportive compression from the cuff through the arch. This is said to improve proprioception (joint position awareness) around the ankle and mid foot to aid stability and improve balance.
A "zero debris cuff" aims to prevent debris entering the sock.
There is also a toe guard with reinforced toe box to avoid split holes and blow outs when descending.
The new range of socks also utilise Lycra DRY technology, which is claimed to be a world first.
Mark said: "Without exception, our runners reported that the new technology felt more comfy, wicked better and allowed their feet to dry quicker. They generally said they felt more comfortable."
Bridgedale Trail Run collection includes three socks: A Merino Sport lightweight T2 ¾ Crew; Merino Sport Ultralight T2 ¾ Crew and Low; and Coolmax Sport Ultralight T2 ¾ Crew and Low:.
Prices start from £12.50 and each sock type has four colourways for men and women. See Bridgedale.
All the latest inspiration, tips and guides to help you plan your next Advnture!
Fiona Russell is a widely published adventure journalist and blogger, who is better known as Fiona Outdoors. She is based in Scotland and is an all-round outdoors enthusiast with favourite activities including trail running, mountain walking, mountain biking, road cycling, triathlon and skiing, both downhill and back country. Her target for 2021 is to finish the final nine summits in her first round of all 282 Munros, the Scottish mountains of more than 3,000ft high. Aside from being outdoors, Fiona's biggest aim is to inspire others to enjoy the great outdoors, especially through her writing. She is also rarely seen without a running skort! Find out more at Fiona Outdoors.