Call for hikers to have greater respect of popular mountains and national parks
Reports of summit queues, emergency call outs and environmental damage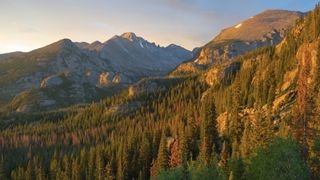 (Image credit: Getty Images)
Mountain groups and parks in the US and UK are urging hikers to have greater respect for the outdoors environment and the dangers of some higher peaks.
There are growing concerns that a spike in walkers on some mountains is having a detrimental impact to the natural environment.
In addition, there has been an increase in the number of emergency call outs because hikers are not being sensible when it comes to the weather and appropriate hiking footwear and clothing.
The so-called staycation due to continuing global pandemic restrictions and concerns is claimed to be the reason why many more people are visiting popular attractions in their own countries.
However, this trend is putting pressure on some of the mot popular outdoors areas, including mountains and parks.
Queues on mountain peaks
The latest call comes in Snowdonia, Wales, where reports reveal a rise of some 200,000 people – from 500,000 in 2018 – visiting the county's tallest mountain of Snowdon.
Last month, hikers revealed that one one day they had a 45-minute queue to reach the summit.
In Scotland, the leader of a mountain rescue team that covers the country's highest summit, Ben Nevis, reported there were "supermarket-like" queues to reach the top at 1345m.
John Stevenson, leader of Lochaber Mountain Rescue Team, said it was one of the busiest years on the mountain in the Scottish Highlands that he could remember.
He is reported as saying: "I've seen queues 60 metres back from the summit. There are so many people going up and down the mountain it is something of a supermarket-like queue, but only steeper. There have been thousands on the Ben on certain days."
US national parks tackle crowds
In the US, some of the most popular national parks, from Yellowstone National Park to the Grand Canyon, have had record numbers of visitors.
According to the National Parks Service, 2021 is expected to break all kinds of records, including the highest number of visitors.
A number of areas are so crowded that they have closed the gates to people and turned away hopeful visitors, while others have Introduced a lottery system to win a chance to enter.
In one state, Colorado, some hikes have been made permit only. This summer, Rocky Mountain National Park has introduced a timed entry permit and an entrance pass to the park.
The permits come after park staff said they are having to manage "significant increases in visitation to public lands in Colorado…"
'Have respect' at popular mountains
Mountain groups are asking that people show more respect for the natural environment.
John Harold, director of the Snowdonia Society, which helps maintain Snowdon mountain, said the pressures of litter and erosion on the paths and landscape had become "significant".
He added in a BBC report: "We all know that access to beautiful places and special places like Snowdon has been important to people, more so than ever recently, but the pressures that have come with that are really quite significant.
"Litter, footpath erosion, wild camping, traffic, parking... in a sense, none of these are new, but they have all acquired a really sharp edge in the last 18 months."
He also warned that large numbers of visitors do not arrive properly prepared to walk the 1085m peak, with some dressed inappropriately and not having the fitness or hiking experience required.
John told BBC Radio Wales: "Snowdon is a very big mountain, it's not a walk in the park, it's not a day in town, or a day on the beach... people need to be prepared."
John at Lochaber MRT also warned of the danger of sudden weather changes and shorter days as the summer progresses. Already there has been sleet on the summit of Ben Nevis.
He reports that "90 per cent" of the 70-plus calls the team has had this year have been to Ben Nevis, which attracts some 160,000 hikers annually.
Choose your destination more wisely
Hikers are being asked to visit mountains and parks that they may not have considered before, with mountaineering legend Sir Chris Bonington joining this campaign in Wales.
He told BBC Radio Wales there are quieter mountains in the area worth visiting. He is reported as saying: "Snowdon massif basically has three mountain ranges in it, you have Snowdon massif itself, you've then got the Glyders in the middle and then on the east of that you've got the Carneddau.
"The Carneddau are a big, rolling range of hills and I think they're the nicest of the lot because there you get true wilderness, you get wild mountains and loads of peaks.
"Don't be fixated on climbing the highest mountain or the most well-known mountain, but just climb the nicest mountain."
All the latest inspiration, tips and guides to help you plan your next Advnture!
Fiona Russell is a widely published adventure journalist and blogger, who is better known as Fiona Outdoors. She is based in Scotland and is an all-round outdoors enthusiast with favourite activities including trail running, mountain walking, mountain biking, road cycling, triathlon and skiing, both downhill and back country. Her target for 2021 is to finish the final nine summits in her first round of all 282 Munros, the Scottish mountains of more than 3,000ft high. Aside from being outdoors, Fiona's biggest aim is to inspire others to enjoy the great outdoors, especially through her writing. She is also rarely seen without a running skort! Find out more at Fiona Outdoors.