Camp on top of a volcano! Hawaiian crater opens for overnight stays
You could wake up to views like this as Haleakalā Crater opens for overnight wilderness camping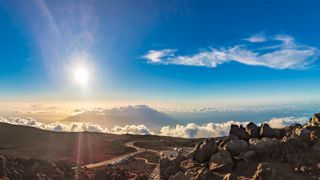 (Image credit: Getty)
The Haleakalā Crater is one of the most unique places you can hike to within the US National Park system. It's also one of the most amazing places to spend a night camping in Hawaii – and permits to do just that can now be reserved up to six months in advance.
Also known as the East Maui Volcano, Haleakalā is a large, low-profile shield volcano in Haleakalā National Park. The highest point of the volcano's rim is called Puʻu ʻUlaʻula, a 10,023-foot (3,055m) peak that's the third-largest mountain in the Hawaiian Islands.
Want to camp on top of Maui? It's a good idea to check out the best tents first
Wondering how to choose a tent? This expert guide will tell you everything you need to know
Haleakalā's summer camping season opened on April 22 and, as of April 25, online camping permits can be reserved up to six months in advance through the close of the season on October 24. Wilderness campsite permits were previously issued at the park's main visitor center but will no longer be issued in person at the park and only via the new online reservation system.
The nightly camping fee is $8 to $9 per reservation, for a maximum stay of three nights per 30-day period. This fee covers the cost of online services through the use recreation.gov, and is non-refundable. Each single campsite allows a maximum of five people and two tents.
"It should definitely be on your bucket list," says Maui resident and professional photographer Bill Hanson. "Where else can you camp on a volcano? It's the consummate Maui experience and if you're going to hike up there, it's definitely worth it to go backpacking and spend the night."
Park officials advise visitors do plenty of research of campsites in advance, plan for unpredictable weather, filter water, leave no trace and establish a trip plan prior to making a reservation.
Hōlua Wilderness Campsites
Hōlua, the wilderness campsite reached by the shortest hike, lies at 6,940 feet (2,115m) in the shrubland near Ko'olau Gap. Hōlua is 3.7 miles (6 km) one way down the Halemau'u Trail or 7.4 miles (12 km) one way from the Keoneheʻeheʻe Trailhead. Visitors staying at Hōlua can enjoy day hikes into the central Wilderness Area. The landscape around Hōlua supports a native shrubland which colonizes the lava flows, the park says.
Palikū Wilderness Campsites
At 6,380 feet (1,945 m), Palikū is on the east end of the Wilderness valley at the base of a rain forest cliff. The campsite is reached via a strenuous 9.3-mile (15 km) one-way hike on the Keoneheʻeheʻe Trail or 10.4 miles (17 km) one-way hike on Halemauʻu Trail. Clouds and fog often roll over the top of the cliffs behind Palikū and rain is common, but the extra moisture makes this spot exceptionally cool and lush, according to park officials.
At both the Hōlua and Palikū tent camping areas, sites are designated by brown stakes with arrows. Tents must be set up in the vicinity of the reserved site as denoted on the map. Group camp sites and cabins at each of those sites will remained closed indefinitely because of Covid-19 safety precautions.
Park officials warn that wilderness areas in Haleakalā National Park are remote and weather can be unpredictable. Temperatures vary from 40-70 degrees Fahrenheit (4-21 degrees Celsius) during the day and 30-50 degrees Fahrenheit (-1 to 10 degrees Celsius) at night. Rainy weather can come at any time during the year. In stormy conditions, winds can exceed 80 miles per hour with temperatures dropping well below freezing at any time of the year.
Collecting of firewood in the park is not permitted and there is no drinking water available near the wilderness areas. Hōlua and Palikū both have non-potable water available for use via water rain-collecting cistern tanks, but it must be filtered or treated before drinking.
Many hiking trails in Haleakalā National Park are steep and can often slippery, Hanson said. Terrain may include loose cinders and/or loose rocks. Sturdy hiking shoes or trail running shoes with good traction are highly recommended. Hikers can experience a range altitude between, 6,380 feet to 9,780 feet (1,944 to 2,980 meters) in the wilderness areas. Due to the soft sandy nature of the trails, plan on spending twice as much time to hike out as to hike in.
"It's not an easy place to hike," Hanson said. "It can definitely be sloppy and slippery, but it's definitely one of the best places I've ever camped."
All the latest inspiration, tips and guides to help you plan your next Advnture!
Brian is an award-winning journalist, photographer and podcaster who has written for Runner's World, The Times, Outside, Men's Journal, Trail Runner, Triathlete and Red Bulletin. He's also the author of several books, including Kicksology: The Hype, Science, Culture and Cool of Running Shoes. He lives in Boulder, Colorado, and loves to run, bike, hike, camp, ski and climb mountains. He has wear-tested more than 1,500 pairs of running shoes, completed four Ironman triathlons, as well as numerous marathons and ultra-distance running races.