Hiking the Appalachian Trail in 2021: cautionary Covid tips announced
Guidelines for those hiking the Appalachian Trail in 2021 have been revealed following a Covid-19-inspired boom in walkers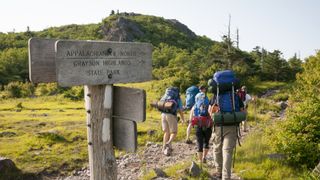 (Image credit: Getty)
Hiking the Appalachian Trail in 2021 won't be the same as in previous years. Like most trails, camping areas and backcountry venues, the Appalachian Trail saw a huge surge of traffic in 2020.
No one could have predicted the massive swarm of people using the trail after the initial Covid-19 lockdown regulations ended. But with 2021 right around the corner, the Appalachian Trail Conservancy, a nonprofit organization that protects, manages, and advocates for the 2,193-mile route that runs through 14 states from Maine to Georgia, is trying to get ahead of some of the challenges and concerns that arose from the massive influx of people on the trail.
The Appalachian Trail Conservancy recently posted the following memorandum as an open letter with cautionary tips for all hikers planning to be on the trail in 2021:
"In March 2020, America began to feel the first impacts of the Covid-19 pandemic, which would upend almost every aspect of our daily lives. Eight months later, Covid-19 infection rates continue to rise and a widely distributed vaccine or treatment is still not available. We also find ourselves adapting to a constantly shifting political, social, and economic landscape. The world, in short, is characterized by uncertainty, and planning for the future is near impossible.

"This uncertainty extends to the 2021 Appalachian Trail (A.T.) hiking season. Mandatory or voluntary quarantines are active in several A.T. states. Local, state, or federal closures and/or restrictions across the A.T. remain possible next year. And, the operations of Trailside businesses and service providers in 2021 remain uncertain. Hiking the A.T. in 2021 will likely remain a logistical challenge underscored by health and safety risks. The Appalachian Trail Conservancy (ATC) urges all hikers to stay local and exercise caution while so much uncertainty around the Covid-19 pandemic exists.
Guidelines for using the Appalachian Trail
"However, we know that many are planning long-distance journeys on the A.T. in 2021. To ensure hiker safety and health while on the A.T., we ask hikers to plan, prepare, and stay informed by undertaking the following:
Register your hike: If you are planning a backpacking trip of any length – from an overnight trip to a full thru-hike – please register your hike at ATCamp.org. Registration opens on December 1, 2020. Registering your hike enables us to provide essential updates by text and/or email while you are traversing the A.T. and gives you the means to choose a starting date and location to help reduce crowding.

Plan and prepare: The ATC's new Hiker Resource Library provides gear lists, updated COVID-19 information, safety protocols, an incident reporting form, and other information to help keep you and other hikers safe and prepared for your A.T. hikes.

Spread out: Crowding harms the A.T. and is unsafe during the pandemic. To reduce crowding across the Trail in 2021, please spread out the dates and starting locations for thru-hikes. ATCamp.org includes up to the minute registration charts that allow you to pick an uncrowded start date – choose your start date carefully, or select an alternate starting spot.

Consider alternatives: Visitation on the A.T. is at an all-time high. You may not find it feasible to find the solitude – or even physical distance from other hikers – you seek. As such, we have also created a list of alternate long-distance trails for all types of hikers.

Anticipate crowds: If you are a day visitor on the A.T., please consider a weekday hike. This will help disperse crowds and reduce parking difficulties. Be aware of local parking regulations.

Stay informed: Registering on ATCamp.org is a good first step, but you can learn more about the A.T. and the ATC by subscribing to our email updates and following our social media channels.

Planning and preparation are essential to safe and successful hikes, especially during the COVID-19 pandemic. Stay on top of the latest information at appalachiantrail.org/covid-19

We thank you for taking these crucial extra steps to keep yourself, other hikers, and Trailside communities safe – today and into 2021. Please support and protect the A.T. and the greater Trail community by educating and preparing yourself before your A.T. journey."
All the latest inspiration, tips and guides to help you plan your next Advnture!
Brian is an award-winning journalist, photographer and podcaster who has written for Runner's World, The Times, Outside, Men's Journal, Trail Runner, Triathlete and Red Bulletin. He's also the author of several books, including Kicksology: The Hype, Science, Culture and Cool of Running Shoes. He lives in Boulder, Colorado, and loves to run, bike, hike, camp, ski and climb mountains. He has wear-tested more than 1,500 pairs of running shoes, completed four Ironman triathlons, as well as numerous marathons and ultra-distance running races.