Yosemite National Park closed after high winds damage houses
Yosemite closes as winter storm knocks down trees and damages houses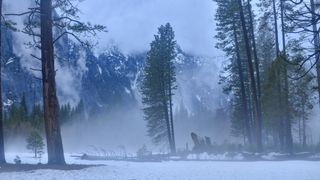 (Image credit: Getty Images)
A Mono wind event last week has meant that Yosemite National Park will stay closed until at least Saturday January 30. Millions of dollars worth of damage was caused as trees fell on homes and cars, as some roofs were ripped clean off by the wind.
The National Park Service (NPS) are continuing to clear roads and control hazardous trees in Yosemite. With a storm set to hit central California this week, closing the park until at least Saturday provides more respite for the NPS to safely open the park.
Over a period of 48 hours, officials had managed to remove 97 trees in a two-mile stretch of the Miami Creek area road, an area in the Sierra Nevada where hundreds of trees toppled.
No injuries were reported from the event, although there was widespread power outages, with some residents in areas of Yosemite without electricity for three days. Subsequent winds and snow followed at the weekend, providing no let off for people already devastated by the weather.
Yosemite National Park will remain closed at least until Tuesday, January 26, as a result of damage to park facilities caused by this week's Mono wind event. pic.twitter.com/bKbhnwBFOKJanuary 21, 2021
The powerful winds, known as Mono winds in the area, normally have speeds of 40-50 mph. However, during the event that took place in Yosemite, some gusts were at least 70-80 mph. The National Weather service said Mono winds were reported up to 110 mph on Monday night in Cascadel Woods.
Bass Lake basin was devastatingly hit. 68 homes were damaged, with 2 declared totally lost and 8 others destroyed by 60-70 per cent.
"The governor needs to get here and declare a state of emergency," Bass Lake resident Steve Arata told the Fresno Bee (opens in new tab), "because there's at least 40 homes that are destroyed with trees. There's multiple gas leaks. Thank God we don't have a big fire or an explosion right now."
Madera County received 93 reports of damage to property, with 3 considered major. Madera County Supervisor Tom Wheeler, said they were still assessing damage and hadn't made an emergency declaration because of wind damage.
On the other hand, Mariposa County Sheriff Jeremy Briese issued the event a local emergency last Tuesday, requesting either federal or state assistance.
"Businesses were already in an emergency situation and revenue is already drastically impacted due to COVID-19," said Mariposa County Economic Development Specialist Tara Schiff, "so this disaster just adds one more layer of financial stress."
Yosemite National Park spokesman Scott Gediman claimed the Mono winds' event the park's biggest in terms of wind speed and damage caused over his 25 years in Yosemite.
All the latest inspiration, tips and guides to help you plan your next Advnture!