Your friend just got buried in an avalanche – you've got 15 minutes to save them
We take to the snowy Swiss Alps for avalanche safety training, and discover how grueling it can be to save a friend from a snow slide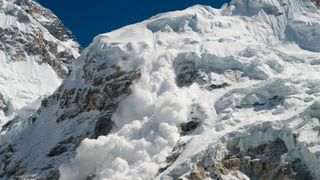 (Image credit: Getty)
Your friend just got buried in an avalanche. You've got 15 minutes to save them.
That's the message when a ski patroller named Stanley hits the start button on the machine at the Avalanche Training Center midway up Verbier ski resort in Switzerland on a sunny Thursday morning. Myself and a group of other journalists are here in advance of International Ski Patrol Day with Helly Hansen, who outfit 55,000 mountain professionals all over the world and 200 resorts, and we've just hiked over here from the top of the gondola to undergo one of the avalanche safety exercises that ski patrollers perform routinely to help them locate and dig out buried skiers. Anyone with a ski pass, a pair of snowshoes or an affinity for uphill skiing can come up here and train for the worst.
Hike or skate for a few minutes along a groomed track from the top of Les Ruinettes lift station and you'll find the center in your left, which consists simply of a computerized simulator, a sign bearing the instructions in English, French and German, and a snowy hill where various avalanche beacons are buried. Stanley walks us through how the system works, which as he says is like a game but "it's definitely not a game." Using the computer, you can enter how many victims you want to locate (up to five), and how long you want to take to find them (20 minutes maximum), then you begin.
Stanley hits 'start' and suddenly we're assaulted by a chorus of electronic chirping; in addition to the patrollers, four members of our group are adventure skiers and carrying avalanche beacons, or transceivers, in their own ski backpacks. Once we switch off a few transceivers to minimize the confusion, Stanley quickly deploys his avalanche probe, which effectively looks like a really long, carbon tent pole, and starts hiking uphill to demonstrate how the exercise works.
Today's conditions couldn't be better for an exercise like this. We've had 25 inches of new snowfall since we arrived on Sunday evening and Stanley is up to his thighs as he follows the directions of his transceiver, which starts out by telling him that it's picking up a signal 14 meters away. This number goes down as he climbs and follows the directions and, when he's under a meter from the signal he stops. In real life, a person buried would be underneath the snow, so you'll never get to zero and just have to get as close as you can. Then, he starts jabbing the probe into the snow and when it makes a dense, hollow sound as if hitting a wooden box, he presses a button on his transceiver to indicate his mission is complete, it sends a signal to the computer, and the beeping stops.
Next, it's my turn. I'm a cautious snow adventurer and have avoided the need to learn how to use avalanche safety equipment – a beacon, probe and shovel – by simply snowshoeing and backcountry skiing away from steep slopes that might slide (that means anything less than 30°). I've lived in ski towns for long enough that I know plenty of people who have perished in slides, or been left to pick up the pieces when their loved ones didn't come home from a day in the mountains, but I always felt secure in my adventures by keeping mellow.
That illusion of safety was shattered for me last year when a young couple and their dog were killed by an avalanche in Summit County, near where I used to live in Colorado, while they were snowshoeing. As far as I know from the Colorado Search and Rescue report, the couple were following a snowshoe trail that is a road in the summertime, they weren't off-piste, but a 400 ft wide section of snow on the steep slope to the side of them slid from 250 ft to engulf the unsuspecting trio. They weren't crazy skiers dropping into near-vertical chutes in the backcountry; they were just going for a snowy walk. This actually could have been me, a thousand times over.
So for that reason and many more, I take this training seriously. Stanley hands me the transceiver, a handheld device that's about the size of an old Blackberry phone. It has three settings: off, send and search. Send is the one you press if you get buried in the snow or need rescuing, so I switch mine to search and it starts beeping, telling me there's a victim buried 19 meters away with an arrow indicating I should start hiking up and a little to the left – it's easy to use and intuitive, ideal for a terrified user.
I start wading through the snow, Stanley next to me showing me how to hold the transceiver really steadily so it doesn't get confused. The number of meters to climb starts to decline, beeping constantly as I get closer, but frequently it jumps back up and the arrow changes direction, since we've set the computer to indicate five victims, so I need to keep stopping and letting it recalibrate. Once I've got the hang of moving with it, Stanley starts to turn up the pressure.
"You need to go faster, your friend is buried," he urges. In real life, 15 minutes is considered the cutoff time where your odds of survival nosedive. According to the American Avalanche Association, your chances of surviving an avalanche are 92% if you're extricated within that first 15 minutes, but start dropping at a rate of about 3% per minute thereafter. That means after half an hour and your odds are less than 50%. Stare at a wall for 15 minutes and it seems like an age, but imagine you've just yourself survived an avalanche and need to pick your way across the debris and it suddenly starts to feel like a cord tightening around your neck.
I consider myself reasonably fit, but it's hard going. The snow is deep and extremely soft, I'm wearing alpine ski boots, which are difficult to walk in at the best of times. I've been powder skiing all day every day for the preceding three days so my thighs are burning, and I'm battling a cold that leaves me wheezing. But I think of the friends I have who have been in this situation in real-life and imagine the panic and dread that they must have felt and I feel real panic myself, which turns my motor up.
When the transceiver indicates that I'm two meters away from my target, I slow down and hold it closer to the snow. I know I'm close but I don't know in which direction I should go, the arrow keeps changing and time is ticking. If it was my friend buried, every second I'm trying to figure out where they are is another second without breath for them.
Suddenly, I hit 0.7 meters and that's close enough to know I'm over the target. I take the probe in one hand and using the other hand to keep it steady, start stabbing it down into the snow quite aggressively. It takes me four or five attempts to hit the mark and all the while I'm wincing as I'm thinking about it hitting a buried skier in the body or face. When I hit my mark, I can turn the transceiver off and the beeping stops. The exercise is over.
But in real life, this is not the end. This is where I'd grab my shovel and start digging, trying not to further injure my friend in the process. In real life, they could be further than 19 meters to begin with, the snow could be icy, wet and heavy, they could be many feet underneath the surface and every second counts. Of course, my first priority would be to clear their nose and mouth, but I could dig down only to discover I'd hit their feet. Once I'd freed their face, I might need to administer CPR. Finding your friend within 15 minutes is crucial, but you're a long way from home base when you get there.
Breathing heavily, I stumble back downhill to meet my group, relieved that the exercise is over and contemplating the sheer enormity of what it really takes to find and save someone from an avalanche. Carrying a beacon, probe and shovel and knowing how to use them is a good start, certainly, but you might be injured yourself, you'll certainly be petrified and the conditions will be nearly insurmountable, even on a beautiful day. You might have several friends buried. To safely adventure in the mountains, you need to be strong and fit, but also nimble. Of course, you'll be fueled by adrenaline in the moment, but you need to be able to keep a clear head under the most stressful of circumstances. Basically, it takes a superhero to dig a friend out of an avalanche, and if you're adventuring on or near steep slopes in snowy conditions, you'll want to start training as though you are one.
All the latest inspiration, tips and guides to help you plan your next Advnture!
Julia Clarke is a staff writer for Advnture.com and the author of the book Restorative Yoga for Beginners. She loves to explore mountains on foot, bike, skis and belay and then recover on the the yoga mat. Julia graduated with a degree in journalism in 2004 and spent eight years working as a radio presenter in Kansas City, Vermont, Boston and New York City before discovering the joys of the Rocky Mountains. She then detoured west to Colorado and enjoyed 11 years teaching yoga in Vail before returning to her hometown of Glasgow, Scotland in 2020 to focus on family and writing.