Best camping tables 2023: for backcountry vacations and garden BBQs
The best camping tables offer home-from-home convenience and comfort in transportable form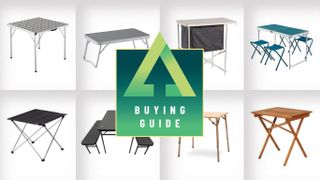 (Image credit: Future)
The best camping tables do more than enhance your camping experience. They're an absolute summer essential for garden barbecues and beach trips, as well as being an obvious boon to any camping trip.
What sets the best camping tables apart from the rest? Firstly, portability is key. Our selection of eight finest tables have foldable legs, allowing for easy transportation in the car or camper van. Secondly, the best camping tables are both lightweight, yet durable, perfect for use in the backcountry.
In terms of comfort and sheer practicality, they're just as big a game changer as a set of camping chairs. When it comes to preparing a bit of al fresco cuisine with your camping stove or simply enjoying a game of cards as the day is waning, the best camping tables really come into their own. We've all had our beers kicked over onto the grass; well, unless someone is practising kung-fu on the campsite, that's just not going to happen if you have a reliable camping table.
In our roundup, we feature camping tables of all sizes, from small surfaces ideal for camping couples to tables fit for a family vacation. We also feature a handy 'kitchen counter' table from Outwell and a couple of high-end options too.
Best small camping tables
A simple, square table with wobble-proof legs and a gaming-ready top
Specifications
Height:
80cm / 31.4inches
Length & Width:
80cm x 80cm / 31in x 31in
Pack size:
80cm x 80cm x 6cm / 31in x 31in x 2in
Compatibility:
A good all-rounder for shorter camping trips
Reasons to buy
+
Easy-clean surface
+
Sturdy legs
+
Grid pattern for games
Seat four around this simple-but-sturdy table from Coleman. The surface of the table has an innovative antimicrobial treatment to inhibit the growth of mold and mildew. While it was hard to test how well this works in real life, this was definitely one of the easiest tables to wipe clean and one of the quickest drying of all the models we reviewed.
The legs stand out, too – and not just in the obvious way. They're reassuringly solid, yet lightweight, and have pivoting "Sand Feet" to prevent the table sinking into soft ground. These work really well, and keep this table feeling solid even on uneven ground.
When no longer required, the legs fold neatly into the table top and there's a handle for easy transportation and storage. So while the table doesn't fold up small, it does fold pretty flat for popping in the bottom of the car boot or against a wall once you're home.
We also like the grid-patterned top of the table, which is inspired by picnic blankets but can be used for a quick game of chess or checkers.
Read our full Coleman Square Camp Table review
Impressively light and portable, this is a mini-table you can take pretty much anywhere
Specifications
Length & Width:
56cm x 43cm / 22in x 17in
Pack size:
58cm x 7cm x 7cm / 23in x 3in x 3in
Main materials:
Aluminum, polyester
Compatibility:
Good for wild camping, on weekend camps and at festivals
Reasons to buy
+
Packs up small
+
Sturdy aluminum legs
Reasons to avoid
-
Offers limited space
-
Top is made of polyester
Who says you can't take a table wild camping? If you like to head into the wilds with your tent on trekking or bikepacking expeditions but still like a bit of luxury once you get to your camping spot, take Robens' Adventure Small Table along with you for the ride.
Folding up into a slim pack that resembles a set of tent poles, the Adventure Small Table is easily erected to form a small and simple (but sturdy) table with aluminum legs and a polyester surface.
It works as a coffee table, for an impromptu game of cards or even as a small side table at night if you're bringing a camping bed. The top of the table is fabric, rather than a solid material, so it is a bit more wobbly than a plastic or aluminum tabletop would be, but it still works well to hold glasses and plates.
The little carry bag keeps everything neat and tidy when it's back in your best hiking backpack.
Read our full Robens Adventure Small Table review
Best camping tables for families
A bigger table available at a bargain price, this comes complete with four small stools that can be stored inside it
Specifications
Length & width:
120cm x 60cm / 47in x 23.5in
Pack size:
60cm x 60cm x 10.5 cm / 24in x 24in x 4in
Seating capacity:
4-6 people
Compatibility:
Ideal for camping with the family or a group of friends
Reasons to buy
+
Plenty of room for six people
+
Sturdy construction
+
Four handy stools included
+
Adjustable height
Reasons to avoid
-
Stools are low and flimsy
Decathlon's Folding Camping Table looks quite small and unassuming at first glance, but open it up and this design transforms into a large table that comfortably seats six people around a 120cm-long tabletop.
Four foldable camping stools are also included (the version with stools is not available in the US, where the table alone is available for $70), and come ready-stored inside the folded table.
An aluminum frame and steel legs make this table sturdy enough to take 50kg of weight, and the laminated top is easy to keep clean. You can also adjust the legs of this table, which makes it perfect for children's meals or for using as a low coffee table, and the stools work fine as dinner seating and will also suit littler campers (but are a bit small and flimsy to work as proper chairs for adults).
We thought the Folding Table looked great on test, with a bright turquoise top featuring a geometric design and curved corners that are safer than sharp-edged corners. This table even looks smart enough to crack out at a barbece or a party if you're in need of extra entertaining space.
Read our full Decathlon Folding Camping Table review
You can fit the family around this functional table, thanks to the two roomy benches that are included
Specifications
Length & width:
102cm x 61cm / 40in x 24in
Pack size:
104cm x 8cm x 62cm / 40in x 3in x 24in
Compatibility:
Ideal for family camping trips
Reasons to buy
+
Good wide surface
+
Easy to clean
Reasons to avoid
-
Benches need to be set on flat ground
-
Heavy and bulky to store
If you want a sensible and easy-to-use table for two adults and two children, we'd recommend this rather smart Vango Orchard bench set.
The 100cm-long tabletop offers plenty of room for sharing, it's easy to wipe clean and is fully waterproof. The two included benches seat two people each, and are comfortable and reasonably solid as long as you set them up on flat ground.
The benches also fold neatly inside the main table for easier storage when you break camp, and the whole shebang can be picked up by its carry handle.
This is a table that also comes in very handy in the back yard – the extra surface space and seating is ideal for having big crowds over for barbecues. The table doesn't fold in half, so it's less suitable for storing in small spaces – pick this design if you've got a spacious garage and car..
Read our full Vango Orchard Bench Set review
Best camp kitchen tables
A handy 'kitchen counter' table ideal for keen camping cooks and for use in big family tents
Specifications
Length & Width:
80.5cm x 45.5cm / 32in x 18in
Pack size:
80cm x 48cm x 10cm / 31in x 19in x 4in
Compatibility:
For summer family holidays in larger tents
Reasons to buy
+
Good storage space
+
Doubles up as a two-man table
+
Handy hooks
Reasons to avoid
-
The laminate top isn't fully weatherproof
Keen camping chefs will find their lives made easier by this table, which doubles up as a portable kitchen counter, so you can prep all the fabulous meals you're planning to cook alfresco.
The lightweight Outwell Andros features a flat surface on which it's easy to prepare ingredients (and to wipe clean when you're done), plus a handy fabric cupboard for storing ingredients or cooking equipment.
Four hooks on the side of the table let you have kitchen towels and implements handy, and the table is sturdy enough to pop a stovetop barbecue on if you fancy sizzling up some sausages.
The top of the table will fit two people for supper once you're done cooking (and the storage bag is removable) but we reckon this table is best used as a cooking-specific station if you're making food for a big group. It also works well as a storage table for food and kit in a large family tent.
Read our full Outwell Andros Kitchen Table review
Best high-end camping tables
A good-looking bamboo table offering adjustable heights for different campers
Specifications
Height:
46cm-65cm / 18in-25in
Length & Width:
65cm x 50cm / 25.5in x 20in
Pack size:
67.5cm x 16cm x 12.5cm / 26in x 6in x 5in
Compatibility:
A good all-rounder for camping trips of all lengths
Reasons to buy
+
Adjustable height
+
Solid but lightweight bamboo
+
Secret bottle opener
Reasons to avoid
-
Slatted top makes cleaning harder
Zempire's Kitpack is a table to suit all occasions – literally, as its height is adjustable from a low, coffee table-style 46cm to a dining-ready 65cm. This makes it the perfect quiver-of-one camping table if you don't want to splash out on more than one product.
When the legs are extended this table seats four, and the legs lock sturdily and feel solid even on bumpy ground. Bamboo is a great material to make a camping table out of, as it's lightweight and naturally antibacterial.
The Zempire Kitpack comes with its own carry bag for easy storage and transportation, and there's an optional storage hammock you can buy separately to hang under the table, which makes this table work as a kitchen station for food prep or as a storage table to pop in a bigger family tent.
The Kitpack even has a hidden bottle opener on the underside of the table, which wins an instant thumbs up from us.
Read our full Zempire Kitpack Table review
A luxuriously lovely teak table, ideal for glampers and for taking from garden to campsite
Specifications
Length & Width:
70cm x 58cm / 27.5in x 23in
Pack size:
58cm x 68cm x 10cm / 23in x 27in x 4in
Compatibility:
Ideal for glamping and car camping
Reasons to buy
+
Very solid
+
Beautiful looks
+
Folding legs
Reasons to avoid
-
Expensive
-
Wood needs regular care
Even functional products like camping tables have their fancy versions – meet the Safari Folding Table by Barlow Tyrie.
Inspired by safari-style dinner setups, this solid little table seats two comfortably and is made from beautiful quality teak wood. It's small, light and portable enough to bring camping with you in the car, where it makes an attractive change from basic aluminum camping tables and feels far sturdier than most cheap tables thanks to its solid wooden legs.
Back home, this good-looking design is perfect in a garden or even a kitchen, so while it's expensive you do get more versatility for your buck. The wood will need more care than wipe-clean designs would, but the upside is that this table should look good for years to come, and has been designed so that it can be safely left out in the elements uncovered.
Read our full Barlow Safari Table review
Best camping coffee tables
A simple, small and easy-to-store coffee table with sturdy legs
Specifications
Length & Width:
56cm x 34cm / 22in x 13in
Pack size:
56cm x 3cm x 34cm / 22in x 1in x 13in
Compatibility:
Great for smaller tents or for stashing in a camper van
Reasons to buy
+
Wipe-clean surface
+
Lightweight
+
Easy to store
Reasons to avoid
-
Too small for more than a few people to share
A camping coffee table is that bit of kit you don't think you really need – until you get hold of one and realize quite how useful it can be.
A smaller side table comes in handy for holding drinks when you're sitting by the fire, for playing cards around, for setting breakfast out on or even for using as a bedside table in bigger tents.
Our pick of the mini-tables for camping is Vango's solid little Granite table. The name derives from the granite-effect covering on the top of the table, which is easy to clean. Squat little aluminum legs unfold and lock in position creating a very solid surface that's surprisingly hard to tip over.
When not in use, this table is small enough to fit in smaller cars or even a camper van cupboard. It does only hold 30kg ,though, so don't overload it (or be tempted to sit on it!).
Read our full Vango Granite Table review
Swipe to scroll horizontally
Best camping table comparison table

| | | | | |
| --- | --- | --- | --- | --- |
| Camping table | RRP | Weight | Height | Length & width |
| Coleman Square Camp Table | $45.99 (US) / £29.99 (UK) | 3.9kg / 8.5lb | 3.9kg / 8.5lb | 80cm x 80cm / 31in x 31in |
| Robens Adventure Small Table | $26.95 (US) / £30 (UK) | 790g / 1.7lb | 41cm / 16in | 56cm x 43cm / 22in x 17in |
| Decathlon Folding Camping Table | £59.99 (UK) / $70 (US) (without stools) | 8.7kg / 19.1lb | 70cm / 27.5in | 120cm x 60cm / 47in x 23.5in |
| Vango Orchard Bench Set | $150 (US) / £120 (UK) | 9kg /m 19.8lb | 70cm / 28in | 102cm x 61cm / 40in x 24in |
| Outwell Andros Kitchen Table | $110 (US) / £89 (UK) | 4.2kg / 9.2lb | 80cm / 31in | 80.5cm x 45.5cm / 32in x 18in |
| Zempire Kitpack Table | $160 (US) / £80 (UK) | 4.4kg / 9.7lb | 46cm-65cm / 18in-25in | 65cm x 50cm / 25.5in x 20in |
| Barlow Safari Table | £335 (UK) | 4.8kg / 10.5lb | 70cm / 27in | 70cm x 58cm / 27.5in x 23in |
| Vango Granite Table | $28 (US) / £23 (UK) | 1.2kg / 2.6lb | 24cm / 9in | 56cm x 34cm / 22in x 13in |
How we test camping tables
The camping tables featured in this guide have all been tested in a range of outdoor scenarios, including camping outings and other alfresco dining experiences. For more details, see how Advnture tests products.
How to choose the best camping table
"Camping table" is a wider descriptive term than you may realize. The best camping tables come in all sorts of shapes and sizes, and what makes the best camping table for you will be determined by what you want to use it for. However, no matter what kind of camper you are, there are some common quality factors that you need to consider before making a choice.
Weight and size
Have a think about where and how you plan to use your new camping table before you invest in one. If you're going backpack camping or usually only camp for a weekend at a time in a smaller or one-person tent, then small, lightweight models that fold down compactly and weigh under 1kg are your best bet.
For full-on family camping adventures, big tables over 100cm in length will let you fit the whole crew around the table for a meal, while its weight and the storage space required to cart it around will be less important.
Don't forget to consider how you'll transport your new table, though – once folded, it needs to fit easily into your car boot as well as in the storage space you'll be keeping it in when you aren't camping. Most brands list the weight and pack size of their tables, so it's easy to compare.
If you want to carry a table for any reasonable distance, we recommend choosing a model with a carry case or an in-built carry handle.
Design
There are more kinds of camping tables to choose from than you might think. Do you want a dining table or a coffee table? One that includes chairs? Or even one with added storage?
But the main design features to consider are: the number of people a table can sit; whether it will fit in your tent if you plan to use it inside; and how packable it is to suit your storage needs.
Even the cheapest table will usually support up to 50kg of weight, but if you plan to use a table to crack out your double-burner camping stove and hold a hefty barbecue, for example, it's a good idea to pick a sturdy, well-made model over a cheaper number.
We do recommend spending as much as you can afford to on a quality design, as it'll last you longer. And some camping tables are so well-made and attractive that they work as patio furniture or even as spare indoor tables. This makes more expensive models worth the investment if you can use them year-round.
Features
The best camping tables are lightweight but sturdy, easy to fold down to stow away, and made with tough materials that can withstand the elements. Look for aluminum legs, which have a good weight-to-strength ratio, or sturdy steel.
A wipe-clean, waterproof tabletop is essential. We'd also recommend picking tables with their own carry bags, as these are useful if you're popping the table away in the garage for the winter and for carrying in and out of campsites or festivals with ease.
Many camping tables come with a set of chairs, benches or stools included. These can be a good deal if you don't already own camping chairs. If you do have chairs already, make sure you pick a table that's the right height for your current chairs.
All the latest inspiration, tips and guides to help you plan your next Advnture!
An award-winning travel and outdoors journalist, presenter and blogger, Sian regularly writes for The Independent, Evening Standard, BBC Countryfile, Coast, Outdoor Enthusiast and Sunday Times Travel. Life as a hiking, camping, wild-swimming adventure-writer has taken her around the world, exploring Bolivian jungles, kayaking in Greenland, diving with turtles in Australia, climbing mountains in Africa and, in Thailand, learning the hard way that peeing on a jellyfish sting doesn't help. Her blog, thegirloutdoors.co.uk, champions accessible adventures.