The best children's sleeping bags 2023: for family camping and sleepovers
Our selection of the best children's sleeping bags will help everyone get a great night's sleep on family adventures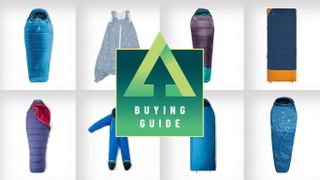 (Image credit: Future)
What's the secret of the best children's sleeping bag? They are where dreams are made. Literally. Do you remember your first sleeping bag? The cozy companion that kept you warm and comfortable through every adventure, from sleepovers on friends' floors and sick days on the sofa to garden sleepouts and that incredibly special first ever camping trip?
We do. Ours were, coincidentally, both brown and square. But that does nothing to detract from the fond memories of snuggling up each night in our very own sleeping bags on our formative forays into life under canvas. So while you're busy checking out the best sleeping bags for your adult self, make sure you put in equal thought for the youngsters in your tribe when it comes to outdoor sleeping.
The best children's sleeping bags
Adjustable children's sleeping bags
Popular with kids and adults alike, the adjustable Starlight is a stellar sleeping bag
Specifications
Length:
160-190cm / 63-75in
Pack size:
18x34cm / 7x17in
Fill:
PFC-free high-loft hollowfibre
Colors:
Indigo & Navy / Maroon & Navy
Reasons to buy
+
Adjustable length grows with the child
+
Low weight and pack size
+
PFC free
+
170cm max user height will last
A fantastic offering at the higher-end of the synthetic kids' sleeping bag category, the Deuter Starlight was one of the most popular with our young testers. It's super soft and cosy, yet packs down small and light enough for multi-day backpacking. The PFC-free fabric is soft and crackle-free, with a high-loft hollowfibre filling, which offers excellent warmth for its weight.
Deuter don't advertise a temperature rating for their kids' sleeping bags, but this is at least 2-season, and possibly 3, depending on location.
The design of this sleeping bag offers the best of both worlds when it comes to shape: tapered to ensure a snug fit but with a squared base to maximize the available room for toe wiggling. From its short setting, the base unzips to accommodate someone of up to 170cm, which includes plenty of adults. The hood adjusts with a chunky drawcord, and both this and the zip are easy for smaller hands to grasp and use.
A twinkling star of a bag, full of funky features, which grows with your child
Specifications
Length:
150-190cm / 59-75in
Fill:
PFC-free Polyester Microguard
Reasons to buy
+
Adjustable length grows with the child
+
Low weight and pack size
+
PFC free
Reasons to avoid
-
Fairly expensive at over £60
This feature-packed sleeping bag is guaranteed to make any child feel like a real-life adventurer. And it should last them a few years, too: the adjustable design stops them sliding down into the bag when they're smaller but, as they grow, the expandable foot section unzips to add on an extra 40cm (16in) in length, seeing most kids into their early teens. Clever.
Made from 100% PFC-free polyester, the Jack Wolfskin Grow Up Star offers a comfortable, breathable sleeping environment. The inner is soft to the touch, skin-friendly and fast drying, while the outer is a more durable weave fabric. The cosy hood is adjustable, trapping warm air effectively inside, while body-mapped insulation reduces cold spots, including extra fill in the foot section to keep those toes toasty.
The Microguard insulation retains its shape well and repels moisture for rapid drying. Top scoring points according to our mini testers were the star pattern design on the outside, and the secret pocket on the inside. Jack Wolfskin doesn't supply temperature ratings for their kids' sleeping bags, but this is suitable for at least 2-season use, possibly 3, depending on conditions.
Budget children's sleeping bags
Very versatile and good value – an excellent first sleeping bag
Specifications
Pack size:
24x20cm / 9x8in
Colors:
Camo / Blue / Purple
Reasons to buy
+
Good value
+
Unrestrictive shape
+
Doubles as a quilt
Reasons to avoid
-
Low warmth to weight ratio
-
One size only
-
Not PFC-free
A great choice for summer camping trips, the Basecamp Explorer sleeping bag is designed as an introduction to the Snugpak range. During tests, we appreciated the fact that it combines a roomy square cut around the feet with a cosy drawcord hood and adjustable shoulder baffle, allowing heat to be retained or air to circulate as required.
There's no length adjustment, so it's limited to kids of between about 5 and 10, depending on height. While we found it fairly heavy for its warmth, the pack size is decent, making it a solid choice for shorter hikes or space-limited car camping trips. Overall, it's hard to beat for value, and also scores well on versatility, fully unzipping to double as a quilt or even a picnic blanket.
Read our full Snugpak Basecamp Explorer review
A good value all-rounder with a snug fit and a cozy hood
Specifications
Pack size:
23x38cm / 9x15in
Fill:
Polyester Cloudloft
Colors:
Deep Teal / Nightshade
Reasons to buy
+
Snug, tapered design
+
Good value at $50 / £40
+
PFC-free
An excellent entry-level sleeping bag, the Kelty Mistral Kids 30 offers a great combination of comfort, durability and value for money. The tapered shape and adjustable hood make it look and feel like a proper sleeping bag, trapping heat in where it's needed. Cosy Cloudloft insulation with an offset quilt construction eliminates the cold spots caused by the filling moving around and clumping. Made using 100% polyester, with a soft-feel inner and hard-wearing outer, it's easy to recycle at the end of its life.
With a maximum user height of around 5ft, this sleeping bag should fit kids from seven or eight up to the start of their teens, or even beyond if they're on the shorter side. Compared with some of the pricier models we tested, we found pack size is on the bulky side and it isn't light, so this may not be the perfect sleeping bag for backpacking trips. But, for multi-season car camping and everyday adventures it's a great choice, with a temperature rating of -1˚C / 30˚F.
Versatile children's sleeping bags
5. Kelty Kids Callisto 30
A versatile and extremely comfortable hoodless sleeping bag / quilt
Specifications
Pack size:
23x38cm / 9x15in
Fill:
Polyester Cloudloft
Colors:
Midnight Navy / Italian Plum
Reasons to buy
+
Good value at $50 / £40
+
Fully unzips
+
Less confining than a tapered bag
Reasons to avoid
-
Heavy and bulky to carry
-
Not PFC-free
Inspired by the ever-popular adult version of this cozy and versatile sleeping bag, the Kelty Kids Callisto 30 combines cool, retro looks with a comfortable and roomy rectangular design. It doesn't have a hood, so it doesn't keep warm air in as well as the Kids Mistral 30, but this isn't a problem for general use when it actually makes using a pillow in combination with a sleeping bag easier. It also eliminates the risk of the child ending up with the hood covering his or her face, which is something to be aware of with younger kids or those who move around a lot in their sleep.
With a similar weight and pack size to the Mistral, again we found this isn't a sleeping bag aimed at fast and light backpacking adventures, but it's a great choice for car and garden camping and sleepovers, with a temperature rating of -1˚C/30˚F.
Children's sleeping bag suits
A sleeping bag onesie that kids love to crawl into on camp
Specifications
Pack size:
35x18cm / 14x7in
Fill:
Polyester hollowfibre
Colors:
Violet Cockatoo / Grey Fiery / Blue Evening
Reasons to buy
+
Fun to wear, not just for camping
+
Good quality and well made
Reasons to avoid
-
Less warm for its weight than a normal sleeping bag
-
Expensive
-
Not PFC-free
Uniquely brilliant, Selk'bag's wearable sleeping bags combine a cosy all-in-one outfit with a good quality sleeping bag. The result is a perfect solution to cold evenings at the tent, hut or bothy; lightweight bivvying; sleepovers; and regular camping. They're made for adults, but older kids and young teenagers just love them.
The new Selk'bag Lite 6G is designed to offer maximum comfort and warmth with full freedom of movement. It has full-length arms and legs, a snug hood, and it unzips from neck to waist for easy on/off. There's a good-sized kangaroo pocket in front that works as a handwarmer or snack stash. A soft-feel polyester outer and hollowfibre fill feel warm and comfortable to wear, helping it to a comfort temperature rating of 13˚C / 55˚F.
Selk'bag suggests the wearable design comes up a couple of degrees colder than a standard sleeping bag of the same weight and fill. But team it up with a good baselayer, cinch up the cuffs and hood, and zip on the booties and our young tester found it incredibly cozy. Taking your arms out of the sleeves and sleeping with them next to your body also increases warmth.
Read our full Selk'bag Lite 6G review
Children's winter sleeping bags
A down bag offering top quality, comfort and performance levels to happy little campers and backpackers
Specifications
Pack size:
18x38cm / 7x15in
Fill:
600-fill-power RDS certified duck and goose down
Colors:
Briarsmoke / Purple Orchid
Reasons to buy
+
High spec quality sleeping bag
+
High warmth-to-weight ratio
Reasons to avoid
-
Expensive but should last a lifetime
-
More difficult to wash and dry than synthetic fill
Designed for kids (or adults under 5' 6") heading off on bigger adventures, when lots of warmth for a low weight and pack size are crucial, the REI Down Time 25 is a great choice for travelling and backpacking. Stuffed with responsibly sourced, 600-fill-power water-resistant down, it feels great to snuggle into and should retain its loft and warmth – it's rated to -3.9˚C / 25˚F – even in damp conditions.
The baffle construction prevents down from migrating or clumping, minimising cold spots which, along with a durable, rustle-free recycled Nylon shell and soft-feel polyester liner, all helps to guarantee a good night's sleep. The Down Time 25's shape is cleverly contoured to be snug but not restrictive, with a squared-off base for extra foot room. Rather than down, the base has a synthetic fill so it dries quickly.
The contoured hood will accommodate a small pillow, and adjusts for a perfect fit, along with the insulated draught collar. Although it is expensive compared with its full synthetic counterparts, if looked after well this sleeping bag will last for many years of adventures and is perfect for passing down within families.
Read our full REI Co-op Down Time 25 review
Sleeping bags for young children
A comfy camping swaddle for babies and toddlers
Specifications
Fill:
100% cotton, the cozy weight has additional polyester insulation
Colors:
Various, with myriad patterns
Reasons to buy
+
Innovative 2-in-1 design
+
Great tent or lounge wear
+
Good range of sizes and weights
+
Natural fabric
Reasons to avoid
-
Doesn't cover shoulders and arms
Camping with babies and toddlers can be a lot of fun. But getting enough sleep – and making sure the rest of the campsite does, too – is essential. Young children are prone to sliding under, or out of, their bedding, making night-time temperature regulation tricky.
The Ergobaby On The Move Sleep Bag offers a practical and versatile solution that works brilliantly, whether you're camping or staying with friends. At night it's a wearable sleeping bag, available in lots of cool designs and three different weights – light, mid-weight and cozy – depending on conditions. The adjustable shoulders and arms allow you to add a warm layer of clothing in cold weather, or simply leave them open and airy if it's warm.
For morning and evening wear, the innovative two-in-one design converts from sleeping bag to romper using a combination of foot openings and snap fasteners, while a handy belt slot allows safe snoozing in a buggy or car seat.
Read our full Ergobaby On The Move Sleep Bag review
How we test children's sleeping bags
Choosing the best children's sleeping bag helps set your child up for a lifetime of enjoying the great outdoors. More immediately, it ensures that they – and therefore you – get a decent night's sleep: an absolutely essential ingredient in fun family adventures (check out our camping tips for kids).
We – or more precisely our kids (ages seven and ten) and their cousins (ages one and four) – have spent the past few rainy weeks of the summer holidays testing out some of the best children's sleeping bags on the market. We've quizzed our testers on things like softness and warmth, their favorite colors, and how useful and easy to use they found the extra bits like zips and hoods. After that, it came down to the final test, as judged by us: how well did they sleep?
How to choose a children's sleeping bag
Children are notorious shapeshifters, always growing when your back is turned, so some parents are understandably loath to spend too much on gear that might be too small by next season. However, a well-rested camper is a happy camper, so if you want your kids to look forward to going on outdoor adventures, it's important to make sure they're comfortable. Also, remember that some sleeping bags are more versatile than others. Following are some factors we recommend you take into account when looking for the best sleeping bags for kids.
Adjustable length
If you're mainly car camping with younger kids, extendable sleeping bags make a lot of sense. They may be a little heavier and bulkier than standard bags because of the added zips and fabric, but the extra length could more than double the number of years they can be used by a single child.
Warmth
Unlike in adult sleeping bags, there's no standardized temperature range rating for sleeping bags designed for kids. How hot or cold we sleep is incredibly individual, and even more so for children, so go with the bag that's recommended for the conditions you're likely to experience most often. It's worth assuming you'll need to add or remove layers of clothing, and even add an extra blanket on top in colder weather.
Weight and pack size
Unless space is really tight, weight and pack size usually make little difference to car campers. But if the sleeping bag will be heading off backpacking or travelling, the smaller and lighter it is for its warmth the better. Down usually offers the best warmth-to-weight ratio, owing to its superior ability to trap warm air compared with synthetic fills. But synthetics are getting better all the time, and suffer far less in damp environments, so they're well worth considering for trips to rainy places (see synthetic insulation or natural down for more information).
All the latest inspiration, tips and guides to help you plan your next Advnture!
Award-winning outdoor adventure writers and photographers, Jen and Sim are the authors of eight books, including The Adventurer's Guide to Britain, Amazing Family Adventures and the forthcoming 100 Great Walks with Kids, which will be published in March 2021. In 2015 they spent a year living under canvas, exploring Britain's wild places with their two young children. Find out more at Adventure Places.