Camping tips for kids: 11 ways to keep them happy on your trip
Getting back to basics with the family is one of life's great pleasures. These camping tips for kids will help keep them occupied until bedtime – when they will sleep like logs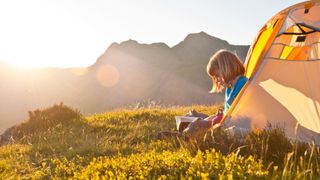 (Image credit: getty)
There are few better ways to guarantee quality family time than sharing a tent and sleeping under the stars. Camping weans adults and children alike away from the technological trappings of busy modern lives, but kids will need to be kept active – otherwise they might start whinging about being bored, which is a surefire way to kill a camping trip.
So even if you're asking yourself why anyone would want to go camping with kids, we've got a few ideas to help you head any complaints from younger members of the family off at the past.
Here are 11 essential camping tips for kids, to banish the word 'bored' and keep them happy campers on your next family trip into the great outdoors.
1. Involve kids in setting up camp
Yes, kids who are occupied from the start are kids that are happy. They like to feel involved. Even the youngest children can unfurl canvas, while bigger kids will take pleasure from the responsibility that comes from selecting the pitch and staking out the tent. Share the burden and reap the rewards. (And make the most of their enthusiasm, because when they're a bit older – check out our guide to camping with teenagers – they likely won't want to lift a finger.)
2. Re-designing chores
Around the home, most kids baulk at the faintest sign or merest mention of chores, but at home most chores don't involve scouring the woods for kindling so that you can spend the night around an awesome campfire. Drop the word 'chore', replace it with 'mission' and focus on the collective outcome and spirit of adventure and, soon enough, you'll have a race on your hands to see who can collect wood quickest.
3. Cook up a storm
Before you set off, plan ahead and consider which meals the kids can get involved in making. Like campground chores, they may show very little appetite for cooking at home but give them access to an outdoor kitchen in the woods and suddenly they're all budding young chefs eager to chop, stir and pour (under supervision).
Looking for something to cook? Check out our guide to the you can make in the outdoors.
4. Storytime
Once that campfire is glowing, a great family activity to keep the kids happy is to sit around and share some stories. Younger kids will always relish being told tales of adventure but, if you plan ahead and take paper and pencils with you, you can also challenge older kids to use their surroundings as inspiration to create their own stories to be shared later that evening.
5. Bugs everywhere
Not all adults are huge bug fans but there's no denying that most kids have a rather odd affinity with the little critters. Use this to your advantage by sending them on a campground bug-hunting expedition. Download or create your own laminated identification charts before you leave home and you can recycle this idea as a fun way to spend a couple of hours on every subsequent camping trip. To up the ante, have prizes ready for the coolest or largest bug of the day.
6. Scavenger hunt races
Searching for bugs might be cool, but it often requires slow, stealth-like movements. Change the pace a little by planting a series of objects in and around your surroundings and then set the kids off (under supervision or within a defined boundary) at warp speed in a race against the clock to identify and locate them all. Their quiet post-race collapse will be your reward for an activity gone well.
7. Creative crafts
Let nature be your inspiration and allow imaginations to run wild when you engage the kids in some campground craft activities. From leaf pressing and bark art, to creating wondrous campground crowns to adorn the heads of your little camping princes and princesses; you and the kids will be amazing at just what's possible when your raw materials are scattered naturally all around you.
8. Fish 'o' mania
If you're fortunate enough to have pitched up by the side of a lake or on the banks of a river, why not indulge the kids in some fishing? You may soon find yourself competing with the kids to land the prize catch for a foil-wrapped campfire cooking bonanza, or you might be complete novices, fashioning your own rods from sticks or paddling in the shallows catching tiddlers with a net. What matters is that you're doing it together.
9. Take a hike
We all know the best way to get some peace as parents is to wear the kids out, so planning a local hike to explore your new surroundings is always a good idea. Older offspring can be tasked with navigating sections of the walk with a map and compass (or an app), while younger kids might try their hand at finding what treasures they can unearth while geocaching.
10. Host a campground Olympics
Yes, using just the items that you can source in and around your campground, and some imagination, you can host a mini Olympics. Create throwing targets on trees, use sticks to mark long-jumping distances in the dirt, and a stopwatch (on your phone or smartwatch) to see who can make it to the lake and back in the quickest time, while negotiating a range of natural obstacles. Be sure to include a combination of running, jumping and throwing events to determine who truly is the overall and undisputed family champ. Winner gets to pick dinner!
11. Sleep under the stars
There are few better experiences to share as a family than a night spent literally under the stars. Do your research before you depart and download a constellation chart. Pick a clear night, just after a new moon if possible, lie back outside your tent and see what you can spot in the night sky. You might even be lucky enough to spot a distant planet. Pack a pair of binoculars or a mini telescope for added effect. If the night is forecast dry and the conditions are warm enough, you could always sleep outside your tent, or with the flysheet off if your tent has a mesh inner, and show the children how the heavens revolve during the night.
Camping as a family needn't be hard work. In fact, with these sorts of activities to keep your kids happy campers, there's absolutely no reason why, on the way home, they won't be asking when the next trip will be.
All the latest inspiration, tips and guides to help you plan your next Advnture!
An award-winning outdoor blogger and Ordnance Survey #GetOutside champion, David is most often found hiking, scrambling and skiing in the mountains, paddling on lakes, and wild camping with his wife and two young children. As a full-time English teacher, he weaves his love for the outdoors into his professional life by encouraging young people to explore, and once led a group of 32 teenagers on a month-long trip to Tanzania, an expedition that included climbing Africa's highest peak, Mount Kilimanjaro.