How to avoid bug bites and stings on the trail
Keep yourself off the menu for mosquitoes, midges, ticks and other creepy crawlies when hiking and camping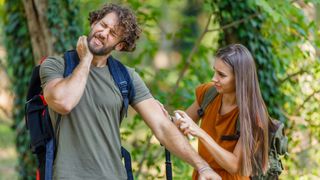 (Image credit: ProfessionalStudioImages)
The great outdoors is a glorious place to explore, and wildlife sightings are certainly part of the appeal of an adventure, but of all the creatures great and small you may encounter on a hike or camping trip, the most irritating must be biting bugs. Mosquitoes, midges, ants, wasps, ticks and their pesky relatives can be at best, annoying – and at worst, downright dangerous. But believe it or not, bites and stings aren't always an inevitability of spending time outdoors. Although you can certainly keep slapping on the soothing lotion when you get bitten, prevention is always better than cure. Here's how to avoid bug bites and stings on your next adventure.
1. Cover up
One really effective way to stop insects being able to access your tasty flesh is by leaving less of it uncovered. It's tempting to want to get some sunlight on your pasty skin, but it's better to choose the best hiking pants that are loose-fitting and breathable, and long sleeved sweat-wicking base layers for walking. Also pick longer hiking socks and closed-toe hiking boots so that your ankles aren't exposed. Mosquitoes find it a lot harder to pierce through cloth, and bugs that jump up from the ground, such as ticks, won't find anything to latch onto. See our guides to the best hiking socks and best hiking boots for some good options.
2. Wear a hat or bandana
Don't forget your head when wrapping up – a hat or bandana can go a long way to stop any bites on your scalp and ears. Choose light colours rather than dark ones, as the latter are more attractive to mosquitos.
3. Use insect repellent
Cover any leftover exposed skin with a good insect repellent, and reapply regularly. DEET offers the most effective protection, but can also irritate skin – it's best used when adventuring in places where insects may carry diseases. In milder climates, picaridin-based repellents and citronella are both effective at keeping bites to a minimum.
4. Consider location
The weather and your location are also factors to consider. Most biting insects prefer warm, damp weather with no wind. Times of day when you're likely to be bitten vary. Some species are more active in the day, while others – including the most common breeds of mosquitoes – are more prevalent at dusk. You're more likely to be bitten when next to stagnant water and in woodland, both of which are breeding grounds for biters.
5. Invest in a net
If you're dealing with a hefty amount of insects, such as a swarm of midges on a mountain hike or lots of mosquitoes at night, netting is the best way to ensure full protection.
Yes, they look silly, but do choose a head net if you're out walking, and at night, sleep under full-body netting impregnated with repellent (taking care that none of your skin comes into contact with the netting). Note that midges are much smaller than most flying insects, and you will require a finer-gauge netting to keep them at bay.
6. Treat any bites or stings
If you do get bitten or stung, apply an antihistamine cream to stop any itching, or try Biteaway, an innovative pen that uses heat to offer relief. Tick bites are trickier to deal with – learn how to remove ticks safely with a tick remover tool or with tweezers and keep an eye on the bite, seeing a doctor if any kind of rash forms or if you think the head of the tick may still be in your skin.
All the latest inspiration, tips and guides to help you plan your next Advnture!
An award-winning travel and outdoors journalist, presenter and blogger, Sian regularly writes for The Independent, Evening Standard, BBC Countryfile, Coast, Outdoor Enthusiast and Sunday Times Travel. Life as a hiking, camping, wild-swimming adventure-writer has taken her around the world, exploring Bolivian jungles, kayaking in Greenland, diving with turtles in Australia, climbing mountains in Africa and, in Thailand, learning the hard way that peeing on a jellyfish sting doesn't help. Her blog, thegirloutdoors.co.uk, champions accessible adventures.