Best women's sleeping bags 2023: for cozy nights outdoors
In our roundup of the best women's sleeping bags, we unzip the finest cozy cocoons designed with the female form in mind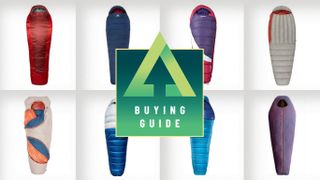 (Image credit: Future)
Eyeing up camping adventures this fall? The best women's sleeping bags will keep you toasty even when the mercury plummets in the dead of night. They come in all shapes and sizes, with a variety of designs, yet all are designed to fit the female form and make for a blissfully comfortable sleep.
The best women's sleeping bags use an insulated fill to trap heat from your body and keep you warm in the night. The fill is usually either goose or duck down or made from synthetic materials. Down has the benefits of warmth to weight and packability, while synthetic materials are generally cheaper and dry faster.
As with all the best sleeping bags, the models come rated for different temperatures and therefore different seasons. In this guide, we've grouped the bags into when they are best used, as well as having an option for those who prefer to sleep on their side.
Don't forget, the best women's sleeping bags are only as good as the insulation that's beneath them, so don't set off on an adventure without considering a sleeping pad too. Combined with a quality bag and a quality shelter, you'll be ready to take on the outdoors throughout the shoulder seasons.
The best women's sleeping bags for summer
For cozy comfort on warm nights where packability isn't too much of an issue, this synthetic bag serves up dependable, durable performance
Specifications
Weight:
1lbs 10oz / 0.72kg / 1.36kg
Pack size:
14in x 8in 20cm
Reasons to buy
+
Soft but sturdy material and construction
+
Water-resistant insulation and quick drying
+
Straps attach it to your sleeping pad
+
Uses recycled materials
+
Reasonably compressible and packable
+
Good value
Reasons to avoid
-
Not as packable as a down bag
-
Foot box might be a little tight
-
Not super breathable
-
Not suitable for cold nights
Therm-A-Rest tout this sleeping bag as providing worry-free warmth, and at least for summer camping when rain or morning dew are an issue, that's true. With a comfort rating of 52F/11C and a limit rating of 45F/7C, it does provide ample warmth for summer camping and it's made from the same soft fabric we've come to expect from Therm-A-Rest. Because this bag is made using synthetic down, it has two major advantages: first, it's quick drying and continues to insulate when wet, so there's no need to worry about damp mornings, and second, it's considerably cheaper than down alternatives in the same range.
Now, synthetic bags don't pack down as much as down, but this one comes in a storage sack that doubles as a stuff sack, and it's certainly possible to take this backpacking, but the lack of compression straps mean it's a little bulky, while the packed size is certainly no issue for car camping. The dual-purpose sack also means less materials are used in the production of this bag, which combined with the use of recycled materials makes for a kinder carbon footprint. A nice touch is the addition of two straps that connect to your sleeping pad to keep you from rolling off in the night, improving warmth and comfort. Anti-snag zippers help to improve the durability of this robust bag, and while we wondered if the foot box couldn't be a little roomier, we think it's great value for money if you're seeking a good quality summer bag.
Read our full Therm-A-Rest Space Cowboy 45F/7C Sleeping Bag review
An extra comfortable sleeping bag for summer sleepouts and camping adventures
Specifications
Weight:
Regular: 350g / 12.3oz; Long: 395g / 13.9oz
Fill:
RDS-certified Ultra-Dry Down 850+ Loft
Reasons to buy
+
Ultra-packable
+
Super comfortable
Reasons to avoid
-
Warm weather use only
-
Pricey
The lightest, most compressible, easiest to pack, and delicious to sleep in summer bag has a women's specific cut that's narrower at the shoulders and wider at the hips and knees. It's stuffed with more down than the men's equivalent bag, and the warmth is body-mapped to give women warmth where they need it. It's shorter than the men's bag, but is also available in a long version.
The bag packs into Sea to Summit's XXXS sil-nylon compression sack, which is as featherweight as the bag and about half the size of a liter Nalgene bottle. A third-length zipper provides access. For adventures in colder climes, the Flame Ultralight is also available in versions that will keep you comfortable at 2°C/35°F, -4°C /25°F, and -10°C/15°F. This was our favorite summer bag, but we also used it as a liner inside another bag for fall and winter camping (find more on this in how to go camping in winter).
A good lightweight option for warm weather camping trips where space and weight are at a premium
Specifications
Length:
Regular: 180cm/71in; Long: 195cm/77in
Pack size:
Regular: 22 x 18 x 15cm/9 x 7 x 6in; Long: 23 x 18 x 15cm/9 x 7 x 6in
Fill:
Down Codex–approved duck down with a minimum fill power of 700
Reasons to buy
+
Great-fitting hood
+
Lightweight and compact
Reasons to avoid
-
Only suitable for warmer weather
If small and lightweight is top of your sleeping bag shopping list for a warm-weather bag, Mountain Equipment's Helium may tick all your boxes. Weighing as little as a large bottle of water, and packing down to a size similar to one, this compact sleeping bag still packs a punch come bedtime, with duck down insulation to keep you warm in most conditions from late spring to early autumn. A snug hood stays put all night and cinches in tight.
We like the Helium for warm weather wild camps and for international backpacking and camping. Mountain Equipment don't actually explain how the female version of the Helium 250 is different, but on test we reckon nods to women's bodies include a shorter length and smaller pack size, and extra insulation around the torso and feet.
A cheap and cheerful fair-weather bag suitable for petite women
Reasons to buy
+
Very affordable
+
Nicely fitted to the female body
+
Good extra design touches
Reasons to avoid
-
Only suitable for spring and summer
-
Too short and small to work for tall or curvy women
We were intrigued to see Berghaus offer a women's specific sleeping bag for such a budget price, and wondered whether it would stand up on test against bags four times its price? The answer is that, as Berghaus attest, this is an 'ideal fair-weather bag'. With a comfort rating of 5°C / 41°F, it'll only keep you warm in very late spring, throughout summer and early autumn when the elements are feeling kind and you're close to sea level. But, if you fancy going for a female-specific fit for your next summer camping holiday or festival, it's a decent choice.
The design is definitely better fitted to the female form than a unisex bag at a similar price – it's wider around the hips, and shorter in general. The downside is that the Transition is short and small. It definitely doesn't fit tall or curvy women well, and we'd only recommend it for teens or adults who are average height and with a slim build. There are some nice extra design touches here for the money, though, including an internal bungee cord for adjusting the hood once you're inside the bag, and a section for popping your camping pillow in to keep it in place.
The best 2-season sleeping bags for women
A fairly technical but whimsical sleeping bag that performs well in a range of situations
Specifications
Pack size:
27 x 22.5cm / 10.6 x 8.86in
Fill:
Mammut's synthetic Ajungilak 100% Polyester insulation
Reasons to avoid
-
Not as well suited for big backcountry adventures as some other bags
Made for warm summer nights, boondocking in a camper van, and chilling by the campfire, Mammut's fun and funky, comfort-focused Relaxed Fiber Bag is a synthetic bag for casual outings. The bag's fit is comfort-focused. A central zipper makes it easy to get in and out of and allows for on-the-fly temperature regulation. The synthetic hydrophobic lining and filling won't absorb moisture, and the iridescent outer fabric and t-shirt soft shoulder and neck lining aren't crinkly and loud.
Mammut designed a new anatomical footbox into this bag to give sleepers more space without extra weight. They also added a modest draft tube to keep the cold out. The 100% polyester bag is Bluesign approved, with a PVC-free durable water repellent. It's also Fair Wear certified. Mammut strives to ensure fair and safe working conditions in all factories making its products. It's not the bag for scaling Everest, but it is the bag to keep in the back of the car for 2- to 3-season adventures.
The best 3-season sleeping bags for women
Go from 'bothy to bivvy' with this three-season women's bag, which boasts a water-resistant down filling
Specifications
Pack size:
22 x 39cm / 8.66 x 15.35in
Fill:
650 Fill Power R.D.S. Certified European Duck Down
Reasons to buy
+
Hydrophobic down
+
Great design details
+
Tough outer material
Rab's down sleeping bags are perennially popular with climbers and mountain hikers, and the Ascent 500 is a good midweight women's-specific bag to choose from their line-up, designed to be slightly wider at the hip to better accommodate female campers. Many down-filled sleeping bags lose insulation over time, or are rendered useless if they get wet or even damp – not so the Ascent, which uses hydrophobic down treated with Nikwax, and works well even on damp mornings or inside a bivvy bag. While the bag itself is soft and comfy to sleep in, its outer nylon material is tough enough to take scrapes and scratches.
Other nice little details show the quality of make and design involved, including a glow in the dark zip pull and internal stash pockets. Rab reckon the Ascent goes from 'bothy to bivvy' – we'd say they're right, as long as you're adventuring outside of the coldest weather of the year. All in all, this is a great three-season bag designed to last for many adventures to come, and light enough for camping off the beaten track.
A warm but weighty three-season bag that's big on comfort – ideal for traditional camping
Specifications
Weight:
2.33kg / 5 lb 2oz
Pack size:
33 x 47cm / 13 x 19in
Fill:
Synthetic ThermaPro Insulation
Reasons to buy
+
Very comfortable
+
Affordable price point
Reasons to avoid
-
Relatively heavy
-
Quite bulky
Unsurprisingly, delivering a cozy night's sleep is the main focus of Kelty's Tru Comfort – this women's-specific sleeping bag is large and on the heavy side, but it's definitely one of the most comfortable sleeping bags we tested out. We really like the oversized mummy fit, which hugs the body and keeps in heat but still allows you to wear extra layers to bed if needed, and will also suit bigger women. An innovative double layer system on the front of the bag lets you unzip different compartments for a warmer or cooler sleep – we like this feature as it makes this bag a true three-season design that'll keep you toasty in autumn but won't overheat on a hot summer's night.
How is the Tru Comfort female-specific? There's an increased fill weight for added warmth, and the bag is shorter and slightly narrower in order to reduce pack weight. The only factor that may not suit some campers is the weight of the Tru Comfort – at 2.3kg it's far heavier than many other women's sleeping bags, and too big and bulky to work for lightweight backpacking trips. That said, Kelty's design is ideal for car camping, campervans and traditional camping holidays.
The best warm sleeping bags for women
This super snug sleeping bag utilizes all recycled materials for an ultra warm night's sleep at an affordable price
Specifications
Pack size:
15.7" x 8.7" / 40cm x 22cm
Reasons to buy
+
Plush and ultra warm, even when wet
+
Fast drying
+
Environmentally friendly
+
Durable construction
+
Hidden pocket for gear you want close
+
Left/right zip options available
+
Adjustable hood and collar
Reasons to avoid
-
Too warm for summer camping
-
A bit heavy and bulky for backpacking
Rab's newly launched Solar collection is its first line of synthetic sleeping bags and the Solar Eco 3 is less than half the price of many of its down sleeping bags. The company known as one of the best in the sleeping bag business doesn't disappoint with this luxurious-feeling bag, and best of all, it's environmentally-friendly too.
The Solar Eco 3 is a plush, warm bag packed with synthetic down that continues to insulate when wet, dries quickly and is designed to withstand temperatures as cold as -8F/-20C. This mummy-shaped bag with adjustable hood packs in more down on top, where you need it, with a dual-layer concertina blanket construction that traps loft and warmth. The outer is treated with DWR to repel morning dew, rain-soaked tent walls, and accidental spills in your backpack.
Made entirely using recycled materials, this sleeping bag has a lower impact on the planet, but still manages to be high performing on freezing camping expeditions.
Read our full Rab Solar Eco 3 sleeping bag review
9. Nemo Women's Kayu 15°F / -9°C
A genuine 3-season performer that keeps you snug when it's cold, but can be adapted to release excess heat in warmer conditions
Specifications
Length:
Regular: 185cm / 73in; Long: 198cm / 78in
Pack size:
32 x 20cm / 12.5 x 8in
Fill:
800FP Hydrophobic PFC-Free 100% RDS Certified Down
Reasons to buy
+
Lifetime warranty
+
Gills help bag adapt to warmer temps
+
Super moisture repellent
Reasons to avoid
-
Only the men's model zips to the women's bag
-
Expensive
This form-fitting ultralight down mummy bag has a tailored hood, footbox, and body-mapped core for maximum warmth without excess weight or wasted space. The 800 fill power down is sewn into 'aggressively' thermo-efficient patterning, according to Nemo, which prevents down migration and cold spots. The Kayu 15° features Nemo's signature temperature-regulating Thermo Gills that unzip to partially vent the main body of the bag without creating drafts.
It's a great design feature that extends the bag's useable temperature range into warmer seasons. Waterproof breathable material in the footbox and hood plus a DWR-treated sleeping bag shell protect the Kayu from wetting out when it rubs against tent condensation. The bag is filled with hydrophobic, PFC-free, and 100% Responsible Down Standard (RDS) certified down, which is not only humanely-sourced and gentle on the planet, but highly packable, super warm, and water-repelling.
The hardworking women's Lamina will keep you cosy on chilly winter wild camps
Specifications
Length:
Regular: 203cm/80in; Long: 218cm/86in
Pack size:
24 x 46cm / 9.5 x 18in
Fill:
Thermal.Q synthetic insulation
Reasons to buy
+
Reliable warmth
+
Streamlined mummy shape
If you love camping adventures far from the beaten track but struggle to stay warm in cold conditions, Mountain Hardwear's Lamina is our pick of the pack. The female-specific Lamina includes extra insulation in key areas such as the torso and the feet to keep you warmer, and is also one of the snuggest and most streamlined sleeping bags we tested, which along with a narrow foot box and small, adjustable hood really help to seal in warmth on chilly nights.
While it's not super lightweight, this bag is still packable enough to work in a larger rucksack for wild camping or mountain adventures, when the warmth is very welcome. The Lamina is also water-repellent and available in different lengths and zipper locations – all in all, a great choice for more adventurous female campers. If you need something for more extreme mountain temperatures, there's a unisex version of the Lamina rated down to a whopping -26C.
An environmentally considerate, versatile three-season sleeping bag for women
Specifications
Pack size:
20 x 43cm / 8 x 17in
Fill:
550 fill power DriDown that is PFC-free and is certified to the Responsible Down Standard
Reasons to buy
+
Ultra-affordable down bag
+
Small face opening seals in warmth
Reasons to avoid
-
Tighter at the feet than some other bags
-
Zipper from neck to hood hard to operate from inside
Comfortable, light, and designed and manufactured to have as a low an impact on the environment as possible, Sierra Designs' Get Down is cozy and comfortable, and also gentle on the planet. This 500-fill, three-season bag uses a water-repelling down that's PVC-free that also meets the responsible down standard. The bag's three-quarter length zipper is anti-snag for easy use, and it's placed closer to the ground than in other bags so that sleepers can fold back the top for venting that feels more like your bed at home. Handily, it also comes with a stuff sack.
The bag has a generous but not sloppy fit, with a spacious foot box. Out tester didn't feel like she was swimming in it, but she was able to change positions during the night without feeling cramped. Side sleepers take note, however: the lower-positioned zipper can be uncomfortable if it ends up under your hip or shoulder. And the weird hand pocket would be better replaced with a zip pocket to hold a headlamp.
Best women's sleeping bag for side sleepers
A sleeping bag for those who like to curl up and sleep on their sides
Specifications
Weight:
Petite: 936g / 2lb 1oz ; Regular: 992g / 2lb 3oz
Pack size:
Petite: 20 x 45cm / 8 x 17.5in
Fill:
650 fill water-repellent DownTek with Bluesign-Certified PFOA and PFOS free DWR
Reasons to avoid
-
Mesh pillow holder lets in cold air if you're not using a pillow
Designed specifically for side-sleepers, the innovative Sidewinder Series eliminates potential side sleeping pressure points while keeping women warmer and more comfortable by following feminine contours with a more gradual shoulders-to-feet taper and body-mapped insulation. Happily, our tester found the bag comfortable whether she slept on her side or stomach or back.
The jacket-style hood traps warmth inside. This bag's down fill and interior and exterior shell fabric are both treated with a PFC-free water repellent finish to keep the bag from compacting from sweat and other moisture. The Sidewinder comes with a storage bag and a compression sack. And a small internal pocket holds a headlamp or a car key. It's best used at sea level or on low hills during the warmer months and shoulder seasons.
How we test the best women's sleeping bags
All of the sleeping bags featured in this review were put to the test by reviewers on either side of the Atlantic - one in the UK and one in Vermont, USA. Our reviewers slept in the bags in conditions within the temperature rating ranges specified by the manufacturer and were tasked with gauging the bag's performance in a number of metrics, including warmth, comfort, weight, packed size, and materials.
What to look for when buying the best women's sleeping bags
Choosing a sleeping bag to help you get the best night's sleep is an art and a science. The science is picking a bag with the proper comfort rating – get this wrong and you won't get much sleep at all. The art is selecting a bag that ticks all the other boxes, so you look forward to sleeping out whenever you go on an adventure. To help you make the right choice, there are several important questions to ask and things to consider.
Do I need a female-specific sleeping bag?
There are few different reasons why a women's-specific sleeping bag could suit you better than a unisex model. Women tend to sleep 'colder' than men and often reach lower body temperatures at night, so a warmer, more insulated sleeping bag is a sensible choice, especially if you notice that you often feel the cold when camping.
Women are also usually shorter than men – a shorter and smaller sleeping bag will keep you warmer, trapping heat around your body better, and will also be lighter and more compact to carry. Women's sleeping bags may also be narrower at the shoulders and wider at the hips, to match the shape of the female body, or sport extra insulation around the torso and feet, where you're likely to lose body heat.
Weight and Size
Where are you planning to sleep in your new bag? If you're only ever going to transport your sleeping bag in a car, you won't mind if it's on the bulkier, heavier side. But if you've got to backpack around the mountains with a sleeping bag, a compact, lightweight option makes far more sense. Check both the weight and the pack size of the sleeping bag you have in mind – some of our featured bags weigh under 500g and will fit into the smallest of backpacks.
Shape
Traditional sleeping bags are rectangular, with a zip that goes around two sides. These are more spacious for sleeping, and can be opened up to serve as a quilt, but tend to be less warm and are better suited to casual summer camping, festivals and use in campervans and glamping tents. More adventure-ready modern sleeping bags are 'mummy' shaped – these taper around the foot and are usually lighter and warmer, and better suited to multi-day hiking and other fast and light adventures. If you are a committed side sleeper, you might want to seek out a bag that accommodates this better than standard models.
Temperature Rating and seasonality
Sleeping bags are roughly classified by season, ranging from one-season to four-season. One-season bags are made only for summer camping when the weather is very mild. Two season bags are ideal for late spring to early autumn temperatures. Three season bags are good for autumn and winter weather use, but won't be suitable for temperatures too much under zero. And four-season sleeping bags are designed to keep you toasty on cold, frosty and even snowy winter nights, and can tackle mountain camps. As a rough rule, the more seasons a bag works for, the more expensive it's likely to be.
Meanwhile, temperature ratings are a more specific measure of how warm a sleeping bag can keep you, and are usually split into up to three categories – you'll see 'comfort', 'limit' and 'extreme' temperature ratings for most sleeping bags. Comfort is the optimum temperature at which you'll feel warm and comfortable – meaning that if the bag is used in temperatures below that rating, you'll probably get cold. The 'limit' temperature is as low as you should consider sleeping in the bag without feeling pretty uncomfortable indeed. The 'extreme' temperature rating refers to survival conditions – in other words, the limit at which the bag will keep you alive. In general, it's easiest to look for a bag with a comfort rating lower than you expect to encounter on your coldest camps – especially as women tend to sleep colder than men. Find out more about sleeping bag ratings in sleeping bag temperature ranges explained.
Materials
Down is the best sleeping bag filling for warmth-to-weight ratio, heat retention and temperature range – meaning that you can use it in both warm and cold conditions. Sleeping bags made from down also tend to last longer and they're easier to stuff into small bags. They're also usually more expensive, however, and you'll want to take extra care to keep your down bag dry – most down bags quickly lose their warming properties if they get wet.
Some down is treated to be hydrophobic, so in case of condensation or sweat, the down won't get matted. So, if there's a chance your bag will get wet, or if you'll be primarily sleeping out in moist environments, opt for a bag made with DWR-treated down or synthetic fill (see: What is DWR?).
Synthetic bags tend to retain their thermal properties even when wet, although no one wants to sleep in a wet sleeping bag if they can avoid it. Synthetic bags typically cost less. They can also be used without fear of getting them damp, and they dry quickly if you do get them wet. They're also easier to clean, and generally cheaper. Lastly, if you accidentally snag your synthetic bag, the insulation may be showing but it won't leak out. This topic is treated in more depth in our explainer on Down vs synthetic insulation.
All the latest inspiration, tips and guides to help you plan your next Advnture!
Vermont-based writer, photographer and adventurer, Berne reports on hiking, biking, skiing, overlanding, travel, climbing and kayaking for category-leading publications in the U.S., Europe and beyond. In the field, she's been asked to deliver a herd of llamas to a Bolivian mountaintop corral, had first fat-biking descents in Alaska, helped establish East Greenland's first sport climbing and biked the length of Jordan. She's worked to help brands clean up their materials and manufacturing, and has had guns pulled on her in at least three continents.