The best women's sleeping pads 2023: for a more comfortable night's sleep
Women tend to sleep colder than men, but the best women's sleeping pads are designed to keep female campers warm and comfortable in all conditions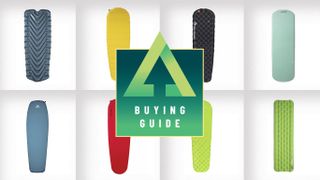 (Image credit: Future)
While many sleeping pads and mats are unisex, the best women's sleeping pads are designed specifically for female body shapes and requirements. A great camping mat can be the difference between getting a good or a bad night's sleep on backpacking adventures – a decent design will insulate you from the cold ground, protect you on rocky terrain and keep you warm and comfortable all night, ready to wake up for another day of adventure. So some women will be perfectly comfortable with one of the mats recommended in our best sleeping pads guide, but others are going to prefer a mat that's been designed with them in mind.
Anecdotally, women tend to 'sleep colder' and feel temperature changes more keenly than men and can end up with a lower body temperature during the night – we ask if women really are cold sleepers in this article. The best women's sleeping mat models are usually more insulated in key areas such as around the torso, and are often warmer but lighter than the unisex version. Women of average height also don't need to cart a longer (and therefore heavier) camping mat around; they can choose a shorter mat instead, shaving a few grams from their pack weight and saving space.
Whether you're a casual holiday camper, a regular backpacker or a keen wild camper heading for the backcountry, this selection of the best women's sleeping pads will offer you an option that will enhance your overnight outdoor experience.
The best women's sleeping pads
Inflatable women's sleeping pads
1. Therm-a-Rest NeoAir Xlite Women's Camping Mat
This light and very packable mat offers year-round comfort
Specifications
Dimensions:
168 x 51cm / 66 x 20in
Pack size:
23 x 10cm / 9 x 4.1in
Reasons to buy
+
Warm year-round
+
Weighs just 340g
+
Packs down small
Reasons to avoid
-
Expensive at over $100
-
Loud, crinkly material
-
Only 20in wide
Therm-a-Rest uses its Triangular Core matrix inside this women's sleeping pad, which the brand claims has the best warmth-to-weight ratio of any inflatable backpacking mattress. Prepped for bedtime, it's a hefty 2.5 inches (6.4 cm) thick, stable, durable, and deliciously warm for a pad that's so compact.
Therm-a-Rest's WingLock valve makes it three times faster to inflate this pad than Therm-a-Rest pads with other valves (the WingLock valve has a larger opening, and it's one-way). As Therm-a-Rest put it, the female-specific NeoAir XLite design is simply a warmer and less lengthy version of their very popular NeoAir mat, and is made for 'shorter, colder sleepers' (ie, most women).
It is a significant investment, but other than the price tag, there's not much we don't like about this mat (except, perhaps, the lack of noise-damping insulation, which makes it a bit crinkly). It's highly portable for a start, weighing just 340g and packing down to the size of a water bottle (and fitting easily into a backpack's bottle pocket, or a small pannier bag). It comes with a pump sack, stuff sack and repair kit – the latter an invaluable inclusion, because if you do get puncture and don't/can't repair it, you'll be sleeping on the ground.
This is our top pick for wild campers, fast packers and bike explorers who value a small pack size and a light weight on their adventures, and it's also the warmest mat we tested, ideal for winter conditions and expeditions. Worth the spend if you're a regular backpacker.
2. Sea to Summit Women's Comfort Light Insulated Mat
A comfy night's sleep is guaranteed on this luxuriously quilted mat, designed to match the female form
Specifications
Style:
Insulated, inflatable
Variants:
Regular / Large
Dimensions (regular):
168 x 55cm / 66 x 21.7in
Pack size:
13 x 24cm / 5 x 9.5in
Reasons to buy
+
Great comfort
+
Nicely designed to fit the female form
+
Comes with pump and repair kit
+
30D / 40D face fabric is quiet and durable
'Comfort Light' is an obvious but appropriate name for Sea to Summit's high-performance women's sleeping pad – just looking at this quilted mat gives you an inkling of how comfortable it is to kip on. No less than 324 air pockets create a springy but solid surface and keep you warm and well away from cold ground.
Designed and constructed for women backpackers and outdoor adventurers, this mat is wider at the hip and narrower at the shoulder to match the female body shape, and there's a tighter pattern of air pockets around the torso to further trap in heat. This three-season mat has an R-value of 3.8 and should see you through most camping conditions besides the coldest winter camps.
If you hate losing your pillow in the night when camping, you may want to grab one of Sea to Summit's pillows to go with the Comfort Light mat – these can be 'locked' in place to the top of their mats. The Comfort Light comes with a stuff sack, pump and repair kit. Packed down and weighing 555g (regular), this mat is small enough to qualify for backpacking trips, making it a nice all-rounder to take from campsite to mountainside. There is also a large version of this mat ($190 / £180), which is 6ft long (183cm).
3. Big Agnes Q-Core SLX Petite
A well-cushioned backpacking pad that keeps you from rolling off
Specifications
Dimensions:
51 x 168cm / 20 x 66in
Thickness:
11.4cm / 4.5in
Pack size:
10 x 18cm / 4 x 7in
Reasons to buy
+
Sides of pads act as rails to keep you from rolling off
+
Luxuriously comfortable
+
Tiny pack size
+
Lightweight at under 500g
Reasons to avoid
-
Slightly narrow (wider versions available)
-
Inflation sack is heavy
-
Relatively low R-value
Tough, warm, and thick, Big Agnes' Q-Core Insulated has all the features of a women's sleeping pad you'd use for car camping, but at a weight made for backpacking. For its small size and excellent packability, this is a luxuriously comfortable sleeping pad. The TPU-laminated ripstop fabric can stand up to use inside a tent, or on the bare ground, on the beach, and more. Inside, PrimaLoft Silver insulation and a heat-reflective technology increase our warmth, while a quilted top and I-Beam construction are comfortable and stable. The inflation sack is both included and upcycled. Our tester was on the most narrow and lightweight version of this mat, but the Q-core is available in myriad sizes, up to a width of 101cm / 40in and a length of 183cm / 72in.
4. Klymit Static V Luxe SL
A futuristic summer sleeping pad for warmer nights
Specifications
Dimensions:
198 x 69 x 9cm / 78 x 27 x 3.5in
Pack size:
23 x 18cm / 9 x 7in
Reasons to avoid
-
No inflation bag included
-
Expensive
The Static V Luxe SL pad looks different from all other sleeping pads on the market, with deep V-shaped ridges that are Klymit's signature design. Although not female-specific, we have included this mat in our round-up because of its low weight to high comfort level ratio, although with an R rating of 1.5, it's best enjoyed during warmer months. That said, Klymit have designed the ridges to support a body's pressure points, floating the sleeper above the ground where your body heat can't be sucked away while you sleep, and our tester confirmed she didn't experience ground chill. The wide pad has tip-to-tail side rails that subtle cradle you to keep you from rolling away. The pad tapers at the foot to save weight. And because there are no heat-reflecting internal layers, it's quiet. Comes with a life-time warranty.
Self-inflating women's sleeping pads
5. Therm-a-Rest ProLite Plus Women's Sleeping Pad
A self-inflating pad for three-season adventures

Specifications
Style:
Self-inflating foam
Dimensions:
51 x 168cm / 20 x 66in
Pack size:
28 x 15cm / 11 x 5.8in
Reasons to buy
+
Lightweight
+
Good comfort from foam padding
+
Short at just 66in long
+
Warm
+
Easy to compress
Reasons to avoid
-
Self-inflating but requires topping off
-
Not as packable as fully inflatable mats
If you prefer the comfort of sleeping on foam rather than a fully inflatable air mat, you may get on well with Therm-a-Rest's ProLite. This women's version of the mat is constructed with a foam core that expands once liberated from its stuff sack, although you'll still have to add some air with good old lung power to fully inflate the mat. Shorter and warmer (higher R-value) than the men's version of this pad, the self-inflating Pro-Lite uses a combination of cut-out foam and air to form the sleeping surface. When it's time to pack up and hit the trail, squeeze out the air to compress the foam, and the pad compacts down to a cylinder that's about two liters large – the foam element does of course add some weight and bulk to the pack size, as compared to fully inflatable pads, but it does offer some insurance in case of puncture. Therm-a-Rest spec'd this pad with a WingLock valve, which has three times the airflow rate of the classic valve thanks to a larger opening and one-way inflation. Because this pad is self-inflating, it doesn't come with an inflation sack, but it does come with a stuff sack for protection inside your pack.
Budget women's sleeping pads
6. Mountain Equipment Helium 3.8 Women's Warmzone Mat
An affordable foam mat with a warm insulated torso – a great all-rounder that works across three seasons
Specifications
Style:
Self-inflating foam
Dimensions:
168 x 51cm / 66 x 20in
Pack size:
27 x 16cm / 10.6 x 6.3in
Reasons to buy
+
Good price point
+
Not super lightweight
+
Good protection despite thin build
Female-specific camping mats don't need to be expensive to be efficient. The female version of Mountain Equipment's Helium is a hard-working foam mat that – at 670g – is still lightweight enough to take with you on backpacking forays or your first wild camping trip. The main difference from the unisex version of the Helium is the wider area around the torso, plus a shorter length and slightly lighter weight. We liked the wide insulated chest area on test but the narrower bottom of the Helium may not suit women who toss and turn in the night – they'll get on better with a mat that is wider overall. This may be a thin mat but its foam stuffing does a good job of protecting you from the ground, and its R-value of 3.6 makes the Helium work well for camping trips from spring through to fall. For the price, this is a great first sleeping pad for women new to camping, or simply searching for a better night's sleep on their next tent adventure.
7. REI Co-op Trailbreak Self-Inflating Sleeping Pad – Women's
An excellent and affordable women's sleeping pad that should last years
Specifications
Style:
Open-cell foam, self-inflating mat
Dimensions:
168 x 51cm / 66 x 20in
Thickness:
4.45cm / 1.75in
Pack size:
15 x 51cm / 6 x 20in
Reasons to buy
+
Costs just $70
+
Sleeping surface is soft and not slippery
+
Durable construction
With more insulation in the torso, which is where REI say women lose heat, this rugged body-mapped pad has an R-value of 5.3 making it one of the warmest pads on review, as well as being comparatively cheap. It is also one of the heaviest, but the foam-core in this self-inflating pad is carved out where women need less insulation, which saves some weight. The pad is shaped to work with mummy or rectangular sleeping bags. Distinctly color-coded valves, one for inflation and one for deflation, assist users to set up and break down the pad. The Trailbreak comes with compression straps, which helps with packability. This pad is also available in size long (weight: 1134g / 2lb 8oz; dimensions: 72 in x 20in / 183cm x 51cm; pack size: 16.5 x 51cm / 6.5 x 20in).
All-season women's sleeping pad
8. Sea to Summit Women's Ether Light XT Extreme Insulated Air Sleeping Mat
A superb all-year, all-conditions women's sleeping pad
Specifications
Style:
Insulated, inflatable
Dimensions (regular):
168 x 55cm / 66 x 21.7in
Reasons to buy
+
Stuff sack doubles as inflation sack
+
Well insulated and suitable for winter camping
+
Pillow lock
+
Antimicrobial treatment
+
Quiet construction
Reasons to avoid
-
Slightly too tapered at the top for stomach sleepers
-
Extra insulation adds weight
Cut narrow in the shoulders and wider in the hips and knees, Sea to Summit's plush Ether Light XT Extreme Insulated Air Mat is designed for women who want to camp out in cold-weather in comfort. Air sprung cells are supportive, stable, and warm and – since the pad is four inches thick – they keep you well off the ground. Sea to Summit have added an extra layer of insulation inside to prevent heat loss to the ground or the air. The pad is designed to limit internal air movement, which helps it feel warm, and it is treated with an antimicrobial inside to prevent mold growth. A pillow lock connects the Sea to Summit Aeros pillow to the mat, but it's compatible with various camping pillows. There is also a long version of this pad (RRP: $220; weight: 870g / 30.7oz; dimensions: 183 x 64cm / 72 x 25.2in).
How to choose a women's sleeping pad
The job of the best women's sleeping pads is to be the platform for a great night's sleep when you're camping. Every sleeper's needs are different. Some of us sleep hot, and some sleep cold. Some of us flip and flop in the night and may need more space so we don't fall off a sleeping pad. And some of us don't move at all. Fortunately, there are many sleeping pads to choose from, including pads made specifically for women.
Why choose a female-specific mat?
There are a few different reasons why a women's-specific camping mat may suit you better. Women can sleep 'colder' than men and often reach lower body temperatures at night, so a warmer, more insulated version of a unisex camping mat can be a good choice to keep you comfortable. Women are also often shorter and lighter than their male camping counterparts, and therefore don't need the added weight and pack size of a longer and wider mat if they're backpacking – most women's mats are 168cm / 66in by 51cm / 20in, while unisex mats tend to measure around 183cm / 72in by 60cm / 23.6in. Short or petite women are likely to find women's mats a better option, while taller and larger women may find a unisex mat more comfortable. Female mats are often designed with more insulation in areas where women's bodies lose heat, such as the torso and the feet, and may also be wider around the torso and shoulders.
Understanding R-values
Camping mats are measured by their R-value, which tells you how well they'll keep you warm by insulating you from the cold ground. The higher the R-value, the warmer your new mat will be, and the more seasons you'll be able to use it in. R-values are unisex, but you'll notice that some female versions of unisex mats have a higher R-value, to compensate for the fact that women's bodies can reach lower temperatures at night. Most sleeping pads range from an R-value of 1.0, which is suited for summer weather, to an R-value of 5.5+ for use in extreme cold. We recommend choosing a mat with an R-rating of 2-4 for three-season use, and over 4 for winter adventures. Read a more detailed explanation at sleeping pad R-values explained.
Foam or inflatable?
Modern sleeping pads are self-inflating or designed to be inflated with a stuff sack or your lungs. Self-inflating pads have foam inside, so they don't pack down as small as a pure air pad or a pad with air and insulation inside. Some foam-free pads can be loud (crinkly), and some use air chambers that make you feel like you're sleeping on a raft. When you're shopping for a pad, if you can, try before you buy.
Foam tends to be warmer and more comfortable to sleep on, while inflatable air mats are lightweight and packable, and also raise you higher off the ground (if they're insulated they can also be very warm). Inflatable mats risk being punctured, but field repair kits are often included.
Always use a stuff sack to inflate your air pad if you have one. Not only is it more efficient, but it will keep moisture from your breath out of your pad. Moisture inside the pad can sometimes cause mold.
Weight and pack size
Getting the best women's sleeping pad for you is all about working out where you'll use it most. If you're a casual camper headed for a holiday in a campsite, or you're taking the car on a road trip or packing for a festival, you can choose a comfortable mat without worrying too much about its weight or pack size. If you're a dedicated wild camper, bike packer or backpack adventurer, you'll want to choose a camping mat that's as lightweight and as compact as possible. If you're headed for the backcountry, we recommend choosing a mat that packs down to the size of a 1-liter water bottle, and that ideally weighs less than 500g / 1lb, to make it easy to carry..
All the latest inspiration, tips and guides to help you plan your next Advnture!
An award-winning travel and outdoors journalist, presenter and blogger, Sian regularly writes for The Independent, Evening Standard, BBC Countryfile, Coast, Outdoor Enthusiast and Sunday Times Travel. Life as a hiking, camping, wild-swimming adventure-writer has taken her around the world, exploring Bolivian jungles, kayaking in Greenland, diving with turtles in Australia, climbing mountains in Africa and, in Thailand, learning the hard way that peeing on a jellyfish sting doesn't help. Her blog, thegirloutdoors.co.uk, champions accessible adventures.