5 tips for night running on trails: keep on the move as the nights draw in
Night running may become less appealing as the hours of darkness grow longer and colder but that doesn't mean you have to retreat to the sofa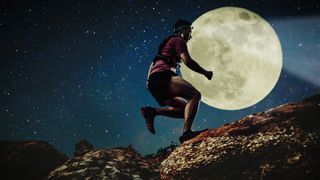 (Image credit: Pixfly / Getty Images)
It's dark. It's cold. It's raining. It's windy. Did we mention the dark? Yes, it's very dark.
Freezing cold darkness doesn't always feel like the most inviting reason to go trail running at night, but these tips and tricks from trail running pros and coaches should help you get yourself out the front door.
Not only will you emerge from this article so motivated you'll be yearning for sunset so you can grab your best running headlamp and hit the nighttime trails, you will actually enjoy every step under that velvet-black sky decorated with pinprick stars… Or, at the very least, enjoy every step in the mist, wind and rain, with all those stars hidden behind a few layers of clouds.
Read on for five secrets to making night running a joyful adventure out on the trails.
1. Find reasons to leave the house
"I'm a tight northerner so I time my heating on so it's not on yet when I get home in the winter," says SportsShoes and Strava athlete Ben Mounsey. "That makes it much less tempting to sink into the sofa and much more likely that I'll get changed and head out the door and on to the nighttime trails!"
This way the conundrum, "To go out or not to go out?" becomes less of a decision to be made, and more of an unstoppable plan for forcing yourself out into the darkness.
Going with friends can also be a nice, free way to motivate yourself – you might have to join a local running club first to find said mates, but traditionally such clubs are either free to join, or carry a small annual fee. Religiously attending a club run at set times is a fantastically low-cost way to stay motivated for nighttime running, tackle the trails in safety with likeminded friends, and get tons of training and gear tips into the bargain.
2. Get kit organized
"If you're getting up early or wanting to head out after work, save faff time by putting your head torch on charge overnight and gathering your kit together in a bag," says coach and physio Tim Pigott from HP3 Coaching.
Making sure you have a good headlamp also makes night running a lot more appealing, but how bright do you need to go?
For roads you might only need about 100-150 lumens but for easy, low-level trail running we recommend a least 200-300+ lumens for a better look at that lumpy terrain and less chance of tripping over tree roots, rocks and / or hedgehogs.
If you're navigating a new route or speeding along in a race you want a super-bright head torch to light up the surrounding features, so 300-800+ lumens will be more your bag. Investing in a good quality waterproof running jacket and thermal leggings (check out our guides to the best women's running leggings and the best men's running leggings) to protect you from the elements, plus some high viz gear for any road sections will also make it easier to get out of the door.
3. Hone your technique
"Trail running in the dark can be a uniquely exhilarating experience but it requires a heightened awareness and preparedness to ensure a safe and enjoyable time on the trails," says Andy Pye, trail and fell running coach at Trail Run West Midlands. "First, slow down slightly because darkness alters your perception of speed. This allows you to absorb your surroundings and reduces the risk of tripping over tree roots that come out of nowhere. Then scan ahead regularly with your head torch (I recommend 300 lumens), focussing on the path directly ahead of you as well as terrain further down the trail. This proactive scanning helps identify potential hazards and gives you a better reaction time so you can navigate them safely.
"If you want to practise some night running skills in the daytime you could try ladder drills, using a balance board and working on staying relaxed while you're running. Because more injuries are sustained if you take a fall when you're tensed up."
4. Have rewards!
"When you're cold and wet and exhausted, the simple things in life suddenly take on a little bit more shine," says Keri Wallace, director of Girls on Hills. "So a cup of tea is suddenly the most amazing thing and a hot shower is like, 'This is the best shower I have ever had!' It definitely brings a little bit of gloss back to normal daily life. And you definitely feel more hardcore when you run in the dark – especially in the rain and the wind – and you get back in and there's an even bigger Type 2 fun effect; you think, 'Yeah, I did that! I did that even though I really didn't want to go, and it sucked, and I still did it. Go me!'"
So think about how you're going to reward yourself – food, drink, a hot shower, an extra cozy feeling of smugness, your fave Netflix series, a new headlamp, a night race… Yikes that escalated quickly…
5. Enjoy the adventure!
"Like many, I used to be scared of running in the dark and would only do it with a running buddy," says Lauren Gregory, running coach and founder of Run Like a Girl. "However, having done a couple of races through the night when I've had no choice but to embrace the darkness on my own, I found ways to calm my mind by focussing on the peace and tranquility of running while the world sleeps.
"There's also something about having a very small field of vision through your head torch that makes me feel like I'm in a tunnel where the only way is to move forward, and when that first morning light comes it always gives me a fresh boost of energy!"
Run a familiar route so you're confident finding your way and if you can time your run to coincide with sunrise or sunset that's a massive potential bonus to see that beautiful orange glow melt across the horizon surrounded by pink clouds. The soft cloak of darkness makes any boring, old familiar run into an adventure, this is a new dimension to explore by torchlight – what will you see tonight?
All the latest inspiration, tips and guides to help you plan your next Advnture!
The co-founder and former editor of Trail Running magazine, Claire now runs the YouTube channel Wild Ginger Running, creating films packed with trail- and ultra-running content. An award-winning journalist, writing for outdoor and adventure sports magazines and websites, her first book The Ultimate Guide to Trail Running 5k to 50k is out in January 2021. Claire also speaks and presents at events and races.