9 benefits of active commuting that will convince you to ditch the drive
Turn your commute into a workout and reap this physical, mental and financial benefits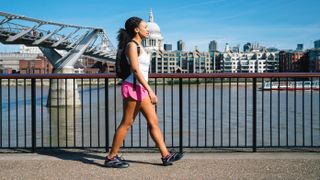 (Image credit: Rossella De Berti)
Does getting to work for you mean hours of sitting, mindless snacking and sipping on syrupy coffee in crowded trains or white knuckle traffic while you dream of the weekend so you can get back out in your hiking boots? A 2021 study from Stockholm has revealed the damaging effects of commuting on health, such as physical inactivity, obesity and disturbed sleep, but for many of us, it doesn't have to be that way. If you already love the outdoors, why not turn your commute into an active adventure on foot or bike? You can reap some incredible benefits for your health, your bank balance and the planet. Read on to discover nine great reasons to turn your commute active and some tips for getting started.
1. It can help you meet – or surpass – your activity goals
Even if you consider yourself really active, if you sit down to commute and you're relying on trail time or gym sessions after work to meet your daily activity goals, it can be all too easy to have a hard day at the office, skip the gym and not get any physical activity that day whatsoever. You might think you're going to make it all up on Saturday with a long hike, but then the weather thwarts your plans and before you know it, you've missed out on several days worth of exercise.
If your commute involves even 30 minutes of walking each way, however, you've already met the recommended daily allowance of exercise as recommended by the World Health Organization. If you actively commute to work and get in your evening workout on top, you've just banked even more activity hours to counter all that time spent sitting at work.
2. It reduces your risk of disease
According to the WHO's recommendations, meeting their minimum daily allowance of physical activity is proven to help prevent and manage noncommunicable diseases such as heart disease, stroke, diabetes, several cancers and hypertension while helping you to maintain a healthy body weight. Those are some serious dividends for simply opting for a different mode of transport, and don't worry that your commute is too short – University of Cambridge researchers recently concluded that as little as 11 minutes of brisk walking a day is enough to lower your risk.
3. It can save time
Walking or running to work might seem nuts if it would take you an hour and you can catch the train and be there in 15 minutes – how can that save you time? But think about it this way: in the active model, you could leave the house around 8am and be home by 6pm, and have finished both your work and your workout(s) for the day. You've got the whole evening ahead of you to spend with family, cook, socialize or practice your needlepoint if that floats your boat.
In the passive model, you're beholden to the possibility of traffic jams or the schedules of public transport. Even if it's a 15 minute journey to work, chances are you don't leave the house at 8:45am. In fact, you probably leave at roughly the same as you would if you were going on foot or two wheels (you want to grab that coffee to make the commute tolerable, after all) and get home at about the same time, only you still need to work out.
4. You can use your commute as training
You can definitely use an active commute as a way to meet the minimum physical activity recommendations and you'd see loads of benefits, but if you're in training for a specific goal or event, like a half marathon, you can use your commute as part of your training. If your commute is on the long end, run it on Monday and Friday as your long run. If it's shorter, do it more frequently and make it your easy or recovery run. In other words, make it about the activity itself, and not just the destination.
5. It's good for your mental health
The physical benefits alone are probably persuasive enough for you to ditch the bus from time to time, but it also has been shown to have a positive impact on your mental health. A 2014 study on nearly 18,000 commuters found that switching from car to active travel improved psychological wellbeing, and showed that while a longer car commute decreased feelings of wellbeing, a longer walking commute further increased wellbeing.
6. You get that morning sunlight
At almost any time of the year, an active commute to work means you can get the benefits of morning sunlight, which can boost your vitamin D levels, reset your body clock and give you the anti-inflammatory benefits of those early morning (and evening) red rays.
7. It saves money
In a time where the price of everything is soaring, you might be looking to save money wherever possible. Cutting back on that tank of gas a week, parking fees, monthly bus passes or multiple train tickets can really add up quickly, plus you might save on those comfort items like lattes and newspapers that you rely on to comfort you during your train or bus journey. With all that extra money you can definitely treat yourself to a pair of new running shoes or a swanky GPS watch for all those extra miles you're putting in!
8. The air is cleaner outside
If your commute takes you through a built-up area, you wouldn't be the first to think that the air inside your car is safer than all those exhaust fumes outside, but a 2022 study by the University of Leicester found that the exact opposite was true. In fact, commuting by car in urban areas during rush hour can actually result in larger concentrations of pollutants for driver and passengers inside the vehicle compared to walkers or cyclists making the same journey. Get out and breathe the fresher air!
9. It helps the environment
Speaking of all those exhaust fumes, needless to say that ditching the car reduces your carbon footprint and helps the environment too, and that's something you can feel really good about. Public transportation is definitely a better option than driving or carpooling, but nothing is greener than hopping on your bike or pulling on your running shoes.
How to get started as an active commuter
If you're ready to give active commuting a go, you need to decide how you're going to get there – will you walk, run, bike, or do something wild like roller blade or cross country ski? It might take a little trial and error, so leave plenty of time for your first journey and take some time planning your route.
In planning your route, you might just go for the most direct pathway, but consider making use of rec paths such as riverside and canal paths where you can get away from the traffic, stick to safer, well-traveled routes and consider going through green spaces like parks for a nature fix, too.
There is some gear that's worth investing in to make your active commute comfortable, too:
1. Activity-specific backpack
You might not need to carry all the usual gear you need for a hike or trail run, but you'll probably need to bring your work clothes and possibly your laptop, so invest in a running backpack like the Montane Trailblazer LT 20 if you're going fast, a hiking backpack such as the Osprey Talon Earth 22 or a backpack that's suited to your activity and expands to fit your gear.
2. Waterproof gear
Getting soaked isn't as dangerous heading through town as it is at 14,000 feet above sea level, but arriving at work looking like a drowned rat might not be your ideal start to the work day. Get an activity-specific waterproof jacket like the North Face Lightriser Futurelight for running or the Montane Phase Lite for walking that will seal out a downpour, pack down small if it's sunny and can go with you up a hill too.
It can be a good idea to stash a microfiber camping towel at the office too so that whether you get drenched or take a shower upon your arrival, you can towel off and it will dry quickly for next time.
3. Great footwear
If you're heading to work on foot, it's worth investing in good footwear to support your joints. Check out the best road running shoes for tarmac surfaces whether you're planning on running or walking – you can leave your loafers or ballet flats at the office and change into them when you arrive.
All the latest inspiration, tips and guides to help you plan your next Advnture!
Julia Clarke is a staff writer for Advnture.com and the author of the book Restorative Yoga for Beginners. She loves to explore mountains on foot, bike, skis and belay and then recover on the the yoga mat. Julia graduated with a degree in journalism in 2004 and spent eight years working as a radio presenter in Kansas City, Vermont, Boston and New York City before discovering the joys of the Rocky Mountains. She then detoured west to Colorado and enjoyed 11 years teaching yoga in Vail before returning to her hometown of Glasgow, Scotland in 2020 to focus on family and writing.