The best brands of tents you need to know
A guide to the best brands of tents on the market right now, so you know who to visit for your next big purchase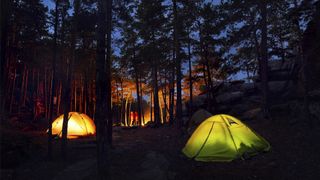 (Image credit: Getty)
The tent market has exploded in recent years, with the best brands of tents embracing the increasing popularity of wild camping, bikepacking and fastpacking. We've seen massive innovation as companies try to ensure they remain relevant – lowering weight and increasing durability but driving up prices in the process. Among all of these exciting developments, then, which manufacturers stand out as the best brands of tents?
Well, the short answer is… It depends. It depends on the weather and the type of climate you'll be out in, as well as the sport you want to use it for and your budget. Some brands are known for manufacturing products perfectly designed for a particular purpose, be it holding up in rough weather or having teeny tiny pack sizes. Others might be renowned for being remarkably easy to pitch or being of excellent value. To inject some order into the chaos, we've reviewed the best brands of tents on the market right now, so you know which to pay attention to when buying the best tent for you.
For campers on a budget
Alpkit
Hailing from England's rolling Peak District, Alpkit's motto is simple: Go nice places, do good things. And through producing quality products for reasonable prices, that's what they're inspiring people to do. Despite being a relative newcomer to the scene, the brand has a loyal band of followers all across the UK and has ramped up operations in the US over recent years. And their line of affordable-yet-reliable tents is one of the things they're most renowned for. Taking clear inspiration from the likes of Hilleberg and MSR, Alpkit's range covers everything from ultralightweight, one-person hooped bivvies to geodesic expedition tents that sleep up to six. Their excellent customer service and impressive 'Alpine Bond' guarantee make Alpkit a safe choice for anyone looking for a quality shelter at an affordable price. And what's more, the brand is a certified B Corp with a real commitment to sustainability, so you can trust that the products they sell and the production methods they employ cause minimal harm to the environment.
Notable Alpkit models: If you're after something lightweight and packable for bikepacking or backpacking trips, check out the Soloist or the Polestar; two tents that weigh around 1kg and pack down to about the size of a wine bottle. For something a little more durable (but heavier), consider the Kangri, a full 4-season mountain tent that comes in at a very reasonable price. Or – for something completely different – take a look at the Hunka, Alpkit's beloved waterproof bivy sack.
Comparable brands: Robens, Vaude and REI Co-op offer similar products at comparable prices.
Vango
A mainstay of the British camping scene, Vango is a must when looking at the best brands of tents. Sold in outdoor stores up and down Great Britain, you can be forgiven for thinking that their ubiquity at campsites across the UK might make them a less-serious feature in a list like this. But, with an impressive series of tents ranging from their ultralight (and ultra-high quality) F10 Helium range to gigantic family tents and awnings that sleep up to 8, they've really got it all. For campers on a budget, you'll find plenty of reliable options for under £150, including the beloved Vango Banshee or the Nevis 200.
Notable Vango models: For campers on a budget, check out the Banshee. Available in 2- and 3-person sizes, it's a tent with a loyal brigade of fans behind it, due to it being small, light and capable of standing up to the worst of the British weather. Oh, and it costs less than £150.
Comparable brands: Few companies produce such a wide variety of tents, but for comparable tents (when compared with Vango's lower price models) consider Colemans and Decathlon's Quechua.
For backpacking and bikepacking
MSR
MSR, or Mountain Safety Research, is a Seattle-based manufacturer of epic outdoor equipment that's designed to be simple, reliable and functional. Founded in 1969 in order to improve the safety of mountain gear, the company has evolved into one of the most renowned brands in the industry and is beloved amongst lightweight backpackers and campers across the world. So why the hype? All of MSR's lightweight tents are exceedingly simple to put up and are known to hold up well in bad weather considering the pack size and light weight of the materials. Their flagship Hubba Hubba NX 2, for example, comfortably sleeps 2 people while weighing just over 1.5 kgs and performs well in various weather conditions.
Notable MSR models: For a super lightweight option, the new Carbon Reflex 2 will deliver shelter when you need it for less than a kilogram. Otherwise, the Hubba Hubba, Elixir and Freelite are all popular models from MSR.
Comparable brands: Nemo is a similar brand that has gained a lot of fans for its range of lightweight tents in recent years. Outdoor Research's Helium hooped bivvy is another option that's particularly popular amongst bikepackers, coming in at a tiny pack size and weighing less than 500 grams. Just don't expect much space once you're in it!
Big Agnes
I don't know who Big Agnes is, but I'd love to grab a craft beer with her. She just seems cool. The quintessential American outdoor brand, Big Agnes has created some incredibly innovative and environmentally conscious tents over the years, hailing from their home high up in the Rockies in Steamboat Springs, Colorado. With over 20 years of experience in the game, their range of lightweight tents is designed to deliver a reliable shelter when you're covering large distances, meaning they pack up small, are easy to pitch, have plenty of room and weigh well below 1.5 kgs. Just be careful where you pitch them: while they perform perfectly in fair weather, due to the lightweight materials and components used, tents like the Flycreek UL or the Tiger Wall range are known to not hold up well when it gets rough.
Notable Big Agnes models: The Big Agnes Copper Spur HV is probably the brand's most renowned model, due to its lightweight, roomy interior and small pack size. For lighter models still, check out the Flycreek UL or the Tiger Wall range, but only if you can stomach the price.
Comparable brands: Naturehike is a comparable brand out of China which makes tents of a similar style at a fraction of the cost. Alternatively, Nemo, MSR and Sierra Designs offer similar ranges.
Ultralight tents
Zpacks
Another US-based company, Zpacks is the newest brand featured on this list of the best brands of tents. Founded by Joe Velesko in 2004, the company was born out of the realisation that nothing on the market delivered what he was looking for before he tackled the Appalachian Trail that summer. To solve the problem, he designed his own no-frills ultralight gear to get his base weight down as low as possible. And now, after years of iterating and improving designs, Zpacks' range is astonishingly light, with their Plex Solo coming in at an incredible 395 grams (which is approximately the same as two Big Macs). Naturally, at this weight, you need to treat the gear carefully and watch out where you pitch, but Joe's innovations are practically unbeatable when it comes to weight.
Notable Zpacks models: As noted above, their lightest tent is the Plex Solo 1, which packs down tiny and weighs less than 400 grams. For a roomier alternative, check out the Duplex or the Free Duo which — though pricey — offers much more space for just a little more weight.
Comparable brands: Gossamer Gear is another brand that makes über impressively light shelters. Their ultralight take on the Plex Solo is a little heavier but $300 cheaper at $299.
Terra Nova
Truly one of the best brands of tents to ever come out of the UK, Terra Nova is a pioneer when it comes to ultralightweight backpacking and camping. The producers of the first-ever sub 1 kg tent way back in 2004, the Laser Lite, the brand has consistently improved on its line of tents every season, beating their own world record three times in the process. Today, their lightest tent – the Laser Pulse Ultra – tops out at 450 grams, which is incredibly impressive for such a sturdy-for-its-weight and roomy double-walled tent. The small team from Derbyshire's commitment to quality and innovation has solidified Terra Nova as not only one of the best brands for lightweight shelters but as one of the best tent manufacturers worldwide.
Notable Terra Nova models: For serious weight saving, check out the aforementioned Laser Pulse Ultra; just don't expect to save as much money as weight… For a more affordable option, check out the Laser Competition 1, which is one of Terra Nova's flagship models weighing less than 1 kg.
Comparable brands: Vango's F10 Helium range offers a similar level of quality for a similar price. Nordisk also offers a range comparable to the Laser Competition 1 with its pricey-yet-lightweight Telemark series. If you're sold on the idea of Terra Nova but are less excited about the price, you could also check out Wild Country, Terra Nova's 'budget' line. Though cheaper, the tents are still known for their ruggedness and high-quality build, they just tend to be a little heavier and don't pack down as small.
For expeditions and four-seasons
Hilleberg
When looking at the best brands of tents, no breakdown would be complete without the renowned Hilleberg. Known simply as 'The Tentmaker', the Swedish brand is the product of one family's pursuit of tent perfection, famous for producing simple yet reliable tents that hold up to the harshest weather on earth. When you buy a 'Hilly', you're set for life – you're buying one tent that should do it all. But that reliability comes at a price: A Hilleberg Soulo, for example, one of the brand's flagship one-person models, comes in at around £895, while an Akto will set you back near enough £700. And in most cases, especially if you're sticking to spring, summer or autumn trips, you could argue that a Hilleberg is a little excessive. That being said, nobody can deny the quality that comes with every tent the company (hand) produces, and you know a Hilleberg will always deliver a safe, sheltered and restful night's sleep – whatever the weather.
Notable Hilleberg models: Hilleberg tents are broken down into blue, yellow, red and black 'labels', which – broadly speaking – define the conditions a tent is designed to withstand. For true four-season use, you're going to want to check out the red or black label lines. The Allak, the Soulo and the Akto are some of the most popular models in this category.
Comparable brands: If you want similar quality but for a lower price, check out the Danish brand Robens or the UK's Alpkit.
Black Diamond
A brand long associated with high-alpine adventures and mountaineering, Black Diamond Equipment is a mainstay of the expedition tent market. Hailing from Salt Lake City, Utah, the brand knows a thing or two about harsh winter weather, turning that experience into gear that's perfect for backcountry skiing and high-altitude mountaineering (or pretty much anything done on ice, rock or snow). Interestingly, the company was actually started by Yvon Chouinard, a California-based climber who sold hand-forged pitons out of the back of his truck in and around Yosemite National Park through the 1950s. The company then rolled into new hands in the 1980s when Chouinard decided to focus on another small operation he'd started a few years prior: Patagonia. Though more expensive than some of the other brands on this list, Black Diamond Equipment's range of tents is renowned for reliability and ruggedness in the harshest high-alpine environments. So, if you're heading to the Himalayas or have some seriously big adventures on the horizon, Black Diamond might have something for you.
Notable Black Diamond models: If you're venturing out into tough alpine environments, the award-winning Eldorado, the Ahwahnee and the Fitzroy are worth a look. For longer stays at basecamp, consider the Mega Snow or the Mission series.
Comparable brands: If you'd prefer to look elsewhere, Mountain Hardware is similarly renowned for the durability of its expedition tents. As are The North Face and Marmot.
All the latest inspiration, tips and guides to help you plan your next Advnture!
Growing up just south of the glorious Brecon Beacons National Park, Craig spent his childhood walking uphill. As he got older, the hills got bigger, and his passion for spending quality time in the great outdoors only grew - falling in love with wild camping, long-distance hiking, bikepacking and fastpacking. Having recently returned to the UK after almost a decade in Germany, he now focuses on regular micro-adventures in nearby Snowdonia and the Brecon Beacons, as well as frequent trips to the Alps and beyond. You can follow his adventures over on komoot, or visit www.craigtaylor.co for more info.