What is fastpacking: how to get more adventure in less time
More than simply backpacking in a hurry, fastpacking is a pursuit – even a subculture – all to itself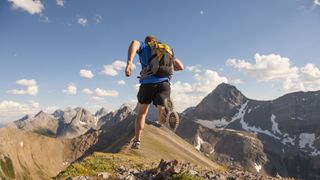 (Image credit: Getty)
Fastpacking is a combination of ultralight backpacking and self-supported trail running. It usually implies carrying all the gear you need to stay out for at least one overnight. But some fastpackers set speed records on long-distance hiking trails carrying an ultra-minimalist kit, and even though they're moving as fast as possible, they're out for weeks or longer.

You don't actually have to run the whole way (or even any of the way), but the key to fastpacking is carrying minimal weight so you can cover terrain quickly and efficiently, whether that's in a bid to get further from the crowds, a quest to set a speed record, or simply an attempt to pack as much adventure into the shortest amount of time possible.

Always wanted to hike that five-day trail, but only have three days of vacation time up your sleeve? Why not try fastpacking it?
Fast kit
"Carrying minimal weight means stripping down your gear to the bare minimum, and making sure that gear is dialed," says Aliza LaPierre, an ultrarunner on the Salomon team and Untapped athlete. "That includes everything you're wearing and carrying, from your shoes and socks to your pack, stove, water treatment, hydration system, filter, sleeping kit, and anything else you decide to bring."

For starters, you'll want to swap hiking boots for trail running shoes. Before you start loading your bag, make a list, and brainstorm what you really need. Structure that list to help you think through options of how to best meet your needs. Instead of listing all the gear you assume you have to take, consider writing down what you'll need to meet your goal.

So, in place of listing 'sleeping bag', 'sleeping pad', and 'sleep sheet', you might note 'sleep kit'. If you're already bringing a down jacket and pants, maybe you'll choose to wear those to sleep in, and pass on a separate sleeping bag.

List 'shelter' and use this as an opportunity to consider if a tent, emergency bivy, or tarp is going to be sufficient for the conditions. Think carefully about how you will be carrying your gear – do you need an actual backpack, or will a generous running vest hold everything you need?

Will you be hiking in the dark? If the answer is yes, you might need a different headlamp than if you're only really going to need light to pee at night. How will you dress? If you need to protect yourself from the sun, you'll likely layer differently than if you're going to be hiking in rain or cold conditions.

"Get creative," says LaPierre. "Think outside the box. There's no 'one-size-fits-all' gear list. The terrain, the weather, and your proclivities will determine what's best for you."
Plan smart
Successful planning is not just about what gear you bring or leave behind, it also covers the processes you put in place to prevent emergencies. Those processes could include a plan for having potable drinking water, the way that you load your poles on your pack, or where you store your sunglasses.
When LaPierre, is scoping out a fastpacking adventure, her first focus is always her feet. "Dialing in the right shoe/sock combination is very important for me," she says. And on the trail, when she's not moving, LaPierre peels off her shoes and socks to dry her feet, and pulls out her insoles at night to dry her shoes. "Everybody has their protocol. Whatever that is, deal with small things before they become big things."
Safety considerations
Of course, it's vitally important not to underestimate what you need, especially in terms of shelter, clothing and sustenance. There's no rulebook, but to attempt any serious fastpacking without having first accumulated some 'normal' backpacking experience would be a mistake. To paraphrase an old cautionary adage: learn to walk before you start fastpacking.

Even if you're a very experienced hiker or trail runner, before setting out with minimalist clothing and equipment, try the gear out somewhere safe, but in conditions that are as similar to those you'll face on your fastpacking trip as possible. If in doubt, throwing in an extra set of base-layer thermals rarely adds much weight, and they can make a massive difference to the enjoyment of the experience, or even the safety of your adventure.

When you're running light with stripped-down kit, you need to decide where to build in backup, whether that's a plan or extra gear, and where a backup is non-essential. Will you carry chemical water treatment in case your filter fails? Are there first-aid or navigation items that could prevent a mishap from ending your trip?

Always leave a plan with a trustworthy friend or family member so if something goes seriously south, there's someone who has your back. Consider bringing a minimalist emergency locator beacon like Garmin's InReach Mini so if it transpires you made a bad call (or you end up in unexpected bad weather, you encounter bad people or you get yourself into trouble some other way), you have a lifeline.
Luxury and inspiration
Also, pack one (light) thing that isn't a necessity, but which brings you happiness and joy. It could be a photo of your cat, your favorite candy, an item that inspires you, or anything else you can turn to when you need mental or physical uplifting.

Fastpacking is a mental as well as a physical challenge, LaPierre explains. "A meaningful photo, an inspirational phrase written on a scrap of paper, or a tiny talisman with personal importance could provide the inspiration you need in a moment you're considering quitting. Sometimes it's the tiniest thing that inspires you to keep you moving down the trail."
All the latest inspiration, tips and guides to help you plan your next Advnture!
Vermont-based writer, photographer and adventurer, Berne reports on hiking, biking, skiing, overlanding, travel, climbing and kayaking for category-leading publications in the U.S., Europe and beyond. In the field, she's been asked to deliver a herd of llamas to a Bolivian mountaintop corral, had first fat-biking descents in Alaska, helped establish East Greenland's first sport climbing and biked the length of Jordan. She's worked to help brands clean up their materials and manufacturing, and has had guns pulled on her in at least three continents.