Camping stove vs grill: which is better?
Do you need a double-burner camping stove or a barbecue grill for your camping feasts this summer?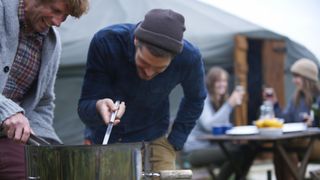 (Image credit: Mike Harrington)
Are you getting geared up for a summer of outdoor cooking? When setting up your camp kitchen, the most important thing you'll need (in addition to a cooler full of food, obviously) is something reliable to cook your food on that can handle feeding a crowd and is easy to clean. Camping stoves and barbecue grills have both come a long way in recent years, and they're becoming so similar that it can be hard to know which you need. Do you want a double-burner stove that fires up two pots or pans at a time for sauteing and boiling and maybe even has a little grill underneath it? Or do you just love the aromas of sizzling steaks and burgers that come with an old-school cookout on the grill?
In this article, we compare camping stoves vs grills to help you find your best feast in the outdoors. To be clear, we're not comparing those tiny backpacking stoves like the SOTO Windmaster which fits in the palm of your hand with a barbecue grill because that wouldn't be fair now, would it? But if you're eyeing up a camping stove and a grill that look to be pretty similar in terms of size, weight and even fuel source, you might want to understand why you'd choose one over the other, and we're here to help out with that cooking conundrum.
Camping stove vs grill: versatility
This is the main category where there's a clear difference between a camping stove and a barbecue grill regardless of what kind you choose. Camping stoves are more versatile than grills because you can use them to boil water, heat a can of beans, saute meat and vegetables and even grill bacon or toast bread if you have a model like the Vango Combi IR which has two burners and a grill. Basically, you can get a lot done on a camping stove, whereas all you can really do on a barbecue grill is grill things.
Now, if you love grilled meat, vegetables, fish and even peaches, this won't cause you too much heartache, but not being able to boil water for pasta or make pancakes for breakfast might be a dealbreaker for you.
There is one caveat to all this, however, and that is that you can put a cast iron skillet on a grill (best if you've got a gas grill rather than charcoal) which does open up a few more possibilities if you want to fry some eggs, for example. You've also got camping grills coming out like the Eureka! SPRK Camp Grill which acts a lot like a stove but has a griddle top so you can use it for bacon and pancakes as well as steaks. Like we said, the two are growing more and more similar.
Camping stove vs grill: weight and portability
When it comes to weight and portability, what model you buy determines what you get and there's no real benefit to one over the other in this regard. If you want a lightweight, packable stove or grill that you can easily fit in the trunk of your car, you can find one, although there are definitely plenty of heavier, bulkier grills out there if that's what you want, such as the Camp Chef VersaTop Grill.
Camping stove vs grill: fuel source
No matter what you choose, you're going to need fuel. Camping stoves run on canister gas, liquid fuel, fuel tablets or, if you get a wood-burning stove, kindling such as twigs that you can gather yourself.
Barbecue grills run on either charcoal or gas. In both cases, gas canisters can be expensive, whereas charcoal and solid fuel tablets are cheaper, and wood kindling is free. The fuel for your stove or grill is usually easy to come by at an outdoors store or your local grocery store.
Camping stove vs grill: ease of use
Any stove or grill meant for camping should really be as easy as opening the lid and flicking a switch. This is certainly true for camping stoves and gas grills these days, where you'll find it easy to control the heat, while charcoal grills can take a little more finesse – and time – to get the coals to the right temperature and you don't have much control over the temperature.
Camping stove vs grill: price
There's not an enormous difference in price between the camping grills and double-burner stoves we've tested, though in general grills seem to be a little more expensive. That's not to say you can't drop a wad of cash on a double-burner stove if you want to – the GSI Outdoors Pinnacle Pro 2 Burner Stove retails at $250, but you can find more budget-friendly options too, like the Campingaz Chef which retails for under $80.
Camping stove vs grill: the verdict
As you can probably see, one isn't necessarily better than the other, and with the advent of gas camping grills, the differences between these two options has largely been reduced to versatility. That said, you can still probably do more with a camping stove than you can with a grill, so for a longer trip where you're going to be cooking multiple meals, you might want to go with a stove. That said, if you love the taste of barbecue, not much beats grilling for the crowd in the evening.
If you go for a grill, remember that you'll still need a means of boiling water. For a big crowd, it may be a good idea to have both a stove and a grill, while for a smaller group just remember to bring your backpacking stove so you can boil water to make coffee in the morning.
All the latest inspiration, tips and guides to help you plan your next Advnture!
Julia Clarke is a staff writer for Advnture.com and the author of the book Restorative Yoga for Beginners. She loves to explore mountains on foot, bike, skis and belay and then recover on the the yoga mat. Julia graduated with a degree in journalism in 2004 and spent eight years working as a radio presenter in Kansas City, Vermont, Boston and New York City before discovering the joys of the Rocky Mountains. She then detoured west to Colorado and enjoyed 11 years teaching yoga in Vail before returning to her hometown of Glasgow, Scotland in 2020 to focus on family and writing.