Carbon steel vs cast iron pan for camping: which is best?
A look at the pros and cons of a carbon steel vs cast iron pan for camping to help you choose the best cooking tool for all your camping meals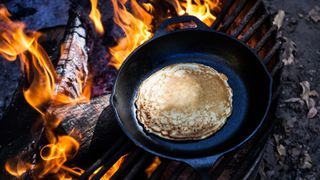 (Image credit: FrankieCarr)
The classic cast iron skillet has long been a staple of any self-respecting camping kitchen. These heavy duty pans are practically bombproof, and give you so many more options than a tiny backpacking pot, allowing you to start your day at camp with sizzling sausages and end it with couscous and veggies. But for a few reasons – mainly, their weight and inability to cook decent eggs to go with your sausages – you might be looking for an alternative.
Enter the carbon steel pan, which may be less ubiquitous around the campfire, but offers similar benefits. At home, you can have as many different pans as you can hang from your rafters, but when your home for the weekend is your best tent, you can only bring so many pans and you want them to be the best. Let's take a look at the various pros and cons of a carbon steel vs cast iron pan for camping to help you choose the best cooking tool for all your favorite camping meals.
Carbon steel vs cast iron pan: what are they?
Both carbon steel and cast iron are alloys of iron and carbon, with the main difference being that a cast iron pan has more carbon. This means that a cast iron pan has that more porous, rugged feel and it's more brittle, which is why cast iron pans need to be so thick or they'd shatter when dropped. Meanwhile, a carbon steel pan has less carbon, but it's not like the shiny stainless steel pans that probably clutter your kitchen – instead, it has a matte finish and is much stronger.
Both pans need to be seasoned in order to be non-stick, which basically just means a layer of oil (fat) is baked onto the surface. A cast iron pan is usually pre-seasoned, while you may have to season a carbon steel pan using the manufacturers directions.
Carbon steel vs cast iron pan: weight
The most obvious and persuasive difference between a carbon steel vs a cast iron pan is the weight. Carbon steel is substantially thinner and lighter than your heavy old cast iron pan, to the tune of nearly 50 per cent. We compared the OXO Outdoor Carbon Steel Fry Pan with the Lodge Cast Iron Skillet, both roughly 10" skillets suitable for camping. At five pounds five ounces, the cast iron pan is more than two pounds heavier than its carbon steel counterpart.
Of course, you might be thinking that since you're not going to be taking either pan backpacking, weight is of no consequence, but a heavy pan inside an already stuffed camping bin makes your camping kitchen gear all the more burdensome to carry from your car to your campsite, more easily squashes other items and can be harder for your plastic bins to hold up against.
Carbon steel vs cast iron pan: ease of use and cleaning
Once you've got your pan to camp, you want it to be easy to use and both pans behave similarly in that they're non-stick, once seasoned, and can handle high heats. However, a carbon steel pan is thinner and will heat up more quickly, and more consistently, meaning fewer of those annoying hot spots. Carbon steel is more conductive than cast iron, though that also means you run the risk of your pan getting too hot and your eggs spluttering all over your best hiking pants if you're not careful. You can cook just about anything in a carbon steel pan, whereas eggs in a cast iron skillet are always tricky.
Another advantage of the lighter weight of a carbon steel pan in this regard is that it's easier to pick the pan up with one hand and move it around, if you're shaking a stir fry or flipping pancakes.
Both pans are pretty easy to clean so long as you've come prepared with a camping bucket and a little Dr Bronner's soap, but because the surface of a cast iron pan is a little more porous, you might find that it takes more soaking while the carbon steel comes clean a little easier, especially if you've been frying up meat and eggs. Both pans are prone to rusting if mistreated, so make sure you keep your cast iron seasoned and dry both pans before storing them.
Carbon steel vs cast iron pan: cooking time and fuel usage
Because a carbon steel pan heats faster than a cast iron one , you can get cooking faster and because it gets hotter more easily, your bacon will be ready to eat sooner. This is great news if you've been on a 12 mile hike and are ravenous, but it also means that you'll use a little less fuel for your double burner stove with each cook as well. Cast iron isn't a good conductor so it's slower to heat up, being thicker, and retains heat for much longer, which means you need to take care with it after use, especially if you're camping with kids, and may not be able to wash up straight away.
Carbon steel vs cast iron pan: durability
If you own a good cast iron pan, chances are one of the things you love most about it is that it will last forever. You might have inherited it from your grandparents and chances are your grandkids could use it in the future. The good news, however, is that despite being thinner than a cast iron skillet, carbon steel is just as sturdy and hard-wearing.
Carbon steel vs cast iron pan: versatility
Obviously, your little backpacking pots and pans don't have much use outside of backpacking, but both carbon steel and cast iron pans are super versatile, meaning you can use them on a grill or camping stove, on the campfire and at home on any kind of stove top.
Carbon steel vs cast iron pan: cost
So far, it definitely seems as though a carbon steel pan offers all the same advantages as a cast iron pan while being lighter and a little easier to use and clean, so you're probably wondering what the catch is, and of course the answer is that it costs more. Returning to the two pans we compared earlier, the carbon steel pan will set you back $49.95 while you can scoop up a cast iron pan for $27.95. Since both last forever, you don't need to worry about having to replace either pan, so it should be a one-time purchase, but of course if your cast iron pan takes longer to heat and uses more fuel in the process, it may not be as cheap as it seems.
Swipe to scroll horizontally
Carbon steel vs cast iron pan

| Header Cell - Column 0 | Carbon steel | Cast iron pan |
| --- | --- | --- |
| Weight | Nearly 50% lighter than cast iron | Almost double the weight of carbon steel |
| Ease of use and cleaning | You can cook just about anything, easier to lift and shake, easier to clean | Slower to heat, not great for eggs, may get hot spots, slightly more difficult to clean |
| Cooking time and fuel usage | Quicker to get hot, uses a little less fuel | Slower to heat, uses a little more fuel |
| Durability | Very durable | Very durable |
| Versatility | Can use on camping stoves, grills, campfires and at home on any type of stove | Can use on camping stoves, grills, campfires and at home on any type of stove |
| Cost | $49.95 for a 10" pan | $27.95 for a 10" pan |
Carbon steel vs cast iron pan: the verdict
We love the reliability and reassuring weight of our old cast iron camping pans, but it's hard to deny the allure of a carbon steel pan for camping. If you already own a cast iron pan, there's no great reason to upgrade unless you're looking for something lighter, in which case you can move your cast iron pan to your kitchen for home use. If, however, you're just starting out with fitting out your camping kitchen, we think the carbon steel pan makes a great, lighter weight choice for searing steaks quickly and whipping up fluffy omelets at camp.
All the latest inspiration, tips and guides to help you plan your next Advnture!
Julia Clarke is a staff writer for Advnture.com and the author of the book Restorative Yoga for Beginners. She loves to explore mountains on foot, bike, skis and belay and then recover on the the yoga mat. Julia graduated with a degree in journalism in 2004 and spent eight years working as a radio presenter in Kansas City, Vermont, Boston and New York City before discovering the joys of the Rocky Mountains. She then detoured west to Colorado and enjoyed 11 years teaching yoga in Vail before returning to her hometown of Glasgow, Scotland in 2020 to focus on family and writing.