Brace yourself for carnage – the Cooper's Hill Cheese Roll is coming
This extreme sport is one of the wackiest events to come out of a country that also brought us bog snorkeling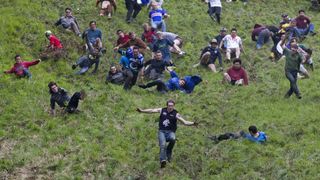 (Image credit: JUSTIN TALLIS / Stringer)
Of all the running events that take place each year, surely none attracts as much online attention as the bloodbath that is Cooper's Hill Cheese Roll. It doesn't entail covering obscene distances like the races in the Grand Slam, and there are certainly no pretty drone shots of attractive runners crossing knife-edge routes, but videos of the annual event draw views in the hundreds of thousands.
What you get is a ragtag bunch of folk running and tumbling haphazardly down a shockingly steep, grassy hill chasing a wheel of cheese that's bouncing wildly out of control. In any year, within seconds, at least one participant has gone head over heels and though you know they can't have gotten away without breaking several bones, you can't tear your eyes away from the screen.
Cooper's Hill Cheese Roll is one of the wackiest running events to come out of the UK (or anywhere for that matter), and that's saying a lot for the country that already brought you bog snorkeling. This annual event is coming up soon and if you're thinking of lacing up your best trail running shoes and giving it a go (or better yet, setting up your camping chair and watching the carnage in the flesh) you'll want to read on for all the details.
What is Cooper's Hill Cheese Roll?
Cooper's Hill Cheese Roll is a quirky event that's been taking place on a hill in the village of Brockworth near Gloucester in England for hundreds of years. But don't be fooled by the words 'quirky' and 'village' – this wild event classifies as an extreme sport.
Cheese Rolling involves participants chasing a wheel of cheese down a near-vertical, rugged hill. None of them is ever going to actually catch the cheese – it weighs about the same as a printer and travels at speeds of up to 70 mph. However, they try, and in the process, regularly lose control, limbs go flying, things come off that surely must need to be surgically reattached. Double scorpions, somersaults and backflips are all on display, none of them intentional. Members of the local rugby club stand at the bottom of the hill to act as human brakes for out-of-control cheese chasers by tackling them and, mercifully, there are medics on standby too to help clean up the slaughter.
Is it sensible? Not a bit. Is it fun? Undoubtedly.
No one knows exactly why this event was born, but what started out as an obscure event has since attracted international attention and people now travel from across the globe to take part. It is even featured in the Netflix series We Are the Champions. There are now several races that take place on the big day, including a women's race.
What are the rules for Cheese Rolling at Cooper's hill?
The rules for the Cheese Roll are super simple. Just show up at the top of Cooper's Hill at 12pm on the Monday bank holiday at the end of May. A wheel of cheese weighing up to nine pounds is rolled off the top off the top of the hill. One second later, you and the other participants in the race start running full-pelt down the 200-yard slope (180m) in hot pursuit of the elusive disc of dairy delight. The first person to the bottom wins.
As of writing this article, the event takes place spontaneously and without management. That means there's no waiver to sign and you're not covered for that broken collarbone or torn ACL. You're on your own, cheesehead, so you'd better make sure your travel insurance covers extreme sports if you're visiting from out of the country and that you have a good sick pay policy if you're from the UK. You should probably read up on our tips for running downhill too if you're serious.
What is the prize for the Cooper hill cheese roll?
You want a prize for risking life and limb? OK, well if you get to the bottom first and you're still alive, you go home with a delicious, nine pound wheel of cheese that may be covered in grass and mud. This event is therefore not suitable for vegans, but for everyone else it's certainly more useful and delicious than a trophy. You can get a lot of grilled cheese sandwiches out of a nine pound wheel.
What kind of cheese is usually rolled Cooper's hill?
Great question! After all, you wouldn't want to risk paralysis or a broken femur for a bland Emmental or rubbery halloumi now, would you? The cheese rolled down Cooper's Hill is a delicious double Gloucester. If you're not from the UK, that's a fantastic hard cheese with complex nutty flavors made from the milk of Gloucester cows. This dense cheese manages to be both crumbly and smooth, and is delicious on its own, in creamy sauces and melted on toast. If you do happen to break your ankle in the process of winning it, at least you'd have several months' worth of cheese to enjoy while you heal.
All the latest inspiration, tips and guides to help you plan your next Advnture!
Julia Clarke is a staff writer for Advnture.com and the author of the book Restorative Yoga for Beginners. She loves to explore mountains on foot, bike, skis and belay and then recover on the the yoga mat. Julia graduated with a degree in journalism in 2004 and spent eight years working as a radio presenter in Kansas City, Vermont, Boston and New York City before discovering the joys of the Rocky Mountains. She then detoured west to Colorado and enjoyed 11 years teaching yoga in Vail before returning to her hometown of Glasgow, Scotland in 2020 to focus on family and writing.