Friday 5: fell runner James Gibson
Continuing our quick-fire interview series with the new holder of a winter endurance mountain record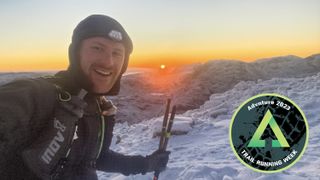 (Image credit: James Gibson)
Fell runner James Gibson has become the first person to complete three classic sub-24 hour winter mountain rounds, solo and unsupported, including the Bob Graham Round in England, the Paddy Buckley Round in Wales and, most recently, the Ramsay Round in Scotland.
James, 31, was introduced to fell running in 2017 thanks to a good friend Joe Mann. The outdoor instructor from Cumbria said: "I work on the hills of the UK, taking people walking, climbing and mountaineering, so I quickly worked out that I had a good endurance base for fell running.
"Some of my first runs were reccing the Bob Graham route. A few weeks later I found myself accidentally finishing the route in under 24 hours from Dunmail. After doing legs three, four and five, but feeling good and on time, I continued on.
"I really enjoy the adventure and the self sufficiency of long days in the hills."
On December 15, James completed his winter Bob Graham Round. Named after a legendary fell runner and guest house owner from the Lake District, the Bob Graham Round is a 65-mile (106km) circuit that starts and finishes from the steps of the Moot Hall in Keswick. Runners must reach the summit of 42 fells and ascend some 27,000ft (8,200m).
James started at 5am and set a new anti-clockwise solo and unsupported winter record of 21 hours, 12 minutes.
He completed the winter Paddy Buckley on February 6, clockwise from Capel Curig and starting at 6:30pm. This round extends to 61 miles (98km) over 47 summits in northern Snowdonia, with a total ascent of 29,500ft (9000m).
James completed the Ramsay Round on February 24 and 25, in an anti- clockwise direction and starting at 1pm. This round in the Scottish Highlands is a route of some 59 miles (95km) and a total ascent of 29,500ft (9000m). Ramsay's Round, also known as the Charlie Ramsay Round, takes in the summits of the 24 peaks that make up the Mamores and the Grey Corries.
We asked James about his experience on all the rounds, as well as our usual quick-fire questions.
What was your experience of the winter Bob Graham Round?
Doing the Bob Graham first in December, along with being the round that's most local to me, was a perfect start to the challenge. The weather couldn't have been any better.
It was -9C degrees in the valley prior to setting off and my bottles, poles and everything were freezing. The weather during the day and night was incredible with barely any wind at all.
There was lots of ice around, which required micro spikes, but there was only a small amount of snow, meaning that the underfoot conditions for running were beautiful.
Certainly, it was a day to remember.
How was the Paddy Buckley Round?
The Paddy Buckley was equally a really special day. This was the third and final time that I was going to attempt it this season, but this time the conditions were so much better and I finally managed to achieve the speed over the ground that I wanted.
The weather was a mix of two halves, the first being the long lonely night, but with a temperature inversion forecast, which meant that I was in the cloud all evening and I didn't get above it until sunrise on Snowdon, a good 12 hours or so in.
The sunrise was spectacular and the rest of the day in lovely sunshine felt well rewarded. The hills in Snowdonia are amazing and travelling over some of the best in daylight was a great finish to to the day. The sunset on the final hill was absolutely amazing, too.
And, the winter Ramsay Round. How did this go?
The winter Ramsay was such an amazing and rich experience. It had been the round that I had been worried about the most due to the remoteness, toughness and weather.
The day was full of adventure from start to finish, which included the use of full winter equipment, freezing temperatures, slipping on steep bits of snow, a long and lonely night and some amazing winter sunshine and vistas at times.
This round was the real cherry on the cake this season.
Also read:
How did you prepare for the rounds in winter?
I have good extensive knowledge and experience of the hills in winter, along with having similar running experience in winter, too.
Last winter, I completed the Wainwright round in England in full-on winter conditions, so I could certainly say that helped towards the recent three rounds for sure.
I am familiar with the routes, too. I've done each round or certainly many parts of the rounds many times before and working and running in the hills all the time, I'm used to the terrain.
Most of my preparation would come down to experiences that I've had over the years.
Do you have any tips for anyone who might want to do a winter Bob Graham, Paddy or Ramsay rounds?
I'd suggest firstly that you need to have lots of familiarity with the route itself. So, either you will have done the round in summer or, equally, you should know it very well.
Then, you need experience of running in winter. This will include being in the dark for sustained periods dealing with the different elements that winter throws at you, being cold and knowing how to manage body regulation, such as making sure all the relevant kit works well.
You also need to know how to move over different types of snow and have a good understanding of the dangers of snow and other winter hazards.
Above all of this, though, knowing when it's too much and making the decision to abort the attempt is vital.
What's your pet peeve in the outdoor space?
My pet peeve would definitely be people not respecting the outdoors. I see it all the time, but people dropping litter unnecessarily and thinking it's okay really annoys me. If I see any litter when I'm out in the hills, I take it home with me.
If you could be transported to the start of any outdoor adventure, where would it be and why?
Oh, this is a tricky one. I think it would have to to be somewhere in the north-west Highlands in spring on a warm (in the sun) and cold (in the shade) for a mixed amount of running, rock climbing and winter climbing. Having a good adventure doing all three of these sports in a day would be amazing.
And what's next on your shopping list of running kit?
I've no idea to be honest, because I am pretty sure I have most of what I need.
Find out more about James Gibson.
This article is part of Advnture's Trail Running Week 2023 (running from Monday 27 March to Sunday 2 April), our in-depth look at how to train smarter, choose the right gear, and have fun when things get muddy.
All the latest inspiration, tips and guides to help you plan your next Advnture!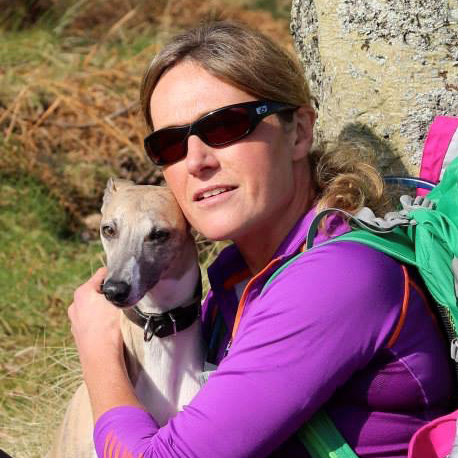 Fiona Russell is a widely published adventure journalist and blogger, better known as Fiona Outdoors. She is based in Scotland and is an all-round outdoors enthusiast with favorite activities including trail running, mountain walking, mountain biking, road cycling, triathlon and skiing (both downhill and backcountry). Aside from her own adventures, Fiona's biggest aim is to inspire others to enjoy getting outside and exploring, especially through her writing. She is also rarely seen without a running skort! Find out more at Fiona Outdoors.