A globetrotter's guide to visiting glorious geysers
Get all the goods on visiting geysers around the globe, from what causes them to erupt to where to find them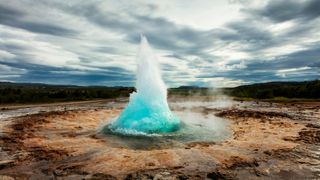 (Image credit: Roc Canals)
From Yellowstone's iconic Old Faithful to Iceland's otherworldly Haukadalur, geysers have drawn curious humans for centuries to witness the curious spectacle of eruption hot springs. Their excitement makes them the central feature of some of the most memorable hikes across the world, but their rarity means you may have to travel to see them. If you'd like to take some thrilling geothermal adventures in your hiking boots, read on for all the goods on visiting geysers around the globe, from what causes them to erupt to where to find them.
What is a geyser?
A geyser is a very rare geothermal feature consisting of an erupting hot spring that spouts boiling water and plumes of steam into the air. Some geysers consist of not much more than bubbling pools, while others can send hot water soaring hundreds of feet into the air. Some geysers are very unpredictable in the frequency of their eruptions, even becoming dormant for years at a time, while others erupt like clockwork every few minutes.
What causes a geyser to erupt?
Scientists have been studying geysers since the 19th century in order to try to understand the exact mechanics that cause them to erupt, since this may help them to better predict volcanic eruptions. According to the US Geological Survey, what makes geysers so unusual is that a very specific combination of abundant water recharge, underground heat and large cavities and fissures in the overlying ground must be present. The forces that cause a geyser to erupt include deep ground water being heated by surrounding rocks, which causes it to expand, rise and build pressure. When the pressure from the rocks above is released, an eruption occurs. The deeper the water, the larger the eruption, and no two geysers are the same.
Where can you see geysers?
There are less than 1,000 geysers in the world – about 500 fewer than the number of active volcanoes – and amazingly, about half of them are in Yellowstone National Park, which is where you really need to go if you want to see geysers in action, as well as the surrounding area of Wyoming. Inside the park, Old Faithful is the most famous geyser in Yellowstone, and very reliable – it currently erupts every 20 - 90 minutes. The tallest and largest geyser in the world is also found here. Steamboat Geyser ejects water more than 300 feet up into the air and its eruptions last up to 40 minutes.
Further afield, it may not surprise you that Iceland is also home to some erupting hot springs and to find them, you'll want to head inland from Reykjavik for about an hour and a half to Haukadalur. This geothermal valley is home to several geysers. For a predictable eruption, Strokkur erupts every 10 minutes, while the more spectacular Geysir sends hot water 230 feet into the air, but only erupts three times a day.
Down under, New Zealand's North Island is home to Rotorua, a geothermal wonderland with multiple geysers and new ones emerging all the time, while Chile's El Tatio is one of the largest geyser fields in the world at 14,000 feet above sea level in the Andes. Finally, far east Russia houses the Valley of Geysers on Kamchatka Peninsula, a nearly four-mile long stretch of geothermal activity which you can take a helicopter ride to. A massive mudslide in 2007 appeared to bury many of the geysers, but there are still some 90 in action.
When you're visiting geysers, you'll want to follow all protocols and heed all warnings to stand well back. Geysers are unpredictable and getting too close could be deadly.
Why is Yellowstone full of geysers?
One of many fascinating facts about Yellowstone is that beneath the park lies the Yellowstone Supervolcano which has had eruptions thousands of times larger than Mount Saint Helens. When it rains or snows in Yellowstone, that water seeps into the ground where it's quickly heated by the underground thermal system, sending the hot water back up the surface to spout into the air and delight visitors.
All the latest inspiration, tips and guides to help you plan your next Advnture!
Julia Clarke is a staff writer for Advnture.com and the author of the book Restorative Yoga for Beginners. She loves to explore mountains on foot, bike, skis and belay and then recover on the the yoga mat. Julia graduated with a degree in journalism in 2004 and spent eight years working as a radio presenter in Kansas City, Vermont, Boston and New York City before discovering the joys of the Rocky Mountains. She then detoured west to Colorado and enjoyed 11 years teaching yoga in Vail before returning to her hometown of Glasgow, Scotland in 2020 to focus on family and writing.