Want to hike a volcano? Check out these 8 molten marvels
Get a glimpse into eight of the most stunning active volcanoes around the globe for thrill seekers who want to hike a volcano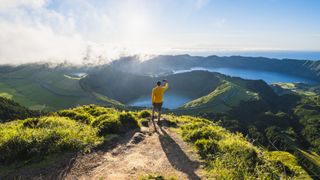 (Image credit: © Marco Bottigelli)
Volcano hiking incidents might have made for some unfortunate headlines over the years, but there's a good reason why these molten marvels draw hikers from across the globe. For thrill seekers and geology lovers, there's nothing more exciting than getting up close and personal with a smoking, bubbling hole in the earth and watching lava ooze down the mountainside. There are a number of active volcanoes around the world that are also popular hiking spots with trails ranging from easy to advanced where you can satisfy your desire to hike a volcano. Check out these active volcanoes you can hike to, and if you are planning a trip, make sure to check on the conditions and alerts for the volcano before you set off, so you don't become the next headline.
What do you need to hike a volcano?
Naturally, you'll want to do your research before setting off to find out the activity level of your chosen volcano as well as trail conditions and difficulty, elevation and weather. If the volcano is at high elevation, you'll want to read our guide to training for hiking at high altitude before you set off. However, the following are some items you may want to hike a volcano:
Sturdy hiking boots as the newly-formed rocks can be sharp.
Trekking poles to navigate the uneven terrain of lava fields.
Tough hiking pants and a long sleeved hiking shirt if you'll be hiking near steam and lava.
A climbing helmet may be required at the crater, however you can usually rent these from your tour guide.
Winter clothing is needed for all high altitude hiking, such as a down jacket, hiking gloves and hat.
Your camera to preserve your once-in-a-lifetime experience.
1. Hawaii Volcanoes National Park, Hawaii
Visit Hawaii Volcanoes National Park and you see why few things in nature inspire as much awe as witnessing the raw power of a volcano. Here, you can see not one, but two of the most famous volcanoes on Earth: Kilauea and Mauna Loa, the latter of which is the largest shield volcano on the planet. Kilauea has been erupting almost constantly since 1983. Kilauea and Mauna Loa release dense, flowing lava through multiple cracks and craters, which flow like rivers of burning, melting rock. Many of these rivers end up flowing into the ocean, where you can witness dramatic displays of the lava meeting the cold seawater, resulting in massive plumes of steam. The park has some 150 miles of hiking trails including the 11-mile trail around the rim of Kilauea.
2. Eyjafjallajökull, Iceland
Iceland has become a tourism hotspot in recent years, with cheap flights from almost anywhere for those seeking a soak in the Blue Lagoon, one of many geothermal wonders on the island. More adventurous visitors often make the 2.5 hour drive from Reykjavik to Eyjafjallajökull, a 5,500ft volcano that famously grounded all air traffic in Europe when it erupted back in 2010. Hiking to the summit is dangerous and requires wearing crampons to cross glaciers, so it's highly recommended to go with a guide. However you can hike the 15-mile Fimmvörðuháls trail, which takes in views of the volcano, newly created smoking lava fields and craters as well as the famous Skógafoss waterfall, glaciers and gorgeous valleys.
3. Mount Ngauruhoe, New Zealand
If you're a Lord of the Rings fan, you'll recognize this volcano as Mount Doom, where the ring was forged. No adventure trip to New Zealand is complete without taking the 12-mile trek through Tongariro Alpine Crossing to the volcanic cone of Ngauruhoe, which is heralded as one of top ten single-day treks in the world. Plan to take an entire day to complete this challenging trek through the volcanic landscape, otherwise known as Middle Earth. As always, approaching this trek with a guide is your best approach, since the high alpine environment makes for the highest number of mountain rescue callouts in the country.
4. Mount St Helens, Washington
If you're a US hiker, you don't have to take an exotic vacation to hike a volcano when you've got Mount St Helens in your own backyard. Standing 8,363ft tall, this peak is often snow-capped and makes a stunning feature in the pacific northwest landscape. Just 50 miles from Portland, this stratovolcano experienced a massive and devastating eruption back in 1980 and then exhibited continuous activity all the way until 2008. Though it's been quiet lately, geologists predict future eruptions will be even more disruptive; however, it draws hikers all year round. You need a permit to reach the summit, which involves a 12-mile hike, but there are plenty of hiking trails suitable for all levels around the volcano which offer fantastic views from a safer distance.
5. Mount Etna, Sicily
Mount Etna is famed for being the most active volcano in Europe, erupting frequently and continuously for well over 2,000 years but that doesn't stop tourists from visiting it in droves. It probably doesn't hurt that, for a fee, there's a cable car that takes you half way up, and from there a 4X4 bus so it's possible to get to the summit with just a little hiking. You can access it entirely on foot too, of course, and while it's possible to do so independently, the best way to see Mount Etna is on a guided tour. Choose from a tour to the summit or other trails around the mountain. In addition to the excitement of the steam-billowing crater, there are stupendous views across the island and the Mediterranean sea.
6. Cotopaxi National Park, Ecuador
If you're a volcano nut, you'll want to head to Ecuador's Avenue of Volcanoes, where the crown jewel is Cotopaxi. At 19,347ft, Cotopaxi is visible from Quito, 60 miles away, and involves an overnight backpacking trip with a guide and some mountaineering experience to explore the high altitude crater. For the truly brave, you can even mountain bike back down.
7. Pacaya National Park, Guatemala
Just a couple of hours from Antigua, past visitors to this erupting volcano were able to get all the way up to the lava flows and there's plenty of old videos circulating of hikers getting their hiking shoes melted. Things are a bit more sensible these days, however, and you can hike to the lava anymore, but you can still take a two-mile steep hike up a smoky lava field with a guide to get your kicks.
8. Mount Vesuvius, Italy
Visitors to Naples typically make a side trip to see nearby Pompeii, the ancient city that was buried and preserved by ash from an eruption of Mount Vesuvius in 79 CE. More adventurous tourists head for the volcano itself where you can choose from nearly a dozen different hiking trails that you can access by purchasing a ticket. The most popular is the Gran Cono trail which takes you to the crater via an easy 2.5 mile hike and offers stunning views of Naples (there's even a gift shop!). Mount Vesuvius is certainly one of the most accessible volcano hikes in the world, but make no mistake, it is prone to violent eruptions.
All the latest inspiration, tips and guides to help you plan your next Advnture!
Julia Clarke is a staff writer for Advnture.com and the author of the book Restorative Yoga for Beginners. She loves to explore mountains on foot, bike, skis and belay and then recover on the the yoga mat. Julia graduated with a degree in journalism in 2004 and spent eight years working as a radio presenter in Kansas City, Vermont, Boston and New York City before discovering the joys of the Rocky Mountains. She then detoured west to Colorado and enjoyed 11 years teaching yoga in Vail before returning to her hometown of Glasgow, Scotland in 2020 to focus on family and writing.