Where to see giant sequoias: the 5 best places in the world
Wondering where to see giant sequoias? Check out our list of of the five best places to wander among groves of enormous evergreens, plus what's so special about them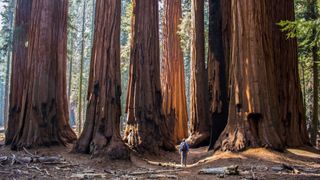 (Image credit: Erin Donalson / EyeEm)
Wandering through a grove of giant sequoias is a truly powerful experience for any hiker. The best way to see giant sequoias is to lace up your best hiking boots and take a leisurely stroll among them, gazing up through their branches, brushing your fingers against their impressive bark, smelling their piney scent and experiencing the way their massive bulk deadens ambient sounds to create a still, tranquil atmosphere. That said, there aren't many giant sequoias left in the world, and they only grow in a very small geographical area, so we've compiled out shortlist of where to see giant sequoias to help you start planning the trip of a lifetime.
For nature lovers, visiting a grove of giant sequoia trees should be right up there with standing on the rim of the Grand Canyon or watching Old Faithful erupt in Yellowstone in terms of natural wonders you have to see before you die. But unfortunately, you also may need to see them before they die – these wondrous organisms are the largest trees on the planet, but despite their imposing presence, they are under threat to climate change. Today, fewer than 80,000 giant sequoias remain. They formerly fell victim to the logging industry and today, they are under threat from frequent wildfires, made worse in part by fire suppression measures, and placing them on the endangered species list by the International Union for Conservation of Nature.
If you're eager to experience the giant sequoias first hand and before it's too late, we've compiled a list of the five best places to see giant sequoias, plus some fascinating facts about these mammoth trees that will convince you they are worth saving.
What is a sequoia tree?
Sequoia trees are coniferous evergreen trees that are a member of the cupressaceae family of trees, better known as the cypress family, and are the sole living species in the genus sequoiadendron. These hulking trees only grow naturally in a small stretch about 250 miles along the western slope of northern California's Sierra Nevada Mountains, mostly between 5,000 and 7,000 feet in elevation.
Giant sequoias grow in scattered groves and feature spongey, cinnamon-colored bark and branches in their upper reaches. With an average height of 221.5ft, giant sequoias are about the height of a 25-storey building, but are slightly shorter than their cousins, the coastal redwoods. However, their immense girth, volume and weight make them the biggest tree on the planet.
Sequoia tree facts
Wondering what's so special about giant sequoia trees that you need to make a special trip to see them, besides their size? Check out these interesting facts about the giant sequoia tree:
A giant sequoia tree can live for up to 3,500 years, making them among the oldest trees on the planet.
Giant sequoias keep growing until the day they die.
The bark of a giant sequoia tree can grow up to three feet thick.
The bark of a giant sequoia tree is fire resistant – however, fire suppression has made wildfires so intense that the trees can no longer withstand the heat.
The largest sequoia on Earth is called General Sherman, and is estimated to weigh 2.7 million pounds (it is also the world's largest living organism).
The widest giant sequoia has a girth of 155ft – try hugging that!
Giant sequoias actually require fire to reproduce – the heat helps to release most of the seeds from their pinecones, fertilize the soil and create gaps in the forest canopy so that sunlight can reach the new saplings.
Where to see giant sequoias
If you want to see naturally occurring giant sequoias, there's no two ways about it – you'll have to head to California. The best places to see them are in the following locations:
1. Sequoia & Kings Canyon National Park
Sequoia & Kings National Park is in central California, southeast of Fresno, and encompasses two parks that protect many of the world's remaining natural giant sequoia groves. The Park saw 1.2 million visitors in 2021, so it's not exactly isolated, but it is significantly quieter than its neighbor 190 miles to the north, Yosemite.
Sequoia National Park was established in 1890 to protect 631 square miles of forested terrain, including giant sequoia groves. It is home to several sequoia groves, the most impressive of which is Giant Forest, where you can find five of the 10 largest sequoias in the world and an extensive network of hiking trails on which to explore them. Visitors can also explore the mid-sized Muir Grove which sees less foot traffic than Giant Forest, while Redwood Mountain Grove is closed to hikers due to fire damage.
Sequoia adjoins Kings Canyon National Park, where you can find the 90-acre Grant Grove of exceptionally large, mature sequoias. One such tree is General Grant Tree, reached by an easy, paved loop trail which provides a fairly unique opportunity to photograph an entire giant sequoia – which is more difficult than it might sound.
2. Giant Sequoia National Monument and Sequoia National Forest
Surrounding Sequoia & Kings Canyon National Park lies Sequoia National Forest, established in 1908 and within it, Giant Sequoia National Monument, which together house the greatest concentration of giant sequoia groves in the world. With over three dozen groves and without the appeal of National Park status, this forested terrain makes an excellent alternative to the nearby parks for giant tree seekers and hikers.
The forest is divided by Sequoia & Kings Canyon National Park, with 13 groves in the northern portion located on the Hume Lake Ranger District, closer to Fresno, and the remaining 20 in the southern portion in the Western Divide Ranger District, east of Porterville. A full list of the groves can be found here. These include some which are hard to reach, but many can be reached by road and the easiest to reach by car include Converse Basin Grove, the largest contiguous grove in the world which contains the Boole Tree and dispersed camping as well as Indian Basin Grove, Belknap Complex, Long Meadow Grove and the Trail of 100 Giants, and Freeman Creek Grove and the Bush Loop Trail.
Because this is a National Forest and not a National Park, there are no fees to enter and hike, however there may be fees for camping in frontcountry sites.
3. Yosemite National Park
Some of the best hikes in Yosemite National Park are in its three giant sequoia groves. Mariposa Grove near the southern entrance is the best-known and most popular, featuring hundreds of giant trees including the 1,800 year-old Grizzly Giant, and lots of hiking trails.
Merced and Tuolumne Groves off Big Oak Flat Road near the western entrance on 120 are quieter and home to a couple of dozen trees each and are reached via a ten-mile winding scenic drive that takes you to almost 6,000ft above sea level. These groves are open to cross country skiing and snowshoeing come winter.
4. Sierra National Forest
Bordered by Kings Canyon National Park to the south and Yosemite National Park to the north lies Sierra National Forest where you'll find McKinley Grove. The grove is about 7.5 miles from the tiny community of Dinkey Creek, and a wheelchair-accessible nature trail winds through a cluster of about 20 sequoias at the heart of a grove, which contains between 150 and 200 giant sequoias in total.
5. Calaveras Big Trees State Park
One hundred miles southeast of Sacramento lies Calaveras Big Trees State Park, which preserves two giant sequoia groves. This park holds the title of being the location where western pioneers first discovered the giant sequoias, back in the 1850s, and has been drawing curious tourists to visit them ever since. The park features campsites plus hundreds of miles of trails, and with a small entrance fee of $10 per vehicle makes a great stop for those traveling between the National Parks and National Forests on this list and the nearby hubs on the west coast
All the latest inspiration, tips and guides to help you plan your next Advnture!
Julia Clarke is a staff writer for Advnture.com and the author of the book Restorative Yoga for Beginners. She loves to explore mountains on foot, bike, skis and belay and then recover on the the yoga mat. Julia graduated with a degree in journalism in 2004 and spent eight years working as a radio presenter in Kansas City, Vermont, Boston and New York City before discovering the joys of the Rocky Mountains. She then detoured west to Colorado and enjoyed 11 years teaching yoga in Vail before returning to her hometown of Glasgow, Scotland in 2020 to focus on family and writing.