Why you should go camping in a National Forest
We've got six great reasons why you should go camping in a National Forest this weekend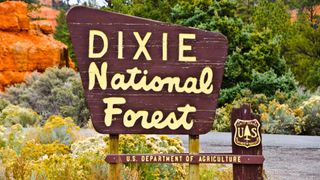 (Image credit: UCG / Contributor)
Tales of overcrowding and competitive reservation systems at National Parks have been well covered in recent years, but don't let that deter you from exploring some of America's most dazzling beauty spots. If you've got your best hiking boots dusted off and your heart set on pitching your tent somewhere scenic this weekend, but you weren't able to get a reservation, or aren't up for sitting in an hour-long queue to enter your favorite National Park, why not head to a National Forest instead? There are millions of acres of pristine wilderness within the National Forest system where you can camp, hike and best of all, escape the crowds.
What is a National Forest?
The National Forest system in the US is totally separate from the National Parks system. Managed by the US Forest Service, these areas protect woodlands which contribute to a healthy planet, and their water supplies and are areas of natural beauty.
Unlike National Parks, extraction of natural resources is permitted in National Forests, however they are also the sites of some of the largest wilderness areas around so you'll find lots of places to get lost. Many ski resorts lease their land from National Forests, such as Vail, Colorado, which is in White River National Forest.
The first National Forest to be established was Yellowstone, in 1891, which makes up part of the larger Greater Yellowstone Ecosystem which includes the world-famous Yellowstone National Park.
How many National Forests are there?
Today, the National Forest System protects 154 areas, all available for the outdoor fun you love like hiking, trail running, rock climbing, backpacking, car camping, and fishing. You can find National Forests in all but these 10 states:
Connecticut
Delaware
Hawaii
Iowa
Kansas
Maryland
Massachusetts
New Jersey
North Dakota
Rhode Island
Alaska, Idaho, Oregon and Colorado are the states with the most land held in National Forests.
How do I find a National Forest?
The best way to find a National Forest to explore is to look on a map or head straight to the Forest Service website, where you can find interactive maps, hunt for destinations, and even browse information on activities you can do within the forest you've got your eye on.
Why you should go camping in a National Forest
So why should you go camping in a National Forest? Honestly, the better question would be, why wouldn't you? Here are our top reasons why you should head out for some forest fun this weekend:
1. They're often near popular National Parks
In our interview with National Parks expert Alex Schnee on navigating the National Parks reservation system, one of her top tips was to check the surrounding areas of National Parks because these are often National Forests.
"If you don't get your reservation, check right around the park because there's usually a National Forest or preserve that you can visit instead, and likely it's equally as beautiful, with the same kind of nature but you don't have to worry about the crowds and the reservations," Schnee advises, adding that she often explores Flathead National Forest instead of busy Glacier National Park.
As we've already mentioned, Yellowstone is surrounded by National Forest, then you've got Sequoia and Sierra National Forests making great alternatives to bustling Yosemite, San Bernardino instead of Joshua Tree, Arapahoe and Roosevelt in Colorado in place of Rocky Mountain National Park, and if Shenandoah in Virginia is full of the DC crowd this weekend, check out George Washington and Jefferson National Forest.
Basically, the beautiful environments that National Parks protect don't stop at the entrance gates, so if you can't get in, explore the surrounding area. This will give you a pretty clear picture of what kind of scenery to expect.
2. Camping is often free
In National Parks, you pay a fee (albeit nominal) to enter, and another to camp in a developed campground. Sometimes there's even a fee for backcountry camping, if it's allowed. In National Forests there's loads of free camping in both backcountry and frontcountry sites. There is sometimes a a fee to reserve a spot in a developed campground, however, there are lots of free developed camping areas within the system, and dispersed camping (or backcountry camping) is widely available and usually free.
Each National Forest is different, so it's best to go straight to the website of the forest you plan to visit and see what's available and if there's a fee, but basically if you want free camping, you can find it at a National Forest.
3. There's heaps of land to explore
While the National Parks system protects an impressive 85 millions acres of land, the National Forest system easily blows that out of the water with an astonishing 193 millions acres of land protected. These are all areas of scenic beauty plus heritage sites and monuments waiting to be discovered by you.
4. There are no fees or reservations to enter
While visiting a National Park involves, at minimum, driving up to the gate and paying a fee to enter, there are no gates, fees or reservations needed to enter a National Forest. Just find it on a map and head in.
Of course, there may be parking fees, or charges associated with some high-traffic trails and developed campgrounds if you want facilities like toilets and picnic tables, plus fees to use recreation areas within the forests and special use permits, but if you want to head in for some dispersed camping and hiking, you won't have to part with a penny.
There's also a Free Lifetime Access Pass for seniors, volunteers, military personnel and their families and those with permanent disabilities.
5. They're less crowded
Although it's not as easy to track visitor ship to National Forests as it is to National Parks owing to the lack of entrance gates, the Forest Service estimated 168 million visits in 2020. That does sound like a lot, but compared to the National Parks system's reported 297 million visitors in 2021 and spread out over twice the acreage, lets just say that you'll find much more solitude in a National Forest. This isn't because they're not as beautiful; rather, less people know about National Forests and they don't always have the infrastructure of parks.
6. There are more hiking trails than you'll ever need
If you want to stretch your legs, the National Forest system boasts some 150,000 miles of hiking trails where you can explore scenic vistas, mountains, lakes, waterfalls and wilderness areas. That's compared to 21,000 miles of trails in the National Parks.
7. It's all yours
The National Forest slogan is "it's all yours" and it's not just a marketing gimmick. A lot of people aren't aware that these vast lands are publicly owned. That's right, National Forests are federally owned, which means if you pay taxes in the US, you are part-owner of these lands, which is all the more reason to get out there and enjoy them. Remember to read up on the rules and regulations before you set off, and as with any jaunt into the wild, leave no trace.
All the latest inspiration, tips and guides to help you plan your next Advnture!
Julia Clarke is a staff writer for Advnture.com and the author of the book Restorative Yoga for Beginners. She loves to explore mountains on foot, bike, skis and belay and then recover on the the yoga mat. Julia graduated with a degree in journalism in 2004 and spent eight years working as a radio presenter in Kansas City, Vermont, Boston and New York City before discovering the joys of the Rocky Mountains. She then detoured west to Colorado and enjoyed 11 years teaching yoga in Vail before returning to her hometown of Glasgow, Scotland in 2020 to focus on family and writing.