Hiking in France: the crème de la crème of French walking trails
Want to know where to go hiking in France? Read our guide to some of the finest trails, from day walks in the shadow of Mont Blanc to long distance treks like Corsica's spectacular GR20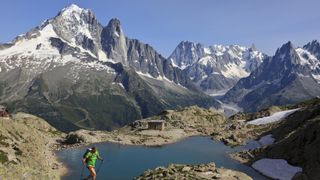 (Image credit: Getty)
From the astonishing mountain landscapes of the French Alps, the granite grandeur of Corsica and the spectacular spine of the Pyrenees to the glistening Côte d'Azur and the vineyards of Alsace, Burgundy and the Rhone, France is a walker's paradise. There's everything a hiker could want in this beautiful and historic country. And when you're done for the day, is there anywhere you'd rather be than in a café or restaurant, sipping a fine wine and enjoying some signature French cuisine?
So, isn't it time you made a reservation for France's trails? To help you choose, we've prepared a delightful menu for you to get your hiking boots stuck in to. For the amuse bouches, we've served up a small selection of delectable day hikes. And for the main course? The crème de la crème of France's famous long-distance treks. Bon appétit and bonne randonnée!
Hiking in France: incredible day hikes
There are so many incredible day hikes across France that just plucking a few from the vine is not easy. However, down the years, the following selection have matured into classics that are enjoyed by many discerning hiking connoisseurs and rightfully take their place on our list of the best hikes in Europe.
Lac Blanc
When to go: Mid-June to early September
High in the Aiguilles Rouges above the Chamonix Valley, and boasting huge views of the Mont Blanc massif reflected in its serene surface, is Lac Blanc. This is one of the most popular day walks for those staying in Chamonix, the spiritual home of European mountaineering.
There are a few routes up to the lake and it's nestled about 500 meters above the main Tour du Mont Blanc trail. The hike from the cable car station at La Flégère is a beautiful option that can be extended with a visit to Lac Cheserys. High above La Flégère is Index, a high lift station at 2525 m. Starting here makes for a tougher, undulating hike with sections of scree to manage. Finally, if you want to make a full day of it, there's the longer route from Tré-le-Champ above Argentiere, which comprises peaceful larch forests and exciting laddered sections.
Cirque de Gavarnie
When to go: May to October
Next, we're in the Pyrenees for a family-friendly walk to an absolutely mesmerising sight. The Cirque de Gavarnie is simply awe-inspiring. A monumental natural amphitheatre, its terraced cliffs are often topped with snow that melts and cascades from shelf to shelf in the warmer months. Top billing goes to the spellbinding Gavarnie Falls, mainland France's highest waterfall, which plummets from the Cirque's eastern cliffs.
Considering the drama of the landscape, it's surprising that the trails are non-technical, making your best hiking shoes a good option. Starting from the commune of Gavarnie, easy to follow paths take you through gorgeous verdant countryside and alongside wonderful wildlife, so have a pair of the best binoculars at the ready. Once you arrive at the Cirque, you can even stand right underneath Gavarnie Falls, should you wish.
Martel Trail in the Gorges du Verdon
When to go: May to September
Over countless millennia, the turquoise-green of the Verdon River has carved a magnificent limestone gorge in the Provence-Alpes-Côte d'Azur region. This is the Gorges du Verdon, the deepest gorge in France and one of the nation's most stunning natural wonders. There are a number of exciting trails around the gorge but, for a day hike, the Martel Trail is a superb option.
The Trail explores the gorge intimately, making use of tunnels carved for industry and indulging in a few fun laddered sections. It takes you to some immense viewpoints, such as the famous Point Sublime at the end of the trail. Here you'll find the village of Rougon, where you can enjoy a drink to celebrate your achievement.
Route Napoléon on the Camino de Santiago
When to go: April to October (closed in the off season)
Route Napoléon is the first section of the Camino Frances pilgrimage, one of many ancient trails across Europe that make up the medieval Camino de Santiago and lead eventually to Santiago de Compostela in northwestern Spain. This section takes you across the Pyrenees, from the picturesque Basque town of Saint Jean Pied de Port to the Spanish village of Roncesvalles.
It's a strenuous, linear walk that ascends on country lanes and tracks for the first 20km and then descends for 5km into northern Spain. However, you are rewarded with the kind of stunning mountain views that have moved pilgrims for centuries. A small hotel, the Auberge Orisson, is conveniently placed en route for a refuel.
Hiking in France: Long-distance treks
To truly get to know France's incredible landscapes, there is no finer way than embarking on a long-distance trek. The nation's famous 'Grande Randonnée' (GR) network offer a lifetime of possibilities, with around 60,000 km of trails. Meanwhile, the places you'll stay – from spectacular mountain refuges and charming Gîtes d'Etape to characterful hotels and luxurious villas – are as much a part of the experience as the treks themselves.
Tour du Mont Blanc
When to go: Mid-June to early September
This is the Daddy. Famous all over the world for its stunning scenery, this incredible circuit of Western Europe's highest mountain range should be high on any hiker's bucket list. The full 168km round takes you to three great nations: France, Italy and Switzerland, between seven valleys of hugely contrasting character and over high passes of simply astonishing drama. It should take most hikers between 10 and 12 days to complete.
The French section is superb, including the immense panorama of the Mont Blanc massif from the Aiguilles Rouges and some "interesting" ladders built into rock faces. The mountain refuges along the route are varied, always interesting and serve up great, home-cooked food. This amenity also means you can do the whole thing with just a large day pack for all of your provisions.
Tour of the Oisans
When to go: Mid-June to early September
Aside from Mont Blanc, the Massif de Écrins is the highest and most lauded mountain group in France. This is a region characterised by jagged spires of rock, cols of black shale, steep wastes of scree and tumbling glaciers. However, there's a gentler side to this mountain paradise too; rural communities that time seems to have forgotten, whistling marmots, glistening pools, burbling streams and vibrant alpine meadows complete the picture of what is a bewitching place to explore on foot.
The Tour of the Oisans is a demanding 176km circuit of the region that will take most hikers between 10 and 12 days to complete. Owing to the rugged terrain and the 12,800 meters of elevation gain across numerous high cols, many proclaim that this is one of the toughest of all the great alpine treks.
The GR20, Corsica
When to go: Early June to late October
Legendary is a term that gets bandied about a lot these days but in the case of Corsica's GR20, it's fully deserved. Traversing the granite spine of the dramatic Mediterranean island for 180km, it's considered the most taxing of all the Grande Randonnée trails. You'll need to be fit, as the GR20 demands the best part of a fortnight and the total elevation gain clocks in at a whopping 12,000 meters – don't forget your trekking poles (see: Best trekking poles).
The GR's iconic red and white daubs of paint indicate the way over countless rock scrambles, boulder fields, narrow arêtes and down hellishly steep scree slopes. The views, once you top out above the island's wispy clouds, are unforgettable. Part of the charm are the rustic refuges that line the route and cater for the 10,000 to 20,000 people who attempt it every year. Many of them offer an evening meal, which is a boon if you're wanting to go lightweight.
The Pyrenean Way (GR10)
This is an absolute monster of a trek: a full traverse of the Pyrenees, the mountainous barrier that divides France and Spain. At 866km in length and entailing a gargantuan 48,000 metres of elevation change, you'll need a sabbatical or retirement to tackle it in one go. The entire route takes hikers around 50 days to complete, making it one of the most epic hikes on Earth. Unsurprisingly, many choose to break it into smaller chunks.
As well as stonking mountain vistas to rival the Alps, the Pyrenees is famed for its wildlife. There's everything from ibex, chamois and marmots to bears (see: What to do if you meet a bear in the wilderness) and wolves. Don't let the threat of these shy carnivores deter you, you're highly unlikely to encounter one and even less likely to come to harm. The people of this enchanting border country are just another reason to visit, full of charm, smiles and time-honored traditions.
All the latest inspiration, tips and guides to help you plan your next Advnture!
Alex is a freelance adventure writer and mountain leader with an insatiable passion for the mountains. A Cumbrian born and bred, his native English Lake District has a special place in his heart, though he is at least equally happy in North Wales, the Scottish Highlands or the European Alps. Through his hiking, mountaineering, climbing and trail running adventures, Alex aims to inspire others to get outdoors. He is currently President of the London Mountaineering Club, training to become a winter mountain leader, looking to finally finish bagging all the Wainwright fells of the Lake District and hoping to scale more Alpine 4000ers when circumstances allow. Find out more at www.alexfoxfield.com