Hiking insoles: what they are and why you need them
A good pair of hiking insoles can make a world of difference to your comfort on the trails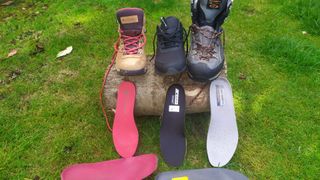 (Image credit: Kieran Cunningham)
So you've splashed out your hard-earned cash on a new pair of hiking boots, with their cutting-edge waterproof membrane, memory foam ankle cuffs, and beautifully crafted leather uppers. And then you look inside and the footbed – the insole on which your foot rests (see: Parts of a hiking boot) – is no more than a flimsy piece of cardboard. Once it gets wet, through rain, river or sweat, it becomes soggy… and then crisp when dry.
It may be galling to have to upgrade what was already an expensive purchase, but investing in first class hiking insoles can make the world of difference to the comfort and support of your best hiking boots and best hiking shoes.
Moreover, when you amortise the modest cost of a footbed across the thousands of steps you'll take on each hike or country walk, you'll find it's a small price to pay for all-day and multi-day comfort.
What is a footbed?
Regular footbeds provide cushioning and absorb shock as you walk. In the shop the footbeds that come with your boots may feel spongy and soft, but they can swiftly harden and compress. Plus, they are designed to suit the 'average' foot shape.
What's wrong with the average foot shape?
Your feet are unique. From the width of your heel to the width of your toes to the height of your arch, your feet are as different as you are. What's more, your walking gait is unique as well – as your foot lands, it naturally rolls inwards to distribute the impact. This is what podiatrists call pronation.
How does pronation affect hikers?
Pronation is most pronounced in runners, but applies to walkers and hikers, too. There are roughly three categories of pronator.
Supinator
The outer side of a supinator's heel hits the ground first, but because the foot barely rolls in, the impact shock passes directly into the lower leg. This is most common in people with high arches and can lead to shin splints and plantar fasciitis (a stabbing pain in the bottom of your foot near the heel).
Neutral
A neutral foot strike would appear to be as nature intended, with the foot landing on the outer heel then rolling into the ball of the foot to absorb shock. This is most common in hikers with regular height arches.
Overpronators
As the name suggests, the feet of overpronators land on the outside of the heel before rolling excessively inwards, all the way to the inner edge of the foot. This is most common in hikers with flat feet or low arches, and can lead to shin splints, plantar fasciitis, heel spurs and bunions (bony bumps on the side of your feet at the joint at the base of your big toe).
How do insoles help?
Insoles are shaped to meet the profile of your feet. Almost always more substantial than the footbed that comes with your hiking shoes or boots, insoles not only provide more sustained and longer-lasting cushioning, but also hold your feet aligned, stable and in place. This helps to avoid the rubbing and friction that cause blisters (see: how to avoid blisters), and more importantly, helps to optimise your gait to minimise the risk of injury.
Many insoles also feature anti-microbial treatments to limit the pong in your boots.
What should I look for?
Heel cup
A deep heel cup that will hold your foot in place is important; women tend to have narrower heels and should look for women-specific insoles, such as Superfeet Berry.
Arch support
With your heel in place, check that the arch support is in the right spot and of the right height to suit your feet. The Sidas 3Feet Outdoor, for example, comes in three arch heights of low, mid and high.
Materials
Extra features are a matter of personal preference. Hikers who brave sub-zero trails through winter might want to consider a warmer insole, such as Powerstep's Pinnacle Wool, while in hot weather the wicking qualities of Grangers G30 memory foam insole, with its Coolmax DermoDry top sheet, will help to draw sweat away from your feet.
Volume
Pay attention to the depth of the insole – hiking boots can typically accommodate higher volume insoles than walking shoes.
What size do I need?
Insoles come in sizes to match the official shoe size of your boot. Most will allow for a little bit of excess trim for you to cut away to meet the interior dimensions of your boot. A good size guide is normally to trace around the footbed that originally came with the boot, before carefully cutting away.
How much should I expect to pay?
Prices range from a little over $15/£10 to about $60/£40 for a pair of insoles.
Money no obstacle?
The pinnacle of insole comfort is bespoke orthotics that are based on a 3D scan of your foot and then tailor-made to meet its exact contours. They're not cheap; expect to pay more than the price of a good pair of boots for the consultation and orthotics.
All the latest inspiration, tips and guides to help you plan your next Advnture!
After spending a decade as editor of Country Walking, the UK's biggest-selling walking magazine, Jonathan moved to edit Outdoor Fitness magazine, adding adrenaline to his adventures and expeditions. He has hiked stages or completed all of the UK's national trails, but was once overtaken by three Smurfs, a cross-dressing Little Bo Peep, and a pair of Teletubbies on an ascent of Snowdon. (Turns out they were soldiers on a fundraising mission.)