Parts of a hiking boot: hiking boot anatomy 101
Knowing the various parts of a hiking boot can be mightily handy when it comes to finding the ideal boots for your needs and adventure type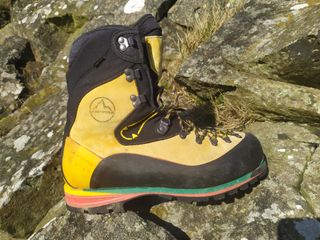 (Image credit: Kieran Cunningham)
Trying to ensure that you are suitably shod for future hiking trips should be a fun experience. Often, however, the curious and quirky terminology employed by hiking boot manufacturers leaves many of us bewildered, wishing we'd brought a dictionary along on our shopping trip, or wondering if we should just squeeze another year out of our old pair and save ourselves the hassle.
If you're unsure how to choose a pair of hiking boots and don't know your lugs from your linings or your shanks from your midsoles, never fear! In this article, we aim to do a little jargon busting, providing a simple explanation of all the parts of a hiking boot with a view to making you better equipped to find the best hiking boots for your upcoming adventures.
The parts of a hiking boot: a glossary of terms
Bellows tongue: a wide folding tongue that is stitched to the sides of the uppers to prevent water and debris entering in the forefoot area.
Collar: the padded cuff around the top of the boot.
Crampon welts: indents in the heel and toe that are used to attach crampons.
A simple alphanumeric system is used to grade boots' compatibility with different types of crampons:
B1 boots are compatible with C1 crampons, which are strap-on crampons used for general hiking in non-technical terrain. These boots normally have a flexible sole.
B2 boots, which are compatible with C2 crampons, are more rigid and have toe and heel welts that attach to the bails on the crampons. These boots are typically 3-season or 4-season models intended for general mountaineering. Some B2 boots will use a heel welt only, meaning they are only compatible with semi-automatic crampons, i.e. those that have a locking bail in the heel but use straps to secure the front of the boot instead of a bail bar.
B3 boots are compatible with C3 crampons, which are the variant used for technical mountaineering and ice climbing. These boots are the most rigid available and are unsuitable for use in anything other than steep, technical terrain.
D-rings: these are the D-shaped loops, usually metallic, that are often used in the upper part of the lacing system in place of hooks or eyelets. The main benefit to D-rings is that they grip down on the laces once tied. This makes them more secure and reduces the risk of laces coming untied while you're on the move.
EVA (ethylene-vinyl acetate): the material used to make many hiking boots' midsoles. EVA is normally soft, cushy, and cheaper than the alternatives but also less durable. EVA is used in varying densities, so the degree of firmness can differ significantly.
Eyelets: the rows of ring-shaped holes through which the laces are threaded in some boots.
Fastening system: this refers to the boots' lacing system, whether a traditional lacing system or a quick-release lacing system.
Traditional lacing systems use two or three rows of D-rings or eyelets at the bottom in combination with hooks or further D-rings at the top. Whichever configuration a boot uses, the handiest feature to have is a locking D-ring or hook offset at the ankle that will hold the laces in place even when they are undone.
Quick-release lacing refers to no-tie 'lock lacing' systems that are designed to save you the hassle of typing your laces (!) and provide a more secure closure. These lacing systems allow for one-handed, one-tug tightening and slackening, but often lack the ruggedness of traditional systems. If these laces snap, moreover, they're far trickier to replace. Need more tips on how to lace hiking boots?
Full-grain leather: the most rugged and durable upper material. It's highly waterproof but can be heavy, takes a long time to break in, isn't as breathable as synthetic materials, and can take an age to dry when wet.
Heel brake: the aggressive lug pattern used in the heel section of some outsoles to provide additional grip and traction.
Inlets: an umbrella term for the parts of a hiking boot used for lacing – D-rings, hooks, and eyelets.
Insulation: the extra material used in cold-weather boots to add warmth and boost heat retention.
Lining: the material inside the shoe that comes in contact with your foot.
Midsoles: located between the outsole and insole, these parts of a hiking boot provide cushioning and absorb impact from the trail.
Nubuck leather: a full-grain leather that has been sanded or buffed. Looks like suede and has the same soft, supple feel. Boots that use nubuck uppers are usually easier to break in than those with full-grain leather uppers.
Outsoles: this refers to the parts of a hiking boot that are in contact with the ground. Vibram outsoles are by far the most common, but others you might come across are Salomon's Contagrip and Scarpa's Skywalk. Within each type of outsole there are variants designed for use in specific terrain – i.e., harder rubbers that are more durable, those with well-spaced lug patterns that provide better grip in mud, or softer rubbers that adhere better to rock.
Lug pattern: this refers to the pattern of the tread on the boots' outsole. Different patterns provide varying degrees of traction but, as a general rule, multi-directional patterns are the grippiest and well-spaced lugs provide the best traction in muddy terrain.
Plates: these are thin inserts squeezed between the midsole and the outsole to provide additional underfoot protection against rocks, roots, and debris.
Polyurethane: a stiffer and more durable midsole material (compared to EVA) that is often used in mountaineering or backpacking boots. Stiffer midsoles provide more support and leverage on steep ground but can cause foot cramps in more mellow, flatter terrain.
Rand: a strip of rubber that covers the joint between the upper and the sole, either encircling the entire boot or covering the toe area only. Rands protect the material of the upper from abrasions and your toes and the lower part of your foot from bangs and bruises from rocks or debris.
Seams: the parts of a hiking boot where pieces of fabric are sewn together. Because seams are a common point of leakage and abrasion, the most durable and waterproof hiking boots are usually made with one-piece leather, using seams only in the heel and forefoot.
Shank: thin inserts placed between a hiking boot's midsole and outsole to add rigidity and support, both of which are useful attributes when you're hiking in steep terrain or are carrying a heavy backpack.
Split-grain leather/suede: a soft and flexible upper material often used in combination with synthetic fabrics to reduce weight and enhance breathability. Usually less waterproof, durable, and abrasion-resistant than full-grain leather.
Synthetic: materials like nylon, polyester, poly-nylon blends, and synthetic leather that are often used in combination with leather, suede, or nubuck in boot uppers. Synthetic-natural combo uppers are usually lighter and more breathable than other varieties but lack durability and abrasion resistance.
Toe box: the section of the boot that surrounds the toes. Ideally, your toes should not be pressed against the toe box as this can cause bruising or blisters.
Tongue: the flap beneath the laces that covers the forefoot. The tongue prevents dirt, water, and debris from getting into the boot.
Upper: this, essentially, refers to all of the material in the boot above the sole. Various types of material can be used: see 'full-grain leather', 'split-grain leather', 'nubuck,' and 'synthetic.'
Vegan: boots that are made using no animal products or by-products.
Waterproof membrane: a thin lining that is bonded to the interior of the upper. It keeps your feet dry by using microscopic holes that are too small to let water seep in from the outside but big enough to let your sweat escape as a vapour.
All the latest inspiration, tips and guides to help you plan your next Advnture!
Former Advnture editor Kieran is a climber, mountaineer, and author who divides his time between the Italian Alps, the US, and his native Scotland.
He has climbed a handful of 6000ers in the Himalayas, 4000ers in the Alps, 14ers in the US, and loves nothing more than a good long-distance wander in the wilderness. He climbs when he should be writing, writes when he should be sleeping, has fun always.
Kieran is the author of 'Climbing the Walls', an exploration of the mental health benefits of climbing, mountaineering, and the great outdoors.