Hiking whistles: why you should have one and how to signal for help
We consider hiking whistles, probably the most underrated and potentially vital piece of equipment in your backpack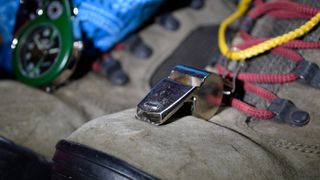 (Image credit: Getty)
Hiking whistles could potentially save your life. There are any number of grisly scenarios where a hiking whistle would be the difference between being rescued and being stuck in a dangerous situation. From something relatively innocuous, such as badly twisting your ankle while alone on a mountain trail run, to something immediately serious, like being trapped under a rockfall, a hiking whistle gives you a means to get help when you need it most.
They are also a means to communicate with other stricken hikers. If you are out in challenging conditions and you hear a distant cry for help in the form of a whistled distress signal, the only way you are going to be able to answer the call is with your own whistle. By carrying a hiking whistle, you are looking out for fellow hikers, as well as yourself.
Whistles for hiking are designed to be very loud when called upon and high pitched. The best first aid kits for hiking should contain one, though it's worth checking before you set out – don't pack your hiking backpack without one.
The human voice, at its very loudest, can reach a volume level in excess of 100 decibels (dB). In fact, the world record is an astonishing 129 dB, which is louder than a chain saw or a live rock concert, but not quite as loud as a jet engine. However, maintaining this volume takes a great deal of effort and energy, probably resulting in eventual voice loss, leaving you with only the light of your best headlamp to attract attention.
What are hiking whistles?
This is where hiking whistles come in, allowing you to create a continuous high-pitched tone in excess of 120 dB with ease. High pitched sounds are more directional than low pitched tones, meaning that anyone who hears your distress call should be able to decipher which direction it is coming from, perhaps even enabling rescue services to locate you using binoculars. To distinguish your whistle calls from wind whistling through trees or animal calls, you can use a recognized whistle signal to attract attention.
Whistle signals for hiking
There are recognized whistle signals for hiking that can be used to call for assistance. Having knowledge of these may attract help in an emergency situation, particularly if rescue services are attempting to find you.
As well as a whistle, hikers can also use a flashlight, head torch or phone light to signal for help visually, using the same distress signals. A combination of both light and sound is preferable and gives you the best chance of being seen or heard. However, if you are also using your phone's torch to attract help, bear in mind that you may need your phone for other purposes, such as communicating with mountain rescue.
The Alpine distress signal
The Alpine distress signal is six blasts in quick succession repeated once per minute. Continue to signal until you get an answer. If you hear someone else using the Alpine distress signal, you should reply with three blasts in quick succession repeated once per minute, to let those in distress know that you have heard them. If you can then send for help, such as by calling a mountain rescue service, do it straightaway.
It was English mountaineer Clinton Thomas Dent who first devised the Alpine distress signal in 1894 and it was soon adopted by mountaineers across the world. Dent was also notable for a number of first ascents in the Alps during a period known as the silver age of alpinism – the time between Edward Whymper's first ascent of the Matterhorn in 1865 and William Woodman Graham's ascent of Dent du Géant in 1882. Perhaps Dent's most notable achievement was the first ascent of the Grande Aiguille du Dru on 12 September 1878. He was obviously a persistent chap; it was his nineteenth attempt on the peak.
SOS distress signal
Another widely known signal is the SOS signal of three short blasts in quick succession, followed by three long blasts, followed by another three short blasts, repeated every minute. Just as with the Alpine distress signal, you respond with three short blasts to let the distressed party know you have heard them.
SOS derives from Morse Code, which was developed in the 1840s by Americans Samuel Morse, Joseph Henry and Alfred Vail, who devised an electrical telegraph system that they could communicate with using electrical pulses. The SOS signal of three dots, three dashes and another three dots was originally established and used in maritime circles. Due to the fact that three dots stands for S and three dashes for O, phrases such as 'Save Our Souls' or 'Save Our Ship' became widely used aide-memoires.
All the latest inspiration, tips and guides to help you plan your next Advnture!
Alex is a freelance adventure writer and mountain leader with an insatiable passion for the mountains. A Cumbrian born and bred, his native English Lake District has a special place in his heart, though he is at least equally happy in North Wales, the Scottish Highlands or the European Alps. Through his hiking, mountaineering, climbing and trail running adventures, Alex aims to inspire others to get outdoors. He is currently President of the London Mountaineering Club, training to become a winter mountain leader, looking to finally finish bagging all the Wainwright fells of the Lake District and hoping to scale more Alpine 4000ers when circumstances allow. Find out more at www.alexfoxfield.com