What to do if you encounter a horse on the trail
Knowing what to do if you encounter a horse on the trail is an important safety consideration for any hiker or runner setting out on a shared use path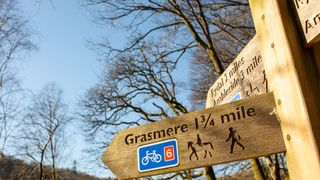 (Image credit: Graeme J. Baty)
Do you know what to do if you encounter a horse on the trail? This everyday piece of trail etiquette might not sound quite as exciting as knowing what to do if you meet a bear or how to avoid an avalanche, but it is an important safety measure for any hiker or runner setting out on a shared use path.
Lots of trails are shared use, meaning they may be open to horseback riders and bikers as well as hikers and runners. In many areas, it's quite common to see horseback riders out in the backcountry and while it shouldn't deter you from using the trail – in fact, it can be quite special – it's important to know how to behave in this situation to keep everyone involved safe.
There aren't a lot of instances of hikers being injured by horses, but you could put the rider at risk if you startle the horse. Responsible equestrians won't take their horses out on shared use trails until they're well trained. However, like the best of us, horses can be temperamental and it's vital to approach any horse encounter with extreme caution. By following the tips below, you can help ensure the safety of yourself, the horse and the rider, and probably even have a very enjoyable social interaction with another trail user.
How to know if you're on a shared use trail
Lacing up your hiking boots, filling your water bottle and loading up your backpack are all standard items to check off before hitting the trail, but once you arrive at your destination, you can't just put your headphones in and zone out. It's important to know what kind of trail you are on before you get going, so you can be on alert for approaching bikers and horseback riders. Though trail signage differs from state to state and between countries, there will usually be a sign at the trailhead alerting you to all permitted users and explaining who has the right of way.
Of course, a less official but extremely reliable way of telling whether you're on a trail used by equestrians is the presence of horse manure, which will likely be rampant. In any case, when you know there's a chance of encountering horses on the trail, you should take your headphones out and stay alert to your surroundings.
What to do if you encounter a horse on the hiking trail
According to trail etiquette, hikers and runners should always yield to horses, regardless of whether you're going uphill or downhill. They might be slower than you if you're a runner, but horses are big beasts up close and they can be unpredictable, especially when startled, so it's best for you to let them pass when they need to, and to pass them with extreme caution and good communication.
What to do if you encounter a horse coming towards you
If you are hiking or running on the trail and see a horse up ahead coming towards you, you should stop and step off the trail to the downhill side. If you are on the uphill side, you may appear threatening to the horse. Don't try to hide behind anything, which can also appear predatory, just get out of the way.
As the horse approaches, make eye contact with the rider, smile and say hello. Chat to them in a relaxed, friendly tone. This puts the horse at ease and gives the rider an opportunity to let you know if they need you to move. If there isn't much room or it's not clear what is the best course of action, ask the rider what they'd like you to do. Remember: they want the encounter to go smoothly too. Once they've passed you, you can continue on at your own speed. The rider may also pull off and wave you past, in which case you should walk past slowly, then you can speed up.
What to do if you come up behind a horse on the trail
If you are hiking or running along a path and come up behind a horse, you definitely don't want to startle it. Horses are known to kick as a self defense mechanism and you don't want to be on the receiving end of their powerful back legs. Slow down and call a "hello" out to the rider to make your presence known. They will most likely move to one side and let you know on which side you should pass when it is safe to do so.
What to do if you are hiking or running with a dog
Finally, if you're hiking or running with a canine companion, it's important to get your dog on leash as quickly as possible. Even though horses and dogs generally get on in theory, your dog might antagonize or stress the horse out, and of course you don't want your dog to get underhoof and be injured.
All the latest inspiration, tips and guides to help you plan your next Advnture!
Julia Clarke is a staff writer for Advnture.com and the author of the book Restorative Yoga for Beginners. She loves to explore mountains on foot, bike, skis and belay and then recover on the the yoga mat. Julia graduated with a degree in journalism in 2004 and spent eight years working as a radio presenter in Kansas City, Vermont, Boston and New York City before discovering the joys of the Rocky Mountains. She then detoured west to Colorado and enjoyed 11 years teaching yoga in Vail before returning to her hometown of Glasgow, Scotland in 2020 to focus on family and writing.