How to choose hiking pants: advice on finding the perfect pants for any outdoor adventure
Don't know how to choose hiking pants for your adventure type? Our guide has you covered, offering tips on everything from sizing to sun protection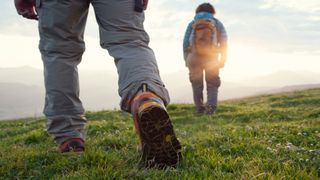 (Image credit: Westend61)
With tents, rain jackets, backpacks et al. stealing the limelight, the importance of finding a great pair of hiking pants is something that many hikers are apt to overlook. However, given that our pants are the element of our hiking wardrobe tasked with protecting the parts of our anatomy responsible for schlepping the rest of us over all those miles on the trail, maybe we should be paying them just a little more attention…
Whether you're looking for the best hiking pants for summer, spring and fall, or the best winter hiking pants for cold-weather wandering or mountaineering, our guide on how to choose hiking pants will provide all the info you need to find the perfect pair for your pins.
How to choose hiking pants: style
Choosing the ideal style of hiking pants for you will ultimately come down to where and when you plan on doing your hiking.
Without venturing into the world of variants like the best rain pants and best running leggings, there are, broadly speaking, three main types of hiking pants. These are convertible pants, standard pants, and softshell pants.
Convertible pants (aka zip-off hiking pants), as the name suggests, are hiking pants that can be converted into shorts whenever temps on the trail get a little too balmy for full-leg coverage. These are great for hiking in variable conditions or on hikes with a significant altitude difference between the trailhead and the top, allowing you to alternate between pant and short mode – in a matter of seconds – as and when conditions require. These are also useful if you're hiking in warm conditions and want to wear shorts but also want to have a backup plan in case the bugs are out, temps drop later in the day, or if you come across a section of trail that will tear your legs up without lower-leg protection. The only downside to these pants is that the added zipper can add a little weight, but this is a small price to pay for the convenience and versatility they offer in return.
Best for: hiking in variable conditions and backpacking
Standard hiking pants are straight-leg models that look like regular city-wear but incorporate a few hiking-specific add-ons and design characteristics to optimize performance and convenience on the trail, such as stretchy fabric, DWR coatings (What is DWR?), roll-up legs, drawcord ankle closures, zippered pockets, articulated knees, and a gusseted crotch. While more durable and breathable than streetwear pants, one of the main appeals of this style of pants is that they look as much home on the trails as they do in town.
Best for: general hiking
Softshell hiking pants are performance-orientated pants that are designed to hold up better to the rough treatment they're likely to be exposed to when hiking in more technical terrain, in three-season conditions, or when mountaineering. Softshells are made with high-performance fabrics that offer more resistance to abrasion, tears, water, and wind than standard hiking pants.
Best for: three-season hiking and mountaineering
How to choose hiking pants: materials
The materials used in your pants affects everything from comfort and breathability to durability and mobility.
Hiking pants are almost always made with synthetic materials, most commonly nylon, polyester, and spandex (elastane). Most models use a combination of two or all three of these materials in an effort to achieve the perfect balance between performance and comfort for varying activities.
As a general rule, pants made with a high percentage of polyester are the most breathable, while those with a higher nylon content are the most abrasion-resistant and durable. Most hiking pants, however, try to boost mobility and comfort by adding elastane to the weave. Elastane is what gives the fabric in your pants its stretch, so the higher the elastane content, the more flexible the fabric will be.
How to choose hiking pants: fit
If you anticipate hiking mostly on moderate trails, then you can afford to shoot for a looser fit; if you plan on hiking off-trail or on more technical trails where excess material might snag on rocks or undergrowth, then a tighter fit is the way to go. In both cases, your pants should be loose enough that they aren't restricting your movement but not so loose that they're billowing in the wind.
Length-wise, your pants should come down to the middle of your ankle – any higher and you risk exposing your pins to drafts (even the best hiking socks have their limitations), any lower and you'll be buying yourself a trip hazard.
How to choose hiking pants: breathability and ventilation
Whether intended for use in warm or cold weather, the best hiking pants are designed to prevent you soaking your pins and underparts in sweat while you're slogging your way up and down trails and scaling peaks. The metric that defines and measures their ability to do so is called 'breathability'.
As mentioned above, the most breathable hiking pants are those made with either a nylon-spandex or polyester-spandex blend. However, because different pants use different fabric thicknesses, the fabric type alone shouldn't be relied upon to gauge breathability. If in doubt, check the pant weight – because heavier pants are made with tighter, less breathable weaves, in most cases the lightest pants are also the most breathable and, therefore, are best the bet for high-output activities or hiking in higher temperatures. If you're shopping in a store, you can also hold the pants up to see how much light passes through the fabric – the more light you see, the more breathable they will be.
To supplement the breathability of the fabric, some hiking pants have a few extra ventilating features that let you dump heat and enhance airflow when things start getting a little sticky and steamy under the waistband. The most important of these include ankle zippers, integrated ventilation panels in the thigh, mesh panels in the crotch area, mesh-lined pockets, and roll-up legs. Because these are non-standard, they're well worth adding to the top of your list of must-have features if you tend to do most of your hiking in warm weather.
How to choose hiking pants: mobility
"Mobility" refers to how easy it is to move in your pants. The most important mobility-enhancing features in hiking pants are a gusseted crotch and articulated knees – two non-standard extras that can vastly enhance any pair of pants' comfort levels.
A "gusseted" crotch is one in which extra material has been added to achieve a more mobile and less restrictive fit in the groin – something that, for obvious, anatomical reasons, is greatly appreciated by male hikers. "Articulated knees" are "darts" (folds) sewn into the knee to achieve a more ergonomic shape that conforms to the curvature of the knee when bent. This provides a freer range of motion and reduces bunching of the fabric behind the knee when you're on steep inclines or scrambling.
How to choose hiking pants: sun protection
While all types of clothing provide some degree of protection against the sun's harmful rays, some do it better than others.
These days, most hiking pant manufacturers add UPF (Ultraviolet Protection Factor) ratings with their products. These tell you how much of the sun's ultraviolet rays penetrate the material. With a UPF 50 rating, for example, only a fiftieth (2%) of the sun's UV rays will reach your skin through the fabric, and with a UPF rating of 30, only 3.3% of the sun's UV rays will reach your skin. As you might have guessed, the higher the UPF rating, the more protection the fabric will provide. While this might not be such a big concern if you're hiking in cooler or cloudy conditions, if you're hiking in high temps or at high altitude then a higher UPF (30-50+) is well worth having.
How to choose hiking pants: extra features
A handful of features can vastly enhance any pair of pants convenience and suitability for hiking:
Pockets: while most pants have some form of pockets, not all pockets are created equal – or have the same usefulness to your average hiker. Ideally, pockets should be big enough to accommodate all the bits and bobs (compass, map, phone, camera, etc.) you like to keep to hand and have a zippered closure so you don't lose any of them while on the move. If you're buying pants for cold-weather hiking, "handwarmer" pockets (those with a fleece lining) are a nice addition; if you're hiking in warm conditions, those that use a mesh lining will help to keep things cool and fresh by boosting ventilation.
Ankle zippers: not only do these allow you to ventilate when need be, if used in convertible pants, ¼ -length or ½-length zippers will also let you convert from pant to short mode without taking off your hiking boots or best hiking shoes.
Reinforced ankles: some pants used reinforced materials in the inner ankle area to provide added abrasion resistance, which is particularly handy if you plan on hiking with microspikes or crampons.
Elasticated waistband: while not a dealmaker or breaker, this feature can help to reduce chafing and let you wear the pants without a belt – a bonus if you're wearing a backpack because the weight of your pack might cause the belt dig into your skin
All the latest inspiration, tips and guides to help you plan your next Advnture!
Former Advnture editor Kieran is a climber, mountaineer, and author who divides his time between the Italian Alps, the US, and his native Scotland.
He has climbed a handful of 6000ers in the Himalayas, 4000ers in the Alps, 14ers in the US, and loves nothing more than a good long-distance wander in the wilderness. He climbs when he should be writing, writes when he should be sleeping, has fun always.
Kieran is the author of 'Climbing the Walls', an exploration of the mental health benefits of climbing, mountaineering, and the great outdoors.