Hydration packs vs water purification
It's a classic backpackers dilemma: should you carry, boil or purify your water?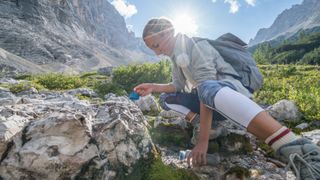 (Image credit: Getty)
When you head out on a backpacking adventure, there are certain essential items you must take with you.
No matter if you're going for one night or one week, you'll need to carry appropriate food, camping gear and a bit of extra clothing, such as a waterproof jacket, gloves or a warm hat. Most importantly, you'll also need to have plenty of clean, potable water for drinking.
But with that last requirement, you have three distinct options: carting copious amounts of water with you; boiling water from a stream, spring or other fresh water source; or using a purifying or filtering system to cleanse water for drinking. On many backpacking outings, you will need to consider a combination of all three options.
Let's take a look at them.
Carrying your water
Remember, water is the heaviest thing you'll carry and the longer you're backpacking for, the more you'll need in your hydration bladder. Studies have shown that adults should drink between three and four litres of water every day, even if they're not walking along trails.
That means you will either need to have a lot of water with you (with a hydration pack or similar), or have the ability to refill your hydration reservoirs from potable water spigots or purchase more at resupply stops.
If you're going out for an overnight trip, you can probably manage to carry what you need. But if you're planning to be out there for longer, you really need to strategize where and how you can refill.
Boiling your water
The simplest way to purify water from natural water source is to boil it for at least a minute on a portable stove. (It will take up to 3 minutes to boil it at higher altitudes.) The only disadvantages of boiling water are that it takes time to heat and cool the water and it's difficult to boil more than 2 litres of water at a time. Plus, boiling water requires that you pack enough fuel canisters to handle all of your cooking and water purifying needs.
Tip: When camping, or staying in a hut, with a stove or fire – boil an extra couple of litres of water before going to bed, pour it into a Nalgene (or similar) bottle, and you'll have drinking water for the next day. If the nights are cold, you can (with care) use the bottle as a sleeping bag warmer before you get into it (be sure to let the steam escape for a while before closing the bottle).
Cleansing your water
There are numerous types of water purification and filtering systems made for backpacking and camping that use chemicals, activated carbon or ultraviolet light to cleanse water for drinking purposes. Water filters physically strain out bacteria (E. coli, Salmonella, Campylobacter and Shigella) and protozoan cysts (Cryptosporidium and Giardia lamblia) that can cause illness when ingested.
Water purifiers also eliminate viruses that are too small for most filters to catch. Some systems are as simple as a straw – for example LifeStraw – while others include hand-activated pumps.
Each of those filters and purifiers has pros and cons when it comes to ease of use, efficacy and speed of cleansing, so make sure you understand your specific needs based on the trip you have planned.
All the latest inspiration, tips and guides to help you plan your next Advnture!
Brian is an award-winning journalist, photographer and podcaster who has written for Runner's World, The Times, Outside, Men's Journal, Trail Runner, Triathlete and Red Bulletin. He's also the author of several books, including Kicksology: The Hype, Science, Culture and Cool of Running Shoes. He lives in Boulder, Colorado, and loves to run, bike, hike, camp, ski and climb mountains. He has wear-tested more than 1,500 pairs of running shoes, completed four Ironman triathlons, as well as numerous marathons and ultra-distance running races.