Jetboil vs MSR Windburner: which is the right camping stove for you?
Jetboil vs MSR Windburner: The leading all-in-one camping stoves go head-to-head – should you opt for the MiniMo or the Windburner?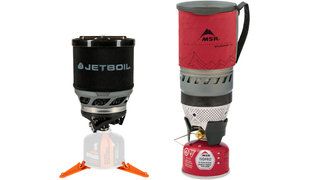 (Image credit: Jetboil, MSR)
It's here. Jetboil Vs MSR Windburner: the clash of the stove stalwarts, the best of the boilers, the captains of campsite cooking. Who will emerge victorious?
When it comes to selecting an all-in-one cooking system for camping and backpacking, Jetboil is the biggest name in the game. Their wide range of gas-powered stoves have been used on adventures across the globe. But MSR's expedition-proven camping stoves are just as highly regarded. The brand's answer to the all-conquering Jetboil is the Windburner.
Which of these premier camping stoves should you take on a long expedition? Which one works best at the campsite? Here we're going to pit the Jetboil MiniMo up against the MSR Windburner, comparing performance in all the key categories. There's no better or more comprehensive guide out there for finding the best all-in-one camping or backpacking stove for you.
The first thing to say is that Jetboil's range of all-in-one cooking systems is very extensive, with a wide range of choices. There's the Zip, the MicroMo, the very popular Flash, the MiniMo and the Sumo. For us, however, when it comes to choosing an all-rounder that's perfect for stashing in your best hiking backpack on an expedition, the MiniMo is the pick of the bunch. This is because of the way it balances weight and pack size with boiling and cooking versatility,
MSR's all-in-one stove range is rather more streamlined. Your choices are the Windburner, the Windburner Duo or the Reactor. The latter is available in a number of sizes and is a tried-and-tested design that's optimized for high altitude and cold weather expeditions. It's probably overkill for most campers and backpackers, however, which is why we'd look to the two Windburner options for the majority of users. The Duo comes with a large 1.8-liter pot that is a great option if cooking camping meals for two to three buddies. However, it's bulkier and heavier than the Windburner, which is a neat and slim personal cooking system that – at a push – will work for two people.
JetBoil vs MSR Windburner: price
All-in-one or personal cooking systems are typically more expensive than simple ultralight backpacking stoves. On the other hand, bear in mind that the MiniMo and the Windburner are bundled with pretty much all you need to get out there. With modular systems, you'll also need to buy a cooking pot and maybe a bowl too, not just a stove, which adds to the overall cost. Due to the closed-head burners and integrated pot designs, all-in-one cooking systems are also usually more efficient than most other stoves, meaning they'll boil water and cook food more quickly, using less gas.
When it comes to recommended retail prices, the Jetboil MiniMo is priced at $150 (US)/£160 (UK). The MSR WindBurner is a bit cheaper in the UK (£135) but exactly the same in the US ($150). Shop around, however, and it is possible to pick them up for far less.
VERDICT
The MSR Windburner wins by a whisker in the UK, though real-world prices are largely the same.
JetBoil vs MSR Windburner: design
Jetboil's neat and stylishly designed MiniMo consists of a 1-liter (33.8 fluid oz) burner pot with a patented 'Fluxring' heat exchanger at the base. This is protected in transit by an integrated plastic cup, which slots onto the bottom of the pot. The MiniMo's burner head nestles neatly inside the pot and is supplied in a protective fabric pouch. You also get a folding pot support that enables the stove to be used with other cooking equipment in the Jetboil range and even with other camping utensils. There's a translucent plastic lid with a pouring spout and a series of perforated holes to make it easy to drain pasta or noodles. The lid has a triangular holder that houses a gas canister stand, which will fit all common sizes of butane-isopropane fuel canisters. Unlike the Flash or the Windburner, there isn't quite enough room to nestle a canister inside the pot with the other components though.
The MSR Windburner is similarly neat and tidy, with a burner pot that is slimmer and taller than the MiniMo but has the exact same capacity. It has a heat exchanger style base that is more enclosed than the Jetboil design. There's a measuring cup/bowl that, just like the MiniMo, slots onto the base of the pot. It's made from a slightly more pliable plastic than the Jetboil version, which seems less brittle but is also thinner and more likely to deform. The burner head itself is considerably larger and heavier than the Jetboil. It has a longer flame adjustment, which enables you to keep your hand further away from the burner. On the other hand, it lacks Piezo ignition, so you'll need an external source to light the stove (either a firesteel, lighter or matches). Arguably, you'd likely be carrying one of these anyway – so it's a minor negative, and in any case, our experience is that Jetboil's Piezo system is so delicate that it invariably breaks after a month or two of use. The issue is that the tiny sparking filament inevitably gets brittle from prolonged exposure to heat and soon snaps.
The Windburner is also supplied with a gas canister stand and a transparent plastic lid with pouring and draining spouts. It's easier to see through than the MiniMo's lid, which is great when you need to check whether your water has boiled. There's no protective pouch for the burner head, though there is a small fabric swatch to protect the inner pot from scratches when everything is stowed away. One major plus is that a small (100g/3.5oz) canister fits inside the Windburner.
When it comes to stability, the squat design of the MiniMo makes it more sturdy than the taller Windburner. The MSR Windburner's pot employs a similar twist-and-click system to attach it to the burner head but, we have to say, it is far quicker and easier to align than the MiniMo's as it has multiple locking notches whereas the Jetboil MiniMo has only two, so you need to line it up carefully.
VERDICT
Overall, though it's a close-run thing, we prefer the design and build quality of the Jetboil, which seems to use slightly superior materials, though we do prefer the Windburner's secure and easy to use locking mechanism when attaching the burner to the pot. The Jetboil's burner head is also lighter and more compact yet has built-in Piezo ignition (although the Piezo design is a little problematic in the long-term). On the other hand, the fact that a small gas canister nestles inside the Windburner pot design makes for a very neat package.
JetBoil vs MSR Windburner: features
The MiniMo's burner pot has a neoprene sleeve for enhanced efficiency, which also does a nice job of protecting it from scratches and dings. Unlike the Flash, it lacks a color-change heat-indicator to tell you when your water has boiled, which is a downside. On the other hand, the MiniMo pot has a very sturdy folding handle. This is a major plus in our eyes. In fact, it's a stand-out feature compared to the Flash in the Jetboil range, which has only a flimsy fabric handle. The MiniMo's wide plastic measuring cup is graduated to 300ml (10 fl oz) and could also be used as an eating bowl if you were really looking to minimize weight.
The Windburner pot has a wider range of graduations, making it simple to measure out liquids. Externally, there's a plastic and fabric sleeve with an integrated handle, but it's trickier to use than the sturdier Jetboil design. Nor is the sleeve removable, which makes it awkward to clean the pot should your cooking water boil over. There's a measuring cup/bowl that, just like the MiniMo, slots onto the base of the pot. This is graduated to 360ml (12 fl oz). It's made from a slightly more pliable plastic than the Jetboil version, which seems less brittle but is also thinner and more likely to deform.
Both pots have a nominal 1-liter capacity, though in use the max fill line for the MSR Windburner is just over 600ml (20 fl oz), which is the maximum amount of water you can safely boil in one go. The Jetboil MiniMo is much the same, though the wider pot means you can fill it a little higher, but not much. The design is slightly bulkier but also more versatile, with a better sleeve and handle than the Windburner.
When it comes to simmer control, the MiniMo wins out over the Windburner. It has much more precise adjustment, making cooking much easier. Though it is possible to cook simple foods with the Windburner, it is really optimized for boiling water quickly rather than simmering.
Unlike Jetboil, MSR do not supply – or even manufacture – a pot stand for the Windburner. If you want to use it with cookware other than the supplied 1-liter vessel, you'll need to select a Windburner-compatible pot or pan from the MSR range. This arguably makes it a little less versatile than the Jetboil.
VERDICT
With a slightly larger practical capacity and a wider pot that makes cooking easier, plus improved simmer control, we think the MiniMo offers a more versatile set of features than the Windburner. It also has a better external sleeve and handle, as well as a pot support that makes it possible to use a wider range of cookware with the burner head. On the other hand, MSR has thought of a couple of great features that are lacking in the Jetboil design, such as better graduated measurements on the inside of the burner pot, and the longer flame adjustment handle for improved safety in operation.
Jetboil vs MSR Windburner: performance
Both the MiniMo and Windburner are well-known for their fast boil times, meaning you can brew up a coffee for your hiking flask in no time at all. On test, in no-wind conditions, we achieved the following results (using two new 100g Jetboil Jetpower and MSR Isopro gas canisters respectively):
Jetboil MiniMo 1:59 minutes to boil 500ml (17.6 fl oz) of water
MSR WindBurner 2:16 minutes to boil 500ml (17.6 fl oz) of water
In windier conditions, both stoves worked more effectively than a typical backpacking stove and pot combination (we compared them to a Snow Peak Giga Power 2.0 stove as a 'control'). That said, of the two, the WindBurner's almost fully enclosed design made it less susceptible to gusts of wind than the Jetboil. The flip side, of course, is that not being able to see the flame makes it a little tricky to cook on the MSR stove in terms of adjusting flame size and power.
When it comes to efficiency, we found the Jetboil MiniMo to be marginally better on gas consumption – having weighed both canisters before and after use and comparing the results.
VERDICT For straight-up boil times, the Jetboil MiniMo wins, though there is very little in it. In real-world conditions with a breeze, the playing field is levelled in terms of both speed and efficiency. We'll have to call it a draw.
Jetboil vs MSR Windburner: weight and pack size
All in, our test samples of the two stoves weighed in at 474g (1lb 0.7oz) for the MSR Windburner and 492g (1lb 0.8oz) for the Jetboil MiniMo. That with all the elements included with both stoves, though without the weight of a gas canister. So, the MSR stove is slightly lighter, although it has fewer components – no fabric pouch and no external pot support. If you don't need to pack the MiniMo's pot support, which weighs 35g (0.8oz), the Jetboil becomes the lighter option.
The MSR Windburner is the clear winner when it comes to overall pack size, with packed dimensions of 175mm/6.89in (height) by 100mm/3.9in (width). The Jetboil MiniMo is shorter but wider, with measured dimensions of 147mm/5.79in (h) by 107mm/4.21in (w) – though the MiniMo's folding handles protrude beyond those dimensions slightly, making it even wider still. Though those differences are small, it makes the Windburner noticeably more packable, and easier to slide in a rucksack. You could even stow it in a side pouch if needed.
VERDICT
For portability, the MSR Windburner beats the MiniMo. It is slightly lighter too, although you can leave the MiniMo's optional pot support behind to drop trail weight.
Jetboil Minimo vs MSR Windburner: overall verdict
Picking an overall winner from these two superb stoves is a difficult task. They're both great options when it comes to choosing a camping stove. Our personal favourite is the Jetboil MiniMo, largely due to its more versatile design, thanks to a wider pot and better simmer control that makes cooking on the trail a little easier.
However, if you're planning a backpacking adventure and looking for a compact all-in-one system that will simply boil water quickly and consistently in varied conditions, we'd opt for the Windburner – which is also slightly cheaper (depending on where you are). It's more packable and neatly stows a 100g canister in the top of the burner pot.
For our money, it is also a better pick for that sort of use than Jetboil's direct rival, the Flash, which has even faster boil times but is far more susceptible to windy conditions, which greatly detracts from its fuel efficiency. The Flash also has an unwieldy, flimsy handle and a delicate Piezo ignition system that is prone to breakage (a common symptom of all Jetboil stoves, in our experience).
An outdoors writer and editor, Matt Jones has been testing kit in the field for nearly a decade. Having worked for both the Ramblers and the Scouts, he knows one or two things about walking and camping, and loves all things adventure, particularly long-distance backpacking, wild camping and climbing mountains – especially in Wales. He's based in Snowdonia and last year thru-hiked the Cambrian Way, which runs for 298 miles from Cardiff to Conwy, with a total ascent of 73,700 feet – that's nearly 2½ times the height of Everest. Follow Matt on Instagram and Twitter.
All the latest inspiration, tips and guides to help you plan your next Advnture!
Thank you for signing up to Advnture. You will receive a verification email shortly.
There was a problem. Please refresh the page and try again.