Best camping utensils: the essential tools you need to create a mobile kitchen cabinet
Making sure you pack the best camping utensils can make camp cooking so much easier and enjoyable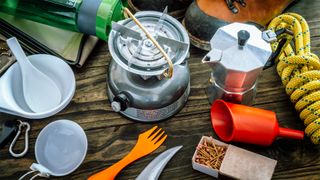 (Image credit: Getty)
Compared to many other pieces of kit, carrying the best camping utensils brings benefits out of proportion to the few ounces they add. Indeed, time spent in camp becomes far more pleasurable when you're equipped with a few kitchen extras to make cooking easier, and dining more comfortable.
Plenty of adventurer racers, lightweight-obsessive expeditioners, mountaineers and masochists complete arduous trips with nothing more than a spoon and one small pot to use as a combined cooking pan, eating bowl and drinking mug. Which is fine if you don't mind drinking tea that tastes of freeze-dried chicken korma.
But it doesn't have to be that way. If you're hiking and concerned about weight, consider pots, cutlery and mugs made from titanium – it's light, strong and fireproof, and its greater expense is soon justified if you use items regularly. Likewise, new materials and technology have improved functionality while cutting weight in everything from the best camping stoves to coffee-makers. You don't have to take the kitchen sink, (though the few ounces that a folding washing-up bowl weighs definitely earns it a place in my batterie de cuisine), but rather add those items that suit the kind of meals you prepare and how you like to eat.
And, finally, choose your campsite well and you could end up with a granite counter or a floating kitchen island formed from hardwood timber, just like the fanciest of indoor kitchens.
The best camping utensils
1. Pots and pans: MSR Titan Kettle
Whether used as a one-pot kitchen or as the foundation of a more ambitious cooking system, a billycan style 'kettle' like the Titan is the most versatile shape. Depth and stability means it can be used for boiling water, heating pre-packed food and making stews and soups on all kinds of stoves. Around three-quarters of a litre is a good size to cook up a complete meal or brew coffee yet still be used as a mug (albeit a large one). Titanium means minimum weight (118g/4.2oz) while being sturdy enough for use on open fires. Choose other kitchen items carefully and you should be able to nest another pot, a mug and even a small stove inside. The lid makes a big difference in using fuel efficiently.
Tip: A pot bag will keep soot and grease from transferring from pans to other kit on the move. A cotton bag can also double as 'pot glove' for handling hot pans, but don't use nylon bags near heat.
2. Frying Pan-plate: Toaks Pan-130
An al fresco full-fry-up breakfast is surely one of the major reasons to go camping, and billycan style pots for all their merits are frustrating to fry things in. A shallow pan, with folding handles, is the best design for your 'second' pot, and also doubles up as a plate or bowl.
Tip: If you cook on open fires is to rub the bases of pots and pans with a bar of soap or small amount of washing up liquid prior to use to make them a doddle to clean.
3. Spoon: Sea to Summit Alphalight Long-Handled Spoon
While a spoon and a penknife (and your fingers) will allow you to eat pretty much anything you can come up with in camp – even spaghetti, if you break it into spoon-sized lengths before cooking – a long-handled spoon is especially useful. Made from hard-anodised aluminium to avoid taste or leaching from the metal, this one from Sea To Summit has a handle long enough to comfortably stir a 'kettle' or JetBoil pot, and as a bonus the extra length allows you to eat directly out of the pan or even from a freeze-dried food packet.
4. Cutlery sets: Quechua Folding Spoon And Fork
For those keen to keep up standards outdoors there are classic clip-together Boy Scout-style knife, fork and spoon sets, whilst various mongrel 'spork' and 'foon' designs combine the working benefits of both forks and spoons into one piece of cutlery – some also boast a serrated knife edge, making it, I assume, a 'fookn'. Folding spoons and forks are the most comfortable to use for eating while being able to half their length means they can be stored inside a cooking pot, keeping the 'kitchen' in one unit. Metal (stainless steel in the Quechua's case) is stronger, more versatile and easier to clean than plastic.
Tip: Japanese campers carry neat chopstick sets in travel boxes, which is a simple, light and easy-to-clean option if you know how to wield them.
5. Knife: Zyliss Comfort Paring Knife
Though you can use your pocketknife, a dedicated small, sharp food knife is a useful refinement (choose one that folds or has a sheath, to avoid damaging packs and other kit). Given that a lot of camp eating involves getting into packaging and then spreading stuff, the pointier and wider the blade the better. The Zyliss is an actual kitchen knife but practical for camping as it has a Japanese stainless steel 3¾ blade with a protective blade guard.
Tip: A chopping board is usually easy to make from a split shingle of non-poisonous wood, or use a plastic storage-box lid.
6. Multi-tool: Leatherman Juice CS3 Multitool
The right multi-blade tool can solve all kinds of camp cooking (and other) problems, whether it's repairing a stove or using the pliers to pick up a too-hot pan, but it can also duplicate other bits of kit. Though corkscrews and tin-openers seem to be going the way of the typewriter, they're not dead yet and when you need to get into a can or a bottle or even particularly tough plastic packaging the 'kitchen' focused tool of the Leatherman Juice is just what's needed.
7. Coffee making: Aeropress Go
The outdoors is no longer a barista-free area if you're prepared to give backpack space to all the coffee grinders, camp-stove 'moka' pots and milk frothers aimed at the hiking market. (All a long way from 'cowboy coffee', made with a handful of grounds thrown into a billycan of boiling water, and refined by adding crushed egg shell to sink the 'bits' and moderate the bitterness.)
For years my lightweight simple method has been to employ a reusable 'coffee sock' cloth filter that can be hung in a mug, but camping coffee aficionados seem to agree – for once – that the AeroPress Go provides the best coffee for the simplest and lightest bit of kit. Instant coffee is, of course, not an option.
8. Mugs: LiveVenture Titanium Mug
A trusty mug can be one of the most personal items in a person's pack. I've been using my LiveVenture titanium mug daily, indoors and out, for over eight years; it feels like part of me. Plastic and insulated mugs can all be favourites, but a metal mug allows the option for using it on a stove for a brew. Get one big enough and it can also do as a bowl. For a 500-mile winter walk across Europe I used the LifeVenture mug as my only cook pot and mug; its 400 ml capacity was just a bit small at times, but at 73g it certainly kept weight down. And don't forget that – when Covid-19 measures ease again – the discounts take-away cafes give for using your own mug can pay for the mug itself in a few weeks.
9. Water canteen: Kleen Canteen Insulated Reflect
Stainless steel drinking bottles are a better than all but the best food-quality plastic versions, being tougher and with less background taste. Bear the extra weight of an insulated model like the pint-size Kleen Reflect and you can keep drinks cool for 20 hours or so, meaning you can have walked a long, long way from the last fridge and still have a cold drink out on the trail.
10. Kitchen Sink: Fox Outdoor Folding Bowl
Various origami, collapsible, telescopic and inflatable bowls and buckets you can use for washing up or other purposes are available from brands like Sea To Summit, but attractive for its retro simplicity is the proofed-fabric folding bowl by Fox Outdoor. It seems that you can take the kitchen sink with you. And it'll only cost you four ounces in added weight.
All the latest inspiration, tips and guides to help you plan your next Advnture!
After a wild childhood in west Cork, Jasper Winn began embarking on long cycles, walks, horse journeys and kayak trips across five continents – adventures he's decanted into books, magazine articles, radio and television documentaries. Keen on low-tech but good gear, Jasper is an advocate of slow adventures by paddle, pedal, saddle, boot and sail. He has circumnavigated Ireland by kayak and cycled across the Sahara. Twice. Having ridden north-to-south across Algeria he discovered the only way to get back was to turn round and pedal north again.