Least crowded National Parks: 15 of the best parks for hiking in solitude
Get off the beaten path with the least crowded National Parks and discover some of the country's most rugged and best-kept adventure secrets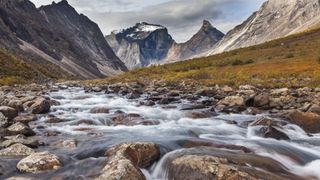 (Image credit: Patrick J. Endres)
We all know which are the most popular National Parks – Great Smoky Mountains, Yellowstone and Rocky Mountain to name a few – but what are the least crowded National Parks? After all, you visit National Parks because you love nature and by default means you are probably seeking solitude and prefer to avoid crowds, but many National Parks see millions of visitors every year, with Great Smoky Mountains topping out at over 12 million annual visits. For this article, we took a look at the National Parks Service's annual visitation numbers to discover which are the least crowded National Parks and we discovered plenty of off-the-beaten-path adventures you'll never forget.
There's nothing quite as disappointing as finally arriving at an iconic landmark such as Yosemite's tunnel view, only to discover that it's absolutely swarming with tourists. The most crowded National Parks definitely boast stunning natural scenery, but they're also popular because they're easier to access, whether that means highways leading to the park entrance or lodging suitable for families. The least crowded National Parks aren't necessarily any less stunning, they're often just a bit more rugged.
With 63 National Parks in the US, we figured there have to be plenty that don't enjoy the (well-deserved) celebrity of the Grand Canyon but still have plenty to offer people who love the outdoors. For this list, we've chosen 15 National Parks that see annual visitorship under 350,000 – or less than a thousand visitors on average each day – and are also great for hiking.
While there are some National Parks on our list that definitely involve some serious commitment and a high octane sense of adventure just to reach, you'll be surprised to discover that there are plenty here that you can easily reach by road and are only a few hours from major popular centers. Our list of the least crowded National Parks will have you ready to dust off your hiking boots, load up your backpack and hit the road less travelled for some outdoor adventure.
What are the least visited National Parks?
1. Gates of the Arctic, Alaska
Gates of the Arctic in northern Alaska is the country's least visited National Park with under 3,000 visitors in 2020 and one of the most remote and rugged. The vast park lies entirely north of the Arctic Circle and the landscape there is truly untouched, without even roads or trails to explore the glacier-carved valleys where caribou roam and the sun never sets in summer. Just getting to the park requires commitment as you need to either fly in or hike in. Backpacking here requires strong wilderness skills, stamina and experience as you will be relying on compass readings and topographic maps to navigate and will often be hiking in stream beds and wildlife trails. It will, however, be a once in a lifetime backcountry hiking experience.
2. Lake Clark, Alaska
Situated in southwest Alaska, Lake Clark is no more easily accessible than Gates of the Arctic, requiring a small plane to reach it. This usually keeps annual visitation below 5,000 which means if you want to explore its smoking volcanoes, stunning coastline and craggy peaks, you'll have the wilderness to yourself. Lake Clark is home to the world's largest sockeye salmon fishery as well as the native Dena'ina people and grizzly bears that feed on them. The extensive Tanalian Trail system offers divine wilderness day hiking and backpacking opportunities.
3. Isle Royale, Michigan
Isle Royale is an island in the middle of giant Lake Superior that you can only reach by boat or small plane and is only open from April to October. The island is 45 miles long and 9 miles wide and surrounded by 400 smaller islands. A three-hour ferry ride gets you to this rugged island where you can explore some 170 miles of hiking trails that range from day hikes to a circumnavigation of the entire island which takes two weeks. Hiking here doesn't just involve pristine shoreline – you'll also take in swamps, boreal forests, glacial lakes and several small mountains.
4. Wrangell St Elias, Alaska
Not only does this vast wilderness span over 13 million acres, making it the country's largest National Park at six times the size of Yellowstone, its landscape rises from the sea all the way up to 18,008ft offering boundless opportunities for adventure. Major peaks, glaciers, rivers, wildlife and coastline abound here, while there is even one active volcano, Mount Wrangell. Unlike some of the other Alaskan Parks on this list, Wrangell St Elias can be reached by road, albeit via a long drive. Once you arrive however, you can find spectacular day hikes in the Nabesna Road area up in the northern section of the Park.
5. North Cascades, Washington
North Cascades is less than a three-hour drive from Seattle, but still sees only around 30,000 visitors per year compared to nearby Olympic's hefty 2.5 million. North Cascades boasts jagged peaks, glaciers, forests and, of course, cascades galore. Hiking here ranges from short, scenic strolls with leaping salmon to high elevation hauls and backpacking trips that all deliver ample solitude not too far from the city lights.
6. Denali, Alaska
Denali National Park preserves North America's highest mountain in addition to six million acres of surrounding wilderness in Alaska's interior. This Park can be reached by road and train as well as small plane and despite being popular for hiking and mountaineering, it doesn't have a lot of established trails. You can explore some short trails near the park entrance, however, or if you're experienced in the backcountry, consult a park ranger about taking your adventures off trail which comes highly recommended. The terrain encompasses tundra, glaciers and forests while hiking Denali itself is a two-week expedition.
7. Congaree, South Carolina
Down in South Carolina along the Congaree River, this Park protects the largest portion of old-growth floodplain forest remaining in North America and the tallest trees in the eastern United States. The Boardwalk Loop Trail is the main hiking attraction, taking you on a raised wooden path through the swamp and diverse forest, but you can explore deeper into the backcountry with trails made for tree and bird viewing.
8. Great Basin, Nevada
Great Basin is a desert Park in eastern Nevada near the border with Utah and protects Nevada's second highest mountain, Wheeler Peak. Hiking here covers lots of forested trails as well as plenty of significant high altitude hiking and if you're camping here, you'll enjoy some incredible star gazing with exceptionally dark night skies owing to the Park's remoteness. Make sure to schedule a guided tour of the remarkable Lehman Caves while you're here too.
9. Guadalupe Mountains, Texas
In northern Texas, this National Park delivers the rugged remoteness you'd expect but also packs in a few surprises. In addition to the starkly beautiful desert landscape and canyons you associate with rural Texas, this Park protects the four highest peaks in the state and a fossilized coral reef from the Permian era. Over 80 miles of hiking trails here include mellow desert strolls, strenuous mountain climbs and the lack of crowds.
10. Pinnacles, California
This mountainous National Park in Central California is popular with rock climbers who are drawn to the massive rock monoliths that are leftovers from an extinct volcano. Hikers can also enjoy these rocks spires as well as breathtaking Talus Caves on over 80 miles of trails.
11. Carlsbad Caverns, New Mexico
The true appeal of Carlsbad Caverns are its 119 caves, the longest of which is over 120 miles. In addition, you can explore this park above ground with hiking trails that take you across the ancient sea ledges and deep rocky canyons of the Chihuahuan Desert and the 100 mile Guadalupe Ridge Trail.
12. Voyageurs, Minnesota
Voyageurs protects four tranquil takes up near the Canadian border and while it's most popular for water sports, its hiking trails range from five day backcountry thru-hikes to short day strolls where you can admire rocky ridges and wetlands.
13. Redwood, California
Though it's one of the best-known National Parks, Redwood remains one of the least visited owing to its remote location in northern California, close to the border with Oregon. This Park encompasses about 139,000 acres and protects almost half of all remaining old-growth coastal redwoods.The best hikes in Redwood National Park take you among temperate rainforests, ancient fern-lined canyons, waterfalls and even along rugged coastline.
14. Mesa Verde, Colorado
Mesa Verde is certainly Colorado's most unique National Park, and while it's home to deep canyons and spectacular vistas, the main selling point is the more than 600 well-preserved cliff dwellings built by the Ancestral Puebloan Indians between 650 CE and the 12th century then abruptly abandoned for reasons unknown. This UNESCO heritage site is the largest archaeological preserve in the United States and visitors can learn about how these ancient people lived in sheltered alcoves of the canyon walls. We recommend visiting it as part of a Colorado road trip taking in several other National Parks on the way.
15. Black Canyon of the Gunnison, Colorado
This National Park is sometimes described as the Grand Canyon in miniature, but don't let that description fool you into thinking it's small. This 48-mile long canyon plunges over 2,000ft into the earth and is easily big and deep enough to be vertigo-inducing. Carved out by the Gunnison River, and time, this near-vertical canyon is so-named because it is so deep that parts of the river receive no more than 33 minutes of sunlight per day. Fourteen miles of the canyon were declared a National Park in 1999 offering visitors the chance to marvel at geological history like the 2,250ft Painted Wall, the tallest sheer cliff in Colorado as well as activities like hiking, rock climbing, kayaking and camping. The busiest National Park on our list, this Park still only sees a tenth of the visitors of parks like Yellowstone and Zion.
How do you avoid crowds in National Parks?
Just because you want to avoid crowds doesn't mean you should have to miss out on all the most popular National Parks. After all, everyone should get to see Old Faithful and El Capitan in their lifetime. The good news is that there are ways to see the most iconic sights without crowds. Here are a few of our top tips for avoiding crowds in National Parks:
Visit during the week
National Parks see most of their visitors on Saturdays and Sundays, when most people are off work. If you can, visit during the week and you'll see significantly fewer crowds.
Go in winter
Most National Park visitorship happens during the summer months, when the weather is generally most hospitable to hiking and camping and people are on vacation. However, there are lots of National Parks that are great to visit in winter when there will be far fewer people around. Check out our list of the best National Parks to visit in winter to discover where you can take advantage of temperate conditions.
Hike early
The old adage is true – the early bird really does get the worm. Lots of people who love the convenience of National Parks also take their time over breakfast and getting the family together for the day. While they're doing that, you can plan to be up and out early and enjoy quieter trails and cooler temperatures.
Go backpacking
National Parks always have trails that are more popular. These usually feature incredible scenery and are easier to access. If you opt for trails that are more remote and perhaps more difficult, you're likely to encounter significantly fewer people. One of the best ways to do this is to go on a backpacking trip instead of taking day trips.
All the latest inspiration, tips and guides to help you plan your next Advnture!
Julia Clarke is a staff writer for Advnture.com and the author of the book Restorative Yoga for Beginners. She loves to explore mountains on foot, bike, skis and belay and then recover on the the yoga mat. Julia graduated with a degree in journalism in 2004 and spent eight years working as a radio presenter in Kansas City, Vermont, Boston and New York City before discovering the joys of the Rocky Mountains. She then detoured west to Colorado and enjoyed 11 years teaching yoga in Vail before returning to her hometown of Glasgow, Scotland in 2020 to focus on family and writing.