Watch your step, hikers – it's migration season
Birds, elk and deer are on the move at this time of year – here's why it's important to heed those trail closures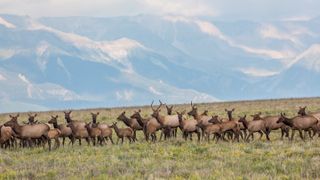 (Image credit: Getty)
If you're anything like me, springtime is absolute paradise for getting out in the woods for some adventures. With warmer weather comes the return of so much wildlife – the trees are alive with a symphony of tweeting birds, chipmunks scamper between the trunks and the bears are waking up and stretching. Even though the weather at this time of year can be blustery, I can't wait to pull on my hiking boots or trail running shoes each day and get out there.
But despite your enthusiasm for communing with the chorus call of nature, this is a time to be extra careful on your hikes and runs. Spring is one of two migration seasons for wildlife – the other being fall – when all manner of animals take a long walk or flight to return to their summer home. If you, like me, live in the northern hemisphere, the skies will be full of birds traveling hundreds, or even thousands, of miles from their winter down south. On the way, many will stop off for breeding and nesting, and it's not uncommon to see signs advising temporary bans on rock climbing or advising hikers to stay on the trail due to nesting.
If you live somewhere like the Rockies, herds of elk and deer that have been grazing down low will start traveling up into the mountains again, as melting snow means food will become available and they can get themselves some peace and quiet. Trails you love might be closed to foot traffic at this time of year.
Why are the trails closed during wildlife migration?
The warnings to avoid certain areas might seem like mere suggestions to you – after all, you can't see any elk around so what can it possibly matter if you take a short jaunt on your favorite trail? And don't birds nest up in the trees anyway? As long as you're not planning on climbing trees, surely you can talk a quiet quiet forest stroll? Of course, it really does matter and it is important that you heed all closures and respect these vital migration corridors. Yes it's annoying that when the milder weather finally rolls around, many of your favorite trails are closed, but it's all to protect wildlife.
Deer and elk are weak after a long winter and it's important for them to be able to feed in the spring, which they won't if you're tramping through the undergrowth making them nervous. Further, human interaction is extremely stressful for elk, which may be calving in the spring and your presence can cause the new mothers to separate from their babies. As for the birds, not only can your presence disturb them up in the trees, you might be surprised by how many birds nest on the ground – many sparrows, woodcocks, buntings and meadowlarks lay their eggs in grass or low bushes, making their eggs vulnerable to your hiking boots.
Don't worry – migration season doesn't last too long, and by summer you'll be free to roam everywhere again, but for now, please follow these simple trail rules to keep wildlife moving:
Observe all trail closures and be willing to turn back if you come across a nesting area.
Stay on the trail – don't cut switchbacks and try to reduce toilet breaks to avoid trampling a nest.
Keep your distance if you observe nesting birds – but bring your binoculars to enjoy some bird watching from a safe distance.
Avoid making excessive noise when you're out on the trail (don't play amplified music for starters).
If you hike with your dog, keep fido on a leash at all times.
All the latest inspiration, tips and guides to help you plan your next Advnture!
Julia Clarke is a staff writer for Advnture.com and the author of the book Restorative Yoga for Beginners. She loves to explore mountains on foot, bike, skis and belay and then recover on the the yoga mat. Julia graduated with a degree in journalism in 2004 and spent eight years working as a radio presenter in Kansas City, Vermont, Boston and New York City before discovering the joys of the Rocky Mountains. She then detoured west to Colorado and enjoyed 11 years teaching yoga in Vail before returning to her hometown of Glasgow, Scotland in 2020 to focus on family and writing.