What is nature journaling – and how do you do it?
Nature journaling is a time-tested and effective tool for sharpening your observation skills, and promoting health and wellbeing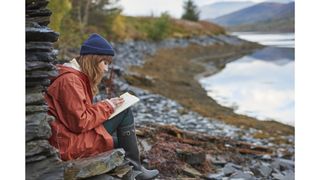 (Image credit: Plume Creative)
A centuries-old practice of observing and recording nature called nature journaling is now being recognized for its important health benefits.
Though you might already be practised in more conventional activities such as hiking or gardening to get your nature fix, there are an ever-growing number of ways to interact with nature that are seen by experts as health-bestowing, ranging from forest bathing to nature journaling.
So what is nature journaling, and how do you do it? In this article we'll talk you through what it is, its benefits and how to get started.
What is nature journaling?
Nature journaling is the practice of recording your observations of nature. It includes both detailed written descriptions as well as illustrations, and can cover any aspect of the natural world, from a sunset or the wind in an aspen grove to animal habits and plant life cycles.
Nature journaling has been around for centuries and is one of the ways we inherit and develop information about the world we live in. You could say that Henry David Thoreau's 1854 treatise, Walden, is one of the best-known nature journals with its vivid depictions of his daily long walks in nature.
Nature journaling can be a simple and effective tool for sharpening your observation skills, and it can also be used as a measure to promote health and wellbeing, allowing you to focus your mind and connect more deeply with the natural world as an antidote to time spent in artificial environments, which has been shown to negatively impact public health.
Best of all, nature journaling is not a VIP-only area for people who are already established writers or artists. Anyone can do it, and reap the benefits. So tuck a notepad and pencil in your best backpack and head outdoors for some nature journaling.
Why should you try nature journaling?
Though the benefits of journaling alone have been widely studied, and – according research from the University of Rochester Medical Center – include decreased levels of stress, anxiety and depression, nature journaling offers the added benefits of spending time outdoors and away from screens.
In our article on green exercise, we discussed the benefits of exercising outdoors, but when you are exercising, you are often moving quickly, making noise that disturbs surrounding wildlife, and may even have headphones jammed in your ears which creates a barrier between you and your environment. In nature journaling, you are in contrast quiet and relatively still. The resulting benefits are that you are able to observe the flora and fauna behaving as it would without your presence–a rare thing according to ecologist and author Paula Peeters. In her book Make a Date with Nature, she explains that through nature journaling, you will often get to observe animal behaviour that very few people get to see: "When you are quiet and still, the animals become less scared, and they forget that you are there."
Further, when you go nature watching, you are able to tune in to the rhythms of nature and become aware of seasonal and environmental changes, which can be quite a departure from the artificial environment of your office where everything stays the same. This can improve your sense of connection to your environment.
Just in the way that meditation focuses your attention, observing and recording nature on paper is an effective tool to draw your attention to what's happening around you and still your fragmented mind as you become immersed in something as simple and vital as a patch of wildflowers or two mountain quails singing to each other.
How do you begin nature journaling?
If you're ready to begin nature journaling, here is a simple exercise we created for you to get started:
1. The first step is to choose a spot in nature that inspires you, like your favorite watering hole or a shaded forest.
2. Next, pack up your equipment. The equipment needed for nature journaling is simple–an unlined pad of paper and a pen or pencil will do. Pack this along with any appropriate outdoors equipment, like hiking boots and a water bottle, and you're ready to go.
3. When you arrive at your chosen destination, turn off your electronic devices. It's important that you are able to be immersed in this experience without interruption–and better for the local wildlife.
4. Pick the object you want to observe and record. Spend a few minutes and try to experience it with as many of your senses as possible. Touch it, smell it and listen to it as well as looking at it (in some instances, like a strawberry patch, you may even be able to taste it).
5. Next, open your notepad and begin to describe your object via each of the senses. Record how it felt to the touch, its aroma, any sounds that it makes and of course how it looks.
6. Next, try your hand at sketching it out. It doesn't have to be perfect or even a recognizable likeness. You might try to draw the entire object, certain small details of it, or a series of events such as a bird moving through different phases of a mating call.
Remember: The most important thing about nature journaling is to have fun. Your journal is just for you, and no one else ever needs to set eyes on it, so write and draw your heart out.
All the latest inspiration, tips and guides to help you plan your next Advnture!
Julia Clarke is a staff writer for Advnture.com and the author of the book Restorative Yoga for Beginners. She loves to explore mountains on foot, bike, skis and belay and then recover on the the yoga mat. Julia graduated with a degree in journalism in 2004 and spent eight years working as a radio presenter in Kansas City, Vermont, Boston and New York City before discovering the joys of the Rocky Mountains. She then detoured west to Colorado and enjoyed 11 years teaching yoga in Vail before returning to her hometown of Glasgow, Scotland in 2020 to focus on family and writing.