6 outdoor photography tips from a pro
We speak to the founder of the Landscape Photographer of the Year competition for his top tips on getting that perfect shot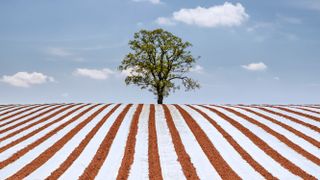 (Image credit: Josh Cooper)
Have you been struggling to properly capture the enchanting dappled light on the forest floor, waves breaking over a rugged coastline at sunrise or the milky way on a clear night? You're not alone. As more and more of us get out into the wild in our hiking boots to soak up nature's majesty, it's normal to want to photograph your adventures, whether it's for your own personal memories, social media or even for a competition. But it's harder than it looks.
Despite technology getting better and better, it can still be tricky to understand aspects of photography like what makes a great composition, never mind the changing light conditions, and often you just end up with a camera reel loaded with thousands of mediocre photos that will never see the light of day. To help you with this conyndrum, we spoke to world-renowned photographer Charlie Waite, founder of the Landscape Photographer of the Year competition, to get some pro tips on how to frame up and shoot your favorite outdoor views with confidence and skill.
1. Photograph how it feels, not how it looks
Most of us get started in outdoor photography using our phones, and when our pictures don't turn out the way the scene looks in real life, we start to wonder if we need to splash out on a conventional point-and-shoot camera. This isn't really the question you need to be asking, according to Waite.
"We need to ask ourselves what a 'real camera' is? The first thing to take place with photography is the wish to 'own the experience' in the form of a photograph and any camera will do this," explains Waite.
What it all comes down to has less to do with the tool at hand and more to do with the level of commitment you bring to the task.
"As some might say, "don't photograph what it looks like; photograph what it feels like'," says Waite.
So the good news is that with the right attitude, a little knowledge and lots of practice, your phone could definitely be sufficient for capturing your outdoor experiences, especially if you're not trying to document a mirror image of what you're seeing but instead trying to capture the way you felt when you saw it. It's like telling a story.
That said, he does admit that an iPhone may not have quite the variety of features to deliver a photograph that matches what you wish to express – when I became obsessed with photographing the moon a few years ago, I soon realized my phone wasn't going to cut it, and upgraded to a Canon Powershot SX500 which met my needs. But your phone can definitely suffice for a lot of natural scenes, so long as you have the right attitude.
2. Find depth in the details
We've probably all been there. You're standing on the summit of a 14er or a Munro with 360-degree views of the surrounding mountains and can't stop snapping. But when you get home, your photographs really don't represent the majesty of what you witnessed up high. They just seem a bit flat. Well, according to Waite, that's because they are.
"It is a question of noticing everything prior to making the photograph. A photograph is two dimensional and with a landscape, depth might need to be introduced," says Waite, who offers the following tips for getting started:
Think about light and the nature of that light.
Look up at the sky and establish where the clouds are (if any) and the position of them.
Look at shadows and highlights.
Try and pre visualize what the photograph will look like at that moment and if need be, wait to see if the lighting can be improved on.
3. Decide what to reveal, and conceal
When it comes to figuring out whether to shoot in portrait or landscape more, it's important to understand that under certain circumstances, your choice might mean that certain elements might get cropped out when it's time to share your image. If you're shooting for a particular platform, like Instagram or your blog, you'll quickly figure out that certain platforms better support one orientation over the other and in that case, choose the best one for the platform.
If you're just curious about whether one is generally better than the other for photography purposes, Waite advises that either can work, but there are some considerations any time you're shooting in portrait orientation.
"If portrait, think about the foreground and don't neglect the need to look at all areas of the photograph to be made. Take your time. A good house rule is to look all around the edges of the frame and omit the redundant elements that you feel are not part of what you saw."
In other words, consider what you want to reveal, and what you'd rather conceal for the purposes of composition.
4. Shoot early or late
If you're usually shooting when you're on a hike in the middle of the day, it might be a bit baffling as to why your images don't look amazing. After all, the light is at its peak so you can see everything clearly and there's no need for flash or bringing lights. But actually, the light could be what's causing the problem.
Years ago, I was the model for Vail's summer campaign and every shoot involved meeting the photographer at 6 a.m. to drive up the mountain and catch the sunrise. It was grueling, especially because no one looks their best that early but also because it was freezing cold, but those photos will always be my all-time favorites because the light was softer and more varied so as not to create awkward shadows and the sky more interesting.
"Often the best time is when you are able to capitalize on shadows to convey dimension," says Waite, recommending that you'll actually often get your best shots earlier or later.
"The mornings or evenings will deliver more probability of shadows."
5. Don't be afraid of the weather
Flash will rarely be required outdoors, and in fact, to capture mood in a photograph, sunlight may not be what you need so much as clouds or even mist. To this end, don't shy away from non-bluebird days and embrace any weather that fits with what your 'story' is.
"Remember that a photograph often needs to express emotion and could be seen as a 'production' made up of multi-dimensional elements which collectively will convey that emotion."
6. Start simple
When it comes to outdoor photography, rarely are you short on inspiration. The question, it seems, is where to begin. Should you try to photograph an entire mountain range or zoom in on a single wildflower? Or what about wildlife? Waite's advice is to start with something you're likely to find on every hike – trees.
"Trees are often a good way to begin and the attraction to trees will amount to their shape and the relationships that they have with one another. Look and absorb all that lies in front of you. Full immersion into the photograph you plan to make and recognition that there is a photograph to be made in the first place."
Enter the Landscape Photographer of the Year 2023 competition
Charlie Waite started the Landscape Photographer of the Year competition 15 years ago to celebrate the UK's most stunning landscapes. Britain's most challenging photography competition sees photographers scaling mountains, wading rivers, battling snowstorms, chasing sunsets and clambering up skyscrapers to capture the most beautiful locations in the UK.
Entries to the 15th edition of the award are currently open for photographers young and old, experienced and amateur, to be in with a chance of being named Landscape Photographer of the year 2023. With a prize fund worth over £20,000, inclusion in a stunning coffee table book and inclusion in a nationwide photography exhibition, photographers have until 31st May 2023 to enter online, with the winning photographers announced at an award ceremony in October. Enter online here: https://www.lpoty.co.uk/competition/rules
All the latest inspiration, tips and guides to help you plan your next Advnture!
Julia Clarke is a staff writer for Advnture.com and the author of the book Restorative Yoga for Beginners. She loves to explore mountains on foot, bike, skis and belay and then recover on the the yoga mat. Julia graduated with a degree in journalism in 2004 and spent eight years working as a radio presenter in Kansas City, Vermont, Boston and New York City before discovering the joys of the Rocky Mountains. She then detoured west to Colorado and enjoyed 11 years teaching yoga in Vail before returning to her hometown of Glasgow, Scotland in 2020 to focus on family and writing.