8 tips for planning a perfect bikepacking route: advice for amazing adventures
Planning your first backpacking break? Here's how to choose where to go, and how to stay on course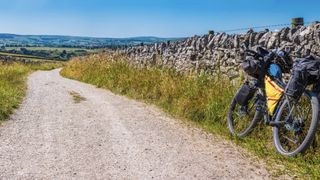 (Image credit: Getty)
Planning a backpacking route is all part of the fun of heading off for a cycling adventure. Where will you go, how far will your bikepacking expedition be, will you include tarmac and gravel and how will you follow the route?
We bring you a step by step guide to planning a bikepacking route.
Where will you go on your bikepacking adventure?
Choose your bike
In the new book Bikepacking Wales by Emma Kingston, the author writes: "The best bike for bikepacking is the one you already have." So, to start with you should aim to choose a route that will suit your bike, whether it's predominantly road or track and gravel or a mixture.
Do some research
There are a range of sources of different places to research ideas for bikepacking routes. You could start on-line with a search for bikepacking routes in the area where you fancy cycling. It could be the UK, or further afield in Europe or worldwide.
There a many books that also suggest different bikepacking routes, such as Bikepacking Scotland and, for routes worldwide, try Grand Bikepacking Journeys.
If you are new to the activity, you might like to join others for bikepacking events and organised guided trips to discover different routes. There are many different companies that offer self-guided bikepacking holidays.
It might be you pick an official waymarked route such as coast to coast across England, the West Highland Way and the Badger Divide in Scotland or one of the many EuroVelo routes across Europe.
Organisations like Sustrans have created and mapped many cycling routes as well.
Also ask friends who you know have enjoyed cycle tours and bikepacking adventures for their advice, or check out long distance routes on platforms such as Komoot.
How far or for how long?
Are you looking for a couple of days away or a much longer bikepacking trip? When planning your route you'll need to think about where you will stay overnight - camping, hostels or hotels – the number of miles you want to cycle each day and the bikepacking bags you'll need.
Another way to plan your bikepacking route is to think: How far do I like to ride in one day, what sort of accommodation do I most like and what bikepacking bags do I already own? This will help you to narrow down the sort of trip to try first.
It's worth planning in some stops at interesting places or attractions along your bikepacking route.
What's the season?
Most people prefer to cycle in warmer and drier weather. This means making a plan for your bikepacking route to take place in the spring, summer or autumn wherever in the world you will be going.
Transport options for a bikepacking route
Think about how you will get to your chosen bikepacking route. The simplest option is to start from home. Or perhaps you'll choose to drive to the start point and do a circular route. If so, think about where will you leave your vehicle while you are cycling.
You could also choose to get the train. Make sure you reserve a space on the train for your bike.
Another option is to take a ferry or fly oversea with your bike. If you plan to fly with a bike it's important you know how to dismantle your bike, pack it in a bike bag and then put your bike back together when you arrive at your bikepacking destination.
Accommodation choices when planning your bikepacking route
There are lots of different options for accommodation when bikepacking. Will you choose to camp at a campsite, sleep in a hostel, bunkhouse, bothy or go for a more luxurious option of a guest house, B&B or hotel?
Whatever your decision – and it might be you mix different accommodation choices – you should make sure that they are cyclist friendly.
Wild camping is perhaps the most flexible option and allows you to make more on-the-spot decisions. This is a great idea for countries, such as Scotland, where wild camping is allowed. Remember to leave no trace when bikepacking.
The accommodation you choose will also help to guide you with your route planning.
How to follow your route
These days, there are plenty of different ways to follow a route. Perhaps you will choose a signposted route and use a map as back up. A paper map is a great idea and there are also navigation apps, such as OS Maps, that you can access on your smart phone.
GPS sports watches and GPS bike gadgets are a great solution, too. You can load GPX files of routes to these gadgets and then use them for turn-by-turn directions. For example, Komoot has made it far easier to get routes on to Garmin devices.
You can also download routes from platforms such as OS Maps, Outdoor Active, Strava and AllTrails.
If friends have enjoyed their own bikepacking routes, ask them for the GPX files, or similar, so you can upload them to your own platforms or devices.
Start short – and increase the bikepacking route distances
The best way to plan a bikepacking route is to start with a shorter trip so you can find out what you like and what you are not so keen on. This way, you can then learn and start to plan adventures that are longer and further afield.
All the latest inspiration, tips and guides to help you plan your next Advnture!
Fiona Russell is a widely published adventure journalist and blogger, who is better known as Fiona Outdoors. She is based in Scotland and is an all-round outdoors enthusiast with favourite activities including trail running, mountain walking, mountain biking, road cycling, triathlon and skiing, both downhill and back country. Her target for 2021 is to finish the final nine summits in her first round of all 282 Munros, the Scottish mountains of more than 3,000ft high. Aside from being outdoors, Fiona's biggest aim is to inspire others to enjoy the great outdoors, especially through her writing. She is also rarely seen without a running skort! Find out more at Fiona Outdoors.