Ridge running a classic mountain route in Scotland
One day and seven Munro summits on the South Glen Shiel Ridge, Kintail, Western Highlands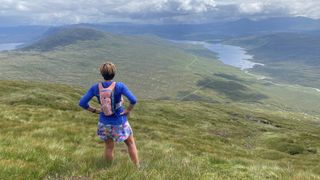 (Image credit: FionaOutdoors)
A spectacular spine of mountains known as the South Glen Shiel Ridge in the Scottish Highlands provides the perfect destination for a rewarding one-day trail run.
Located in Kintail, in the western Highlands, the ridge stretches east to west for some 28km and includes a total elevation is almost 2km, yet the rewards for your efforts include the chance to bag a total of seven summits that feature in Scotland's famous Munros list. The Munros are popular summits for Munro baggers.
From on high, the views are also spectacular with steep mountain slopes plummeting to stunning glens and picturesque lochs. Further afield you can spot the peaks of Knoydart, one of the UK's last great wilderness areas, to the southwest; remote Glen Affric to the north; and the Island of Skye in the west.
Image 1 of 3
Ridge running in the Scottish Highlands
The route is appealing to runners who are experienced and confident in the Scottish mountains. I chose a day with a good forecast and I ran with a friend, Izzie. While there is a fairly obvious path for along almost the entire ridge, going with someone else is a safer option – in case of an accident – and a lot more fun.
It's vital that you carry a map and compass and it's very useful to have the route uploaded to a map app.
We carried lightweight fast-hiking packs, making sure we had a lightweight running waterproof jacket, waterproof trousers, a spare baselayer, an insulated jacket, gloves, headwear, sunglasses, emergency bivvy bag, food and water. We both wore trail running footwear.
Our route choice was east to west, because this meant we had less overall ascent (around 200m less) compared to going in the opposite direction.
Image 1 of 2
Running to the first mountain summit
Starting at the western end of Loch Cluanie, Izzie and I ran along a track that climbs gently over 6km to an elevation of around 400m. The wide track winds upwards and further eastwards for a while before we reached an obvious hill path heading south. A small cairn marks the turning point.
From here, the gradient steepens and the path is narrower and rockier. I have no doubt there are mountain goats who can run the entire path to the top of the first Munro, but we decided to enjoy the journey rather than making it arduous.
Where it was flat or downhill, we ran; and where there were steep uphills, we walked briskly. If either of us needed a breather, we stopped and enjoyed the expansive views.
In no time at all, or so it seemed, we were approaching the top of the first Munro of Creag a' Mhaim at 947m elevation. The summit cairn offered an excellent viewpoint along the ridge, where we could see many more summits stretched out ahead of us.
Image 1 of 4
Trail running to more mountain summits
From Creag a' Mhaim to Munro number two, Druim Shionnach, the path drops for a short while before rising again to 987m over a distance of some 2km. It felt so swift that I questioned if we were on the summit of another Munro. A map check assured me we were.
When you have seven summits to complete in a day, it's very satisfying to be able to tick off the first few with relative ease.
The third Munro, Aonach Air Chrith, is the tallest of the seven on the ridge at 1,021m. Again the descent and ascent felt fairly easy in comparison to many other multiple Munro outings that I've completed.
We enjoyed plenty of high-level views, however as we reached Aonach Air Chrith the clouds floated in and we had almost no view. Fortunately, it turned out to be the only Munro on which we could see far and wide.
A mountain day with a mix of cloud and blue sky is one of my favourite types because I like the way the cloud suddenly moves on or opens up to reveal the drama of the landscape.
Image 1 of 2
Scottish ridge running: Tired legs but great rewards
By the time we were ascending to Munro four, Maol Chinn-dearg, I could feel the effects of the accumulated effort in my legs. But standing on top of the peak at 981m and with four Munros already under our belts, we both said how satisfying it was to be bagging mountain after mountain – and so quickly.
For the most part, although following a route along a ridge, it's rarely too airy. There are, however, some narrower sections where the mountainside slopes off steeply either side and occasionally we needed to ascend and descend some short, steep rocky sections that required a bit of a head for heights. I'm not comfortable with narrow ridges but I wasn't daunted by any part of this one.
Descending from Munro four, Izzie and enjoyed a lovely runnable section. The gradient was not too steep to start with and we found a path through short grass.
We bypassed south below another summit, Sgurr Coire na Feinne, but remained at a high level. Another 2km and a further push upwards took us to Munro five, Sgùrr an Doire Leathain.
As we sat at the cairn at 1010m to take on food and water, we relished the wide vistas. We could easily see the next Munro just ahead and the path snaking downwards and then upwards.
By now, both Izzie and I were quite weary, although still upbeat and we were keen to keep going.
Image 1 of 2
Munro six, Sgùrr an Lochain, was only around 1km away and, yet again, we seemed to be on the 1004m top in no time.
From the start of the first climb of Munro one, it had taken us about four hours. We started to talk seriously about whether we might make a bus, which was due to arrive at the end of the ridge at about 5.10pm.
We looked at the map and assessed Izzie's watch calculations and we thought that maybe, just maybe, we might do it.
Our only other option would be to hope we could hitch a lift back to the car. This is normally fine, we knew that, but there was still the worry that no one would pick us up and we would have to walk the 11km along the road to get back to our vehicle.
From Sgùrr an Doire Leathain to Creag nan Dàmh is close to 3km, with more descent than ascent. It was clear we were tiring and we enjoyed a few extra break-in the ascent.
Yet, given how many summits we had now completed, I felt we were still in good shape and moving fairly well. It was also up-lifting to look back along the ridge to see what we had already completed.
Then, finally, we were at the summit of Creag nan Dàmh at 918m. The mountain qualifies as a Munro by only four meters!
The final descent of the South Glen Shiel Ridge
With only 5km to go to reach the the A87, we were hoping for more runnable terrain but sadly this wasn't the case. Again, I'm sure there are whippet runners who would easily run the downhill but we found it to be too narrow, rocky and slippery for anything more than a trot.
Thankfully, the route was pretty with a tumbling stream and waterfalls to take our mind off our sore muscles. We stopped to refill water bottles and to splash cold water on hot legs.
In the end, we missed the bits by only about 15 minutes and there would not have been another for a couple of hours. We were lucky with a lift, though, and almost as soon as we started to walk along the roadside a vehicle stopped to pick us up.
The driver had spotted us and having completed the ridge route himself some years ago he knew we would be in need of a lift.
It's worth noting that the A87 can be busy and you need to walk or run along the grass verge. Instead, many people choose to leave a bike at one end or another vehicle. The bus serve is also an option but perhaps it is better to use it at the start of the day.
If you're a keen trail runner - or a hiker – the South Glen Shiel Ridge is a great route and I'd highly recommend.
All the latest inspiration, tips and guides to help you plan your next Advnture!
Fiona Russell is a widely published adventure journalist and blogger, who is better known as Fiona Outdoors. She is based in Scotland and is an all-round outdoors enthusiast with favourite activities including trail running, mountain walking, mountain biking, road cycling, triathlon and skiing, both downhill and back country. Her target for 2021 is to finish the final nine summits in her first round of all 282 Munros, the Scottish mountains of more than 3,000ft high. Aside from being outdoors, Fiona's biggest aim is to inspire others to enjoy the great outdoors, especially through her writing. She is also rarely seen without a running skort! Find out more at Fiona Outdoors.