Why you need to wear a running hat as well as sunglasses
A running hat performs several jobs that your sunglasses can't, from all-weather protection to keeping you cool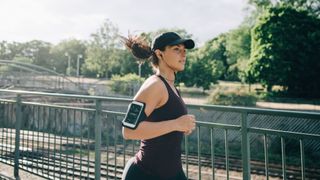 (Image credit: Maskot)
Wearing sunglasses as a runner can take a little getting used to – as well as some time finding the right pair – but few of us would deny that the benefit for your eyes far outweighs the annoyance of having something on your face while you run. Once you get a good pair of sunglasses for running that stay put, however, you won't even notice they're there.
A running hat, on the other hand, can seem like a step too far. Perhaps it feels annoying or you're worried it will blow off in the wind, or maybe you just assume you're getting all the protection you need from your sunglasses. In truth, in the battle of running hats vs sunglasses, it's not really an either/or decision as a running hat will provide several important benefits that your sunglasses won't.
Here's why you need to wear a running hat as well as sunglasses:
1. Cools you down
Sunglasses are key to keeping the sun's glare and harmful UV rays from damaging your precious peepers, but they won't do anything to keep you cool. A running hat keeps heat from the sun off your face, and if it's made from the right materials, it also helps reinforce your body's natural cooling system. Though we often instinctively reduce clothing when it's warm out, there's no replacement for moisture-wicking clothes which help keep us cool while pulling sweat away from the skin.
Make sure you wear a hat made from a synthetic material like polyester, not cotton, and it will help draw the sweat away from your head and face which helps cool you down. Mesh panels on the sides of your hat will get you the benefit of a little air flow, too, and a light-colored hat will be better at reflecting the sun's rays than a dark one.
2. Scalp protection
Sun protection is especially important for athletes – a 2009 article in Sports Health found that marathon runners have an increased risk of developing skin cancers. Your eyes aren't the only thing at risk from harmful UV rays while you're out running of course, and while a mixture of clothing and sunscreen helps to protect your skin, your scalp is one area of your body that's on display all day.
If you're thin or bald on top, you're hopefully pretty aware of this vulnerable spot and keep it covered most of the time anyway, but even a thick head of hair can come away with a sunburn that may go undetected until you notice dandruff a few days later. Whack a running hat on and you've no need to worry about a toasted scalp.
3. All weather protection
Of course, your hat will provide some UV protection for your face too, but in lots of places, the sun is the least of your worries when it comes to the weather and you're more likely to be trying to fend off driving rain than you are the sun's glare.
Wet weather protection is another place where your running hat performs a role that your sunglasses can't, by keeping rain, sleet and snow off your face. In heavy rain, sunglasses definitely help keep the rain out of your eyes, but your hat will offer much better protection for your whole face which can reduce painful icy pellets hitting your skin, increase visibility and help you breathe better in a deluge, all of which ultimately improve your performance.
4. Hair control
This one won't matter for everyone of course, but if you do have hair long enough to pull back in a ponytail, you might be well-acquainted with the battle of it coming undone as you bound along the trail, which can be annoying and slow you down. One of the handiest parts of a running hat is being able to pull your ponytail through the hole at the back to help secure it better, while the whole thing acts like a running headband and keeps your hair out of your eyes and face nicely so you can concentrate on running.
All the latest inspiration, tips and guides to help you plan your next Advnture!
Julia Clarke is a staff writer for Advnture.com and the author of the book Restorative Yoga for Beginners. She loves to explore mountains on foot, bike, skis and belay and then recover on the the yoga mat. Julia graduated with a degree in journalism in 2004 and spent eight years working as a radio presenter in Kansas City, Vermont, Boston and New York City before discovering the joys of the Rocky Mountains. She then detoured west to Colorado and enjoyed 11 years teaching yoga in Vail before returning to her hometown of Glasgow, Scotland in 2020 to focus on family and writing.