A guide to running on ice – and tips on running in the snow
Safety advice and what kit to use for running on ice in the winter months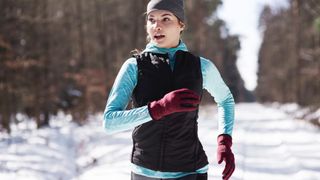 (Image credit: Getty)
Winter brings the inevitable cold, ice and snow and while some runners retreat indoors to run on a treadmill for the chillier season, many are keen to keep on running outdoors. This inevitably throws up the questions about whether you can run in the snow and how to safely run on ice.
The answers are that yes you can run on ice and snow, but running in winter requires care and the right kit.
Can you run in the snow?
It's actually fairly easy to run in the snow, so long as you are prepared. If the snow is fresh and grippy, your choice of the best trail running shoes are a good choice.
Make sure you pick trail shoes with a decent stud on the sole. Anything that's more than about 4mm will be suitable but the deeper the stud the better.
The studs should stop you slipping over, just like they do in mud.
It's also important to go for a short test run to ensure you have chosen the right trail running shoes and equipment – and that it's the type of snow that is fresh and sticky.
It should now be fine to head out for a relaxed run, paying attention to your choice of winter running kit, including winter running tights, too.
If the snow is very slushy or it has started to become icy, you will probably need to think again about your choice of footwear.
Basically, the main danger of running on snow and running on ice is slipping over. You will be wise to wear ice spikes for cleats attached to your footwear for better traction.
Other tips for running on snow include being a more cautious runner, keeping the running pace relaxed and easy-going, and looking for fresh snow and trails that are not icy, not too steep.
You might also like the idea of running in snowshoes, which is a lot fo fun.
How to run on ice – and stay upright
Running on ice is possible, but you need to be cautious. This is not the time of the year to go out and attempt a hard session. You want to stay safe and that means paying attention to the type of ice, the terrain and what you wear on your feet.
Unlike soft snow, ice is not forgiving and your ordinary trail shoes will not be enough to stop you slipping over.
If you are keen to get outdoors – rather than sticking to the treadmill – you'll need running shoes fitted with ice spikes (some brands sell ice spikes already fitted to trail shoes) or you'll need to add a pair of ice cleats.
The running crampons – whether they are ice spikes, micro spikes or cleats – fit neatly on to the base of your ordinary trail running shoes. To make an informed choice, check out our Yaktrax versus Microspikes guide.
The spikes provide extra traction and grip on the ice and they will allow you to keep on running, albeit with less gusto than you might usually put into a run.
Also take care when running because not all ice is the same. Where ice is "dry" or sticky and thick, the ice spikes will stick well and offer good traction, but ice can change to being wet or thinner, or totally disappear.
For this reason, it's recommended you run on icy trails rather than ice-covered tarmac. This means that even when icy patches give way to mud or hard trails, you will still have the benefit of the traction from the ice spikes or cleats.
Try to choose running routes that are not too steep so that there is less chance of slipping on steeper gradients.
Another tip is to make use of trail running poles, just in case you need the extra stability and to prevent a fall.
Running on ice and snow is not the easiest choice, but if you have the right kit and you stick to a slower pace it is possible with care. We all know the benefits of running, which means most runners will be keen to keep going whatever the season.
All the latest inspiration, tips and guides to help you plan your next Advnture!
Fiona Russell is a widely published adventure journalist and blogger, who is better known as Fiona Outdoors. She is based in Scotland and is an all-round outdoors enthusiast with favourite activities including trail running, mountain walking, mountain biking, road cycling, triathlon and skiing, both downhill and back country. Her target for 2021 is to finish the final nine summits in her first round of all 282 Munros, the Scottish mountains of more than 3,000ft high. Aside from being outdoors, Fiona's biggest aim is to inspire others to enjoy the great outdoors, especially through her writing. She is also rarely seen without a running skort! Find out more at Fiona Outdoors.