Winter running gear: everything you need to know
A guide to the essential kit for staying safe, warm and dry on the trails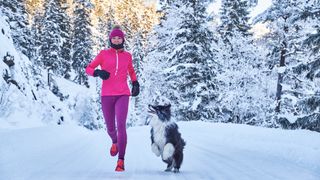 (Image credit: Getty)
When the temperature falls and winter brings rain, snow, sleet and wind, you will need to reassess what you wear for running.
Not every day will be inclement, but the chances are you will need a good range of winter running gear if you are going to stay on the trails until the warmer days of spring arrive.
The basics for running in winter are the same as for warmer weather running but with some extra essentials, as well as the right gear for staying warm and dry.
Winter running gear list
Trail running shoes
In winter, more than any other time of the year, you need to make sure you have the right trail running shoes. It is likely to be wet, muddy and perhaps icy and snowy when you go for a run.
Look for trail running shoes that are best in the mud. The soles should have a grippy design or studs so that you don't step too much on wet and mud.
Many people like to have waterproof trail running shoes for winter, which means you need to look for liners, such as Gore-Tex, designed into the footwear.
Running gaiters
Many runners choose to wear running gaiters in the winter. The aim of gaiters is to keep out trail debris and also to provide some resistance to wet, snow and ice so that your feet and socks remain drier.
Trail shoe spikes and crampons
Spikes, crampons or grips can be attached to trail running shoes to provide an aid to traction if you plan to run on hard and icy ground. Initially, you may find that your usual trail shoes, with decent studs, will be enough for fresh snow but then if it becomes compacted and icy, you'll be better off attaching crampons or grips.
Running tights
Bare skin will be vulnerable to the cold, wind and snow, which means a pair of running tights will be part of the essential winter running gear list for most people.
Choose running tights that are a neat fit, so they don't fall down, but also that offer good protection for the full length of your legs. There is nothing worse than cold, wet or chilled ankles because the tights are too short.
If you suffer in the cold, buy winter running tights that are fleece lined or have brushed cotton ion the inside.
Clothing layers
Several thinner layers will provide more warmth a versatility compared to one thicker layer. Thinner layers trap warm air between skin and fabric and also between two different tops.
When you feel too warm or too cold you can remove or add a layer as required.
More ideas for winter running kit
Waterproof socks
Most runners wear thicker trail running socks, or socks made from natural fibres, such as Merino, in winter to keep feet warm. However, you could also try a pair of lightweight waterproof socks if you know it is going to be particularly wet or muddy where you will be running.
Some people say that waterproof running socks make their feet sweat too much, while others swear by them for wet winter running.
Running jacket
A winter running jacket should be able to keep out the rain and wind, while also offering good levels of breathability. Despite winter cold, you will still sweat when running and it's important that the vapour can evaporate. If the sweat stays inside the jacket, you will end up damp and then cold.
A winter running jacket is likely to be a bit heavier than a a summer one simply because it needs to protect you from stronger winds and heavier rain.
Waterproof trousers
The chances are you will end up caught in heavy rain or snow, or you might set out to run in difficult weather, so a pair of waterproof over-trousers are a good idea.
They need to be designed for runners, so look for lightweight and breathable over-trousers.
Headwear
You'll already know that you lose heat from your head, so good quality winter headwear is a must. The best running headwear, whether it's a hat, beanie or buff, covers your ears, too. It's a horrible fact of winter that cold wind, sleet or rain will make uncovered ears painful.
Running gloves
Hands suffer in the cold in winter, which means you need to wear running gloves. Choose mittens if you suffer with very cold hands and make sure you have a range of gloves to suit different temperatures.
If you will be running longer distances or at higher levels in winter, it's a good idea to take a thicker pair of gloves with you in case your hands become colder.
Extra layers
Going out in winter can throw up some unpredictable situations. You may be halfway through a run and it starts to rain or snow. Or you might start cold and then need to take off a layer because she feel warmer.
It's important to extra take kit with you for warm and safety reasons. For example, an extra long-sleeved base layer and a lightweight insulated or puffer jacket make good sense.
Running pack
Choose a running pack so that you can carry all the kit you will need for running in winter.
Headlamp
The chances are you will need to run in the dark at some point in the winter. Most people slot in a run before or after work hours and this means a dark morning or evening run. A headlamp is an essential item of winter running gear so that you can properly see where you are going and so that other people will see you coming (see our guide to the best headlamps for some good options).
Food and water
Running food and water are important all year round. Winter is no different so make sure you have enough with you for the length of the run. It could be a good idea to use an insulated bottle or sleeve for a hydration bladder to prevent the water freezing in low temperatures.
A flask of hot drink is also recommended if you are going to be trail running in the hills for a half or full day.
Stay safe on winter trails
Safety kit
In winter, if you are running on trails there is a greater likelihood of an accident. You might slip on ice, or wet tree roots, or perhaps trip over a broken tree branch or wind-blown debris.
It's even more important tho make sure you have the right safety kit with you, including a bivy sack or emergency shelter, a whistle (to sound for help), a small first aid kit, and a mobile phone and headlamp.
Running poles
As we have said already, there are greater dangers and hazards on the winter trails, which means that it could be useful to use running poles. Choose lightweight poles for running for ease of use.
If you will be running on snow, it's a good idea to add snow baskets to the base of the poles to make sure they stay closer to the surface of the snow rather than dropping deep into the snow. You will improve your stability while running if you add baskets.
Navigation aids
Winter often brings poorer visibility, whether it's darkness, low cloud, fog, rain or a snowy whiteout. Unless you are sticking to familiar local trails, it's important you have a means of navigation. A map and compass are vital, and also one of the best navigation apps for your phone.
Communication
It is important to have a form of communication with you on winter runs. A mobile phone is a good idea, but if you do not have a signal it could be that you will need a GPS beacon.
You should know what to do if you need to call for help on the trails.
Trail running in winter will ensure you are fit for when the warmer weather of spring arrives.
All the latest inspiration, tips and guides to help you plan your next Advnture!
Fiona Russell is a widely published adventure journalist and blogger, who is better known as Fiona Outdoors. She is based in Scotland and is an all-round outdoors enthusiast with favourite activities including trail running, mountain walking, mountain biking, road cycling, triathlon and skiing, both downhill and back country. Her target for 2021 is to finish the final nine summits in her first round of all 282 Munros, the Scottish mountains of more than 3,000ft high. Aside from being outdoors, Fiona's biggest aim is to inspire others to enjoy the great outdoors, especially through her writing. She is also rarely seen without a running skort! Find out more at Fiona Outdoors.